O Brother, Where Art Thou? Wasn't Clicking For George Clooney Until Joel Coen Stepped In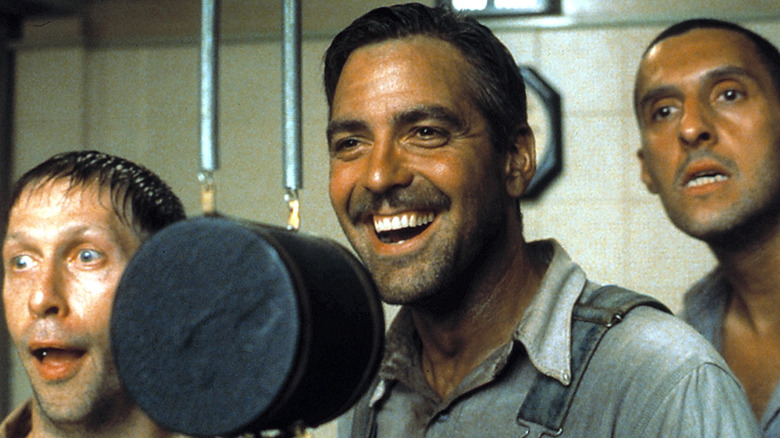 Buena Vista Pictures Distribution
Joel and Ethan Coen are some of the most consistent filmmakers around. Nearly every film they put out seems to be just as intelligent and well-written as the others, with tons of memorable characters. In 2000, coming off the great success of hits like "Fargo" and "Raising Arizona," the Coen brothers were hot as they'd ever been. It's no wonder that, for their next project, "O Brother Where Art Thou?," they were able to get huge star George Clooney on board without him giving it a second thought, which Clooney spoke about in a 2000 interview.
"They brought the script and set it down and said 'We wrote this, do you wanna do it?' and I said 'Yeah.' And they go, 'Do you wanna read it?' and I go, 'Well, alright, but I'll do it.'"
The fact that such a popular actor was immediately willing to work with them, sight unseen, is a testament to how well-regarded the Coens are. And so Clooney was slated to star in "O Brother Where Art Thou?," the first film in what the Coens call their "Numbskull Trilogy" (which actually is made up of four films, now), a story which was initially loosely based on "The Wizard of Oz" and "The Odyssey." 
The film is about three dopey criminals who escape from a chain gang in 1937 rural Mississippi and experience a series of misadventures over their attempts to return home. Clooney plays Ulysses Everett McGill, the leader of the trio and the smartest (not by much). While anyone who watches the film now would say the role fits Clooney perfectly, he actually had some trouble figuring out how to play it until Joel Coen stepped in, according to an Interview Magazine piece from 2021.
Smartest guy in the room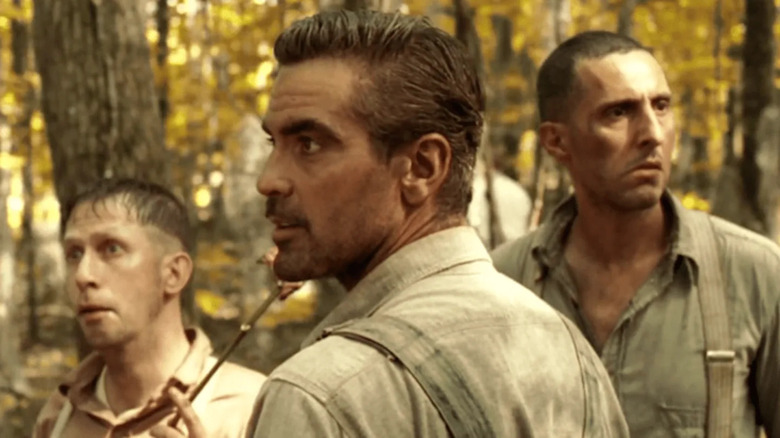 Buena Vista Pictures Distribution
Clooney would go on to star in multiple other Coen brothers' movies, like "Intolerable Cruelty" and "Burn After Reading," but according to the Interview interview, he struggled a bit during his first foray into Coenworld.
"I was nervous, man. It was the Coen brothers and they were already gods. And I had this great part, this idiot named Everett. On the first day, the first scene was the one where John Goodman hits me in the head with a branch and knocks corn out of my mouth. I did the scene in one take, and I played Everett like an idiot because he's an idiot."
Unfortunately for Clooney, the part wasn't that simple. Everett isn't just a garden-variety dummy. He's an unintelligent person who is thoroughly convinced he's extremely intelligent, partially because he's slightly smarter than the company he keeps. According to the interview, Joel Coen cleared this up for Clooney.
"Joel [Coen] came over and went, 'Just remember you're the smartest guy in the room in every room you walk into.' That's kind of the last thing he said to me for the whole movie. And I was like, 'Oh f**k, of course. You're right.' It was freeing. Oftentimes, directors don't give actors notes like that because they are thinking about the results and not the process."
It's that sort of stepping in and quickly clarifying Clooney's role that makes the Coens such talented directors of characters. "O Brother Where Art Thou" is a delightful movie, mixing humor and music in a story reminiscent of "The Odyssey," and George Clooney is our arrogant fool, Odysseus.