Anthony Mackie Had A Terrifying First Day Of Filming In The MCU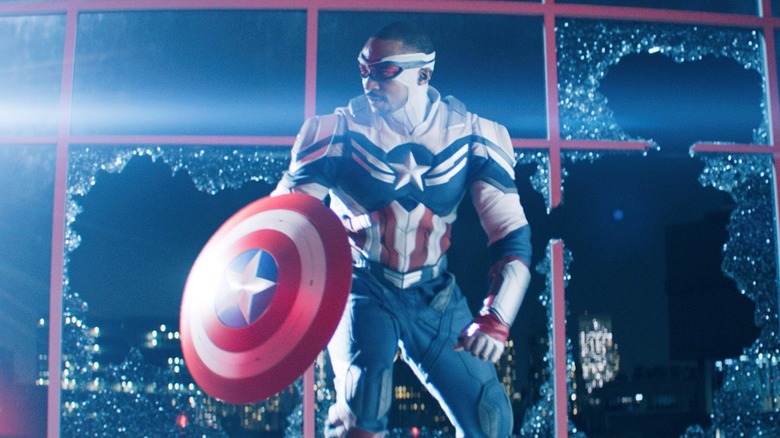 Disney+
The ubiquitous Marvel Cinematic Universe has reached a critical mass where it is almost unavoidable. Like a supermassive black hole, it's going to keep absorbing every actor of repute until everybody has a part to play in the world of the Avengers. Because of this, nearly every actor worth their salt has been in a Marvel movie at some point or another by now. It's almost a rite of passage in stardom. While most people have generally positive experiences, there certainly have been those, like Christian Bale, who has spoken out about their lack of enjoyment in working for the Marvel content machine.
Anthony Mackie, who portrays Sam Wilson, the former Falcon now known as Captain America, was one of the MCU's lesser-known actor hires when he entered the franchise. This is not to say he wasn't a legitimate performer, having been in such movies as "8 Mile," "Million Dollar Baby," and "Notorious," along with countless theater productions. But in a world starring the likes of Robert Downey Jr., Scarlett Johansson, and Paul Rudd, he wasn't exactly a big name. So when Mackie first took up his role in "Captain America: The Winter Soldier," he felt a lot of pressure to perform on what was almost certainly the biggest stage of his career. 
Unfortunately for Mackie, this meant performing some terrifying stunts. According to a Men's Health interview, Mackie hadn't even finished his first day as a Marvel superhero before being asked to perform some death-defying acts.
Right into it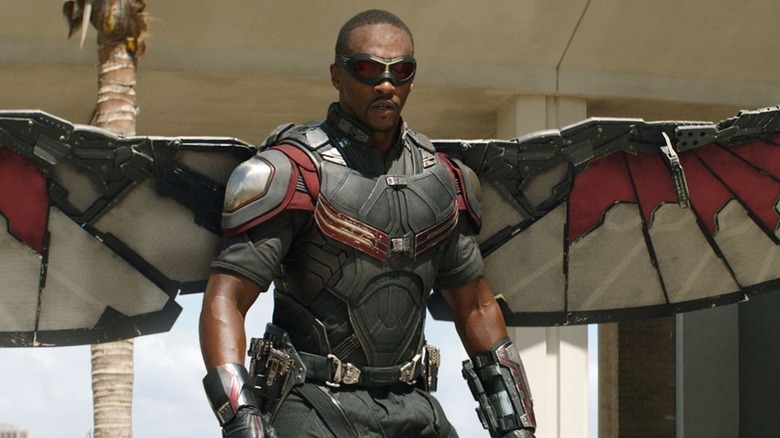 Walt Disney Studios Motion Pictures
Superhero films have to be action-packed, so Mackie surely knew he was in for some stunts when he signed on to play The Falcon. But what surprised him so much was on his very first day shooting "Captain America: The Winter Soldier" when he found himself on a platform high above the ground being asked to jump. Sure, he was strapped to countless wires, and there was a cushion on the ground below, but this was still a lot to ask of the man on his first day of work. In the Men's Health piece, Mackie remembers his fear that day.
"I'm like, 'Can't we just start with a walking-and-talking scene?'"
Mackie may have been afraid, but he wasn't ready to disappoint directors Joe and Anthony Russo on his very first day. "I think they were worried," said Mackie "Because they saw how bad I was, and how much fear was on my face." So he sent himself hurtling to the ground over and over and over.
After being forced early on to overcome his fear, nothing the folks at Marvel could throw at Mackie would phase him. And it seems he's being rewarded for his work, as with Chris Evans' exit from the MCU, Mackie has inherited the Captain America mantle, an accolade that means a whole lot to him, according to an interview with Fatherly.
"It was humbling, just simply because of my background and where I came from. It's even more humbling considering where we are as a country. Marvel has done a lot as far as actors in front of the camera. Having Captain America pass the shield to a Black guy."
It's a big role, but Mackie has experience being thrown right into the thick of things by Marvel. And he's ready.