Billy West's Stimpy Voice Was Inspired By Larry From The Three Stooges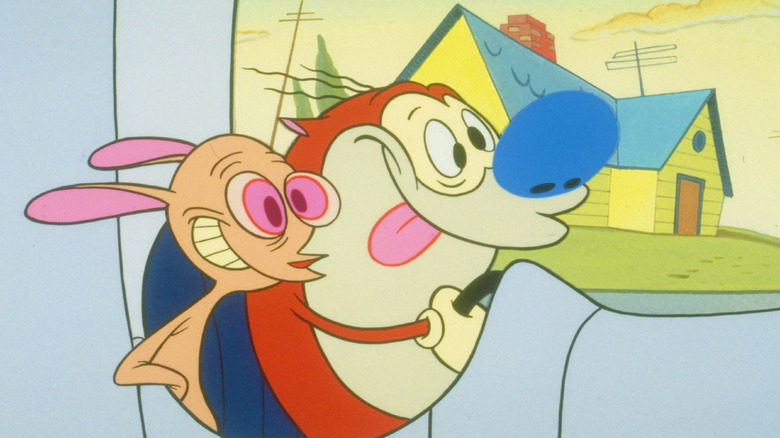 Nickelodeon/MTV
It's hard to understate just how revolutionary John Kricfalusi's "The Ren & Stimpy Show" was to the world of animation. Having worked on stultifying commercial products throughout the 1980s, John K., as he is better known, longed for the old, wilder, more creative days of Termite Terrace (the nickname for Warner Bros. Pictures' animation department from the 1930s through the 1950s). He particularly admired Bob Clampett and aimed to make stranger, more grotesque cartoons. The '80s were a time of product-based cartoon shows like "Transformers," "My Little Pony," and "Alvin and the Chipmunks." Such shows were seemingly only green-lit if they had pre-existing "marquee value" or a product to sell.
The airing of "The Ren & Stimpy Show" kicked the door open for a new generation of creator-based cartoon shows. Original ideas began flooding the marketplace in earnest in the early '90s and cynical, product-forward cartoons series fell by the wayside. "The Ren & Stimpy Show" is loaded with noisy grotesquerie and booger jokes aplenty. It's a show where one of the titular characters, having lost all his teeth, carefully plucks out his dangling nerve endings with tweezers. It was sick, and young audiences loved it. 
Notoriously, John K. was rather difficult to work with. He constantly turned in episodes late and invented characters that his network, Nickelodeon, really hated (he's cited the character of George Liquor as being a particular problem). John K. was eventually fired from his own show and struggled to regain a toehold in the animation industry in the years that came after, prior to being accused of sexually grooming underage teen girls in 2018. In the wake of John K. being fired, "The Ren & Stimpy Show" voice actor Billy West was tasked with, more or less, keeping the series afloat.
The incomparable Billy West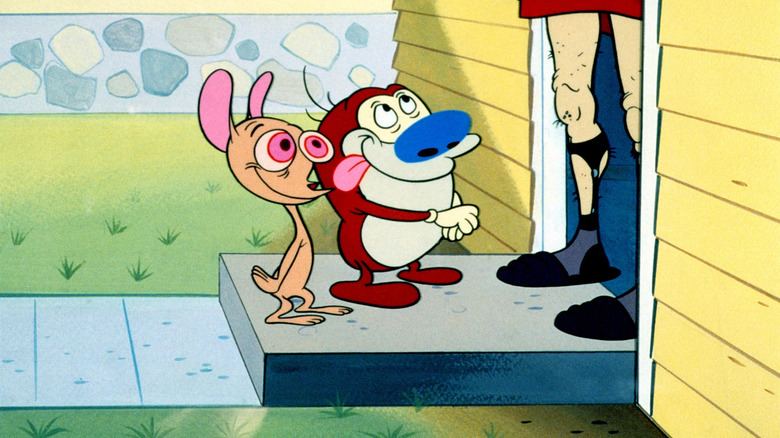 Nickelodeon/MTV
Prior to his firing, John K. voiced Ren Höek, an asthma-hound chihuahua, and Billy West voiced Stimpson J. Cat, a.k.a. Stimpy. Ren was a violent sociopath and Stimpy was a buffoon. After John K.'s firing at the end of the show's first season, West took over both roles.
In a 2020 video interview with Vanity Fair, West talked about working on "The Ren & Stimpy Show" and revealed that he didn't quite know what Ren and Stimpy were initially. "Were they microbes? Were they mosquitos?" He elected to go with a famed "dimwit" character voice he could already do quite well: Larry Fine from the Three Stooges, but "I amped him up into the cartoon universe." West also said that he was asked to read for Ren, and West said he "didn't give a fat frog's behind who did what. I have a job! I was grateful." John K. decided to do Ren instead. John K.'s vocal template for Ren, incidentally, was "M" and "The Maltese Falcon" star Peter Lorre.
Peter Lorre and Larry Fine, the ultimate comedy pair. 
West continued to play both Ren and Stimpy for the remainder of the show's run after John K. was fired. He also voiced multiple supporting characters, including Mr. Pipe, Mr. Horse, Mr. Buttloaves, The Shaven Yak, Billy the Beef Tallow Boy, Colonel Scrambolio, Louie Lungbubble, Magic Nose Goblins, Polly the Polyp, the Mummified Bog Man, and the Man-Eating Village Idiot. On top of all that, West portrayed Ren and Stimpy in the show's three spinoff records: "A Crock of Christmas," "Radio Daze," and "You Eediot!" West, as it happens, is quite the singer.