Taking A Break From Acting Was Never Something John Wayne Had The Luxury To Do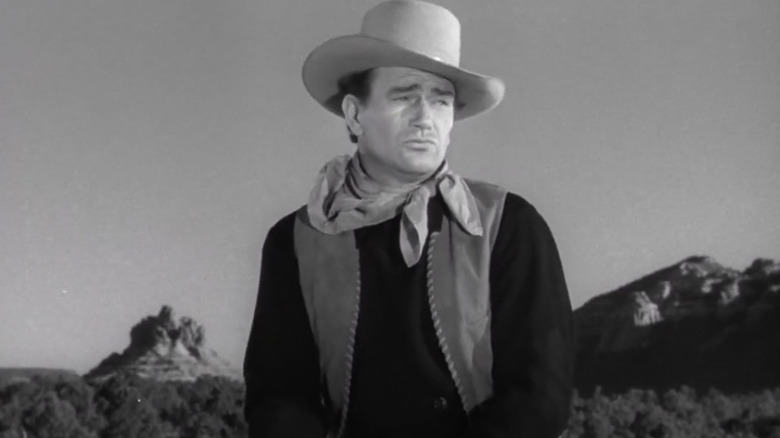 Republic Pictures
John Wayne had been working steadily in movies for over 30 years when principal photography wrapped on Howard Hawkes' "Rio Bravo" in 1958, and the miles were beginning to wear on the screen legend. At the age of 52, retirement was out of the question. He'd launched Batjac Productions only six years prior, and had his heart set on at long last bringing his labor of love, "The Alamo," to life.
If The Duke had his druthers, this is the moment in his career where he would've eased off on the gas a tad and began to experience more of life outside of a film set. In terms of box office success, he'd more than earned it. Why did he have to keep knocking out two or three movies a year like he still had something to prove?
There was a reason, and it's one that keeps many celebrities working their tails off well beyond their primes.
Philandering is an expensive habit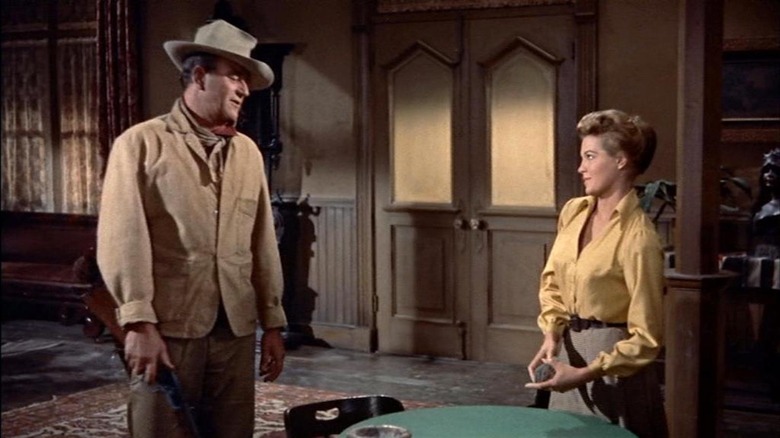 Warner Bros
Wayne might've been a meticulous manager of his career, but his personal life was a mess. He was a heavy drinker, and habitually unfaithful to his wives. He engaged in multiple affairs, including one with Merle Oberon that stretched over two marriages. His second marriage, to Esperanza Baur, ended after she tried to shoot him for cheating on her with "Angel and the Badman" co-star Gail Russell (who denied the affair, along with Wayne).
Keep this in mind when you read The Duke's comments from a late 1950s interview with UPI's Vernon Scott (as quoted in Scott Eyman's biography "John Wayne: The Life and Legend"):
"I've been acting for almost 30 years, and never come close to amassing a fortune. I'd like to take it easy for a while, but I can't. I have to work to keep my head above water. By the time I pay off alimony, my business agent, manager and raise five kids, I'm lucky if I break even. I keep working because I need the money."
Perhaps Wayne should've followed the example of his colleague James Stewart, who enjoyed his Hollywood bachelorhood, hooking up with Marlene Dietrich and Loretta Young before finally settling down and marrying Gloria Hatrick McLean in 1949. Stewart worked when he felt like it (which was frequently), outlived Wayne by 28 years, and died a multimillionaire.
I'm not judging Wayne, just noting that the marriage racket isn't for everyone, and you can avoid a tremendous amount of heart- and headaches if you know you stink at the whole "monogamy" thing. If he made some different decisions along the way, maybe he wouldn't have had to close out his career making mediocrities like "McQ" and "Brannigan."