Blazing Saddles' Set Was Mel Brooks And Gene Wilder's Young Frankenstein Laboratory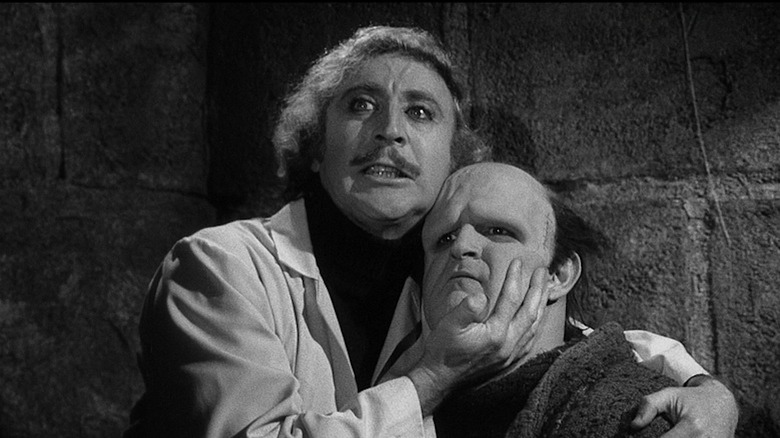 20th Century Fox
What do you do in your downtime while you're making a comedy classic? If you're Gene Wilder and Mel Brooks, you start making another!
When "Blazing Saddles" went into production in the spring of 1973, Brooks was still largely renowned for his television writing on the legendary "Your Show of Shows" and his "The 2000 Year Old Man" stage routine with Carl Reiner. Even though his 1967 feature directorial debut about a couple of schemers who attempt to make a showbiz killing off a Broadway bomb, "The Producers," earned him an Academy Award for Best Original Screenplay, he'd probably left a deeper imprint on pop culture over the last decade via the superspy sitcom "Get Smart" (which he co-created with Buck Henry).
In other words, moviegoers were completely unprepared for Brooks to knock out two of the funniest movies of all time in the same year. And he couldn't have done it without Gene Wilder.
From drunken fistfights to a spot of tea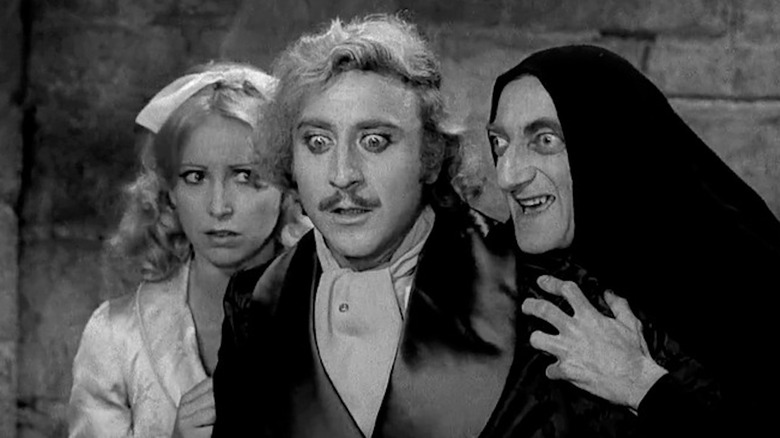 20th Century Fox
The writing of "Blazing Saddles" was a famously chaotic affair carried off in writer's room fashion. Andrew Bergman had written a Western spoof titled "Tex X" about an all-white frontier town that becomes home to an African-American sheriff. When the film fell apart, Brooks acquired the rights and brought together a team of five writers that included himself, Bergman, Norman Steinberg, Alan Unger, and Richard Pryor. According to Brooks, the film was essentially written "in the middle of a drunken fistfight."
"Young Frankenstein" was an entirely different experience. It all started on the set of "Blazing Saddles," when Brooks noticed his friend and frequent collaborator Wilder scribbling notes on a legal pad. As Brooks told the Los Angeles Times in 2014, "I said, 'What are you doing?' He said, 'I have an idea for a movie. It's about the grandson of Victor Frankenstein, and he wants nothing to do with the family, but sooner or later he will get sucked into the family insanity.'" When Brooks wrapped shooting for the day, the two stayed up until 2 a.m. banging out ideas for what would become "Young Frankenstein."
The project quickly caught fire. According to Brooks, "We were very excited about where we could go, the possibilities, what was au courant we could make fun of." Brooks continued, "We both knew we had to salute [novelist] Mary Shelley as well as ["Frankenstein" director] James Whale. We had respect for the book and the movie." Once "Blazing Saddles" was finished, the pair began writing the meticulously structured screenplay over tea and biscuits at Wilder's Bel Air Hotel bungalow. There would be no drunken fistfights this time.
Brooks' 1974 was a 'roll in ze hay' for the ages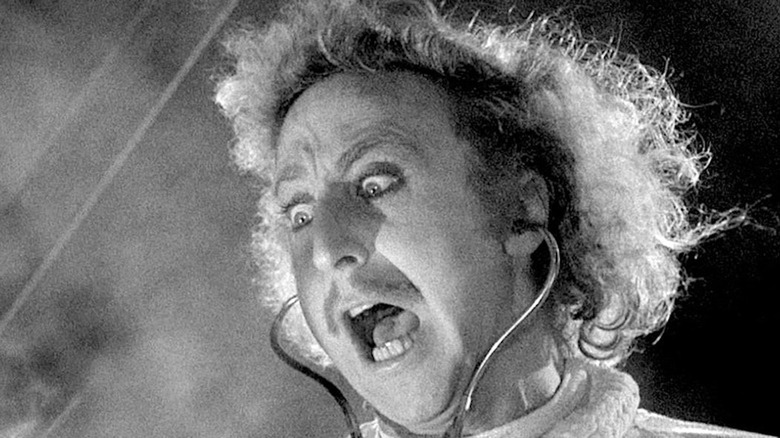 20th Century Fox
"Young Frankenstein" went into production in February 1974, the same month "Blazing Saddles" hit theaters. Brooks challenged himself by shooting the movie in the black-and-white style of Universal Pictures' classic "Frankenstein" movies, right down to the wipe edits and occasional camera jostles. Brooks completed the film in time for a December 1974 release, allowing him to triumphantly cap off a year that established him as the hottest comedy filmmaker in Hollywood.
And while critics were split on "Blazing Saddles" (many were turned off by its unrepentantly lewd humor), "Young Frankenstein" earned mostly raves, leading to Brooks' first Oscar nomination for Best Adapted Screenplay (shared with Wilder, which they lost to the laugh riot that is "The Godfather Part II"). Brooks had more great comedies in him, but, sadly, this would be the last time he ever collaborated on a film with Wilder. They left us wanting so much more.