The Eternal Daughter Trailer: Tilda Swinton Takes On A Dual Role In Joanna Hogg's Ghost Story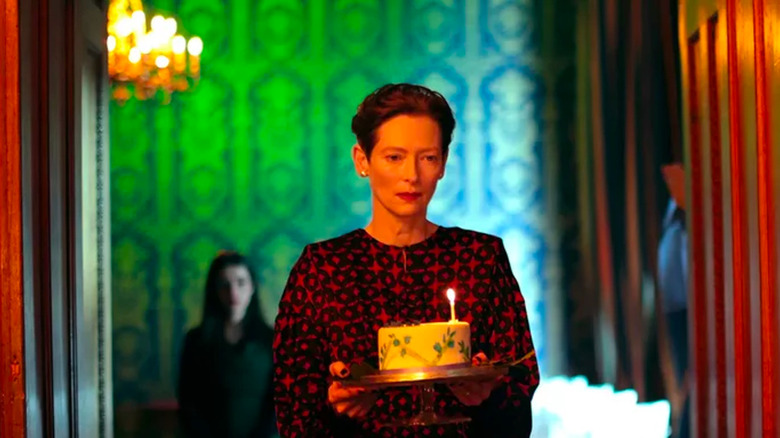 A24
Reality can be extremely deceptive, especially when you're watching a trailer for the latest film from Joanna Hogg. The acclaimed writer-director is back with a reality-distorting feature called "The Eternal Daughter." The film — which many have dubbed a spiritual successor to "The Souvenir" and "The Souvenir- Part II" — follows an artist and her elderly mother on a trip to a hotel haunted by their past. There, they will be forced to confront the long-buried secrets of their complex relationship.
It may not be your traditional ghost story, but "The Eternal Daughter" looks haunting all the same — in large part because of a bold casting move from Hogg. Tilda Swinton is pulling double duty in this film, playing both mother and daughter in the film, which certainly contributes to the eerie atmosphere. Mother-daughter relationships are rarely simple, least of all when Hogg is penning the screenplay.
Shot under the radar during lockdown in 2020, the film features a few other cast members, including Carly-Sophia Davies, Joseph Mydell, and Alfie Sankey-Green. But it's Swinton's two roles that remain the focus of it all. You can check out the synopsis and trailer below:
"An artist and her elderly mother confront long-buried secrets when they return to a former family home, now a hotel haunted by its mysterious past. Featuring a towering, deeply moving performance by Tilda Swinton, acclaimed filmmaker Joanna Hogg's beguiling latest film is a brilliant and captivating exploration of parental relationships and the things we leave behind."
Watch The Eternal Daughter trailer
Something about Tilda Swinton taking the lead in a gothic ghost story just makes complete sense, no? So it's a good thing that Hogg doubled down on her star performer to give us twice the Swinton in a single film. "The Eternal Daughter" marks the continuation of a longtime creative partnership between this duo, who have been friends for over 50 years and if we're lucky, they'll continue teaming up as the years go on.
"The Eternal Daughter" debuted to solid reviews at the Venice Film Festival, which only continued as it subsequently screened at TIFF ad NYFF. /Film's own Chris Evangelista gave the film a positive review, writing, "Bathed in the perfect amount of spooky, gothic atmosphere, 'The Eternal Daughter' burns down like a candle. It creeps along, drawing us into its dreamy story, keeping us wondering where this is all going." He added,
"With its deliberate (or sloowwwwwww, as some might call it) pacing and inherent lack of action, "The Eternal Daughter" might frustrate some looking for a more traditional ghost story. But "The Eternal Daughter" is plenty haunting. The ghosts here aren't the traditional specters returned from the grave. They're the type of ghosts that haunt us all — memories, both good and bad."
"The Eternal Daughter" is set to open in theaters on December 2, 2022.