The Best Sci-Fi Movies Coming To Streaming In November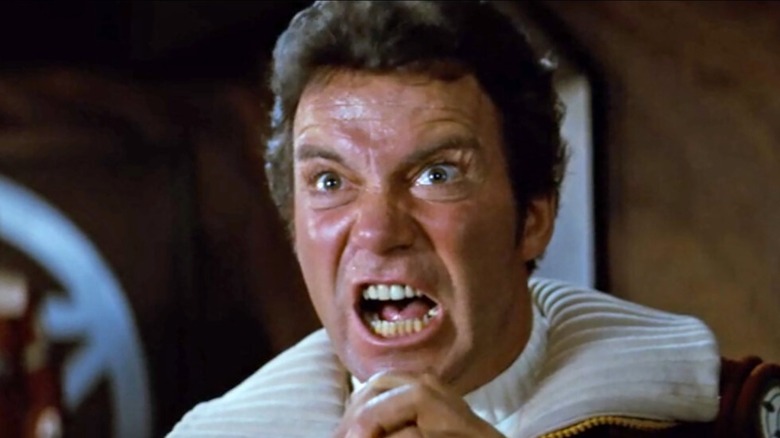 Paramount
If October is a month that many movie fans dedicate to horror films, and December is all about holiday films, what are film lovers supposed to do in November? There is, of course, Noirvember, the great celebration of noir film created by writer Marya E. Gates back in 2010. But for those who don't partake in the black-and-white watchathon, November is a month with a wide-open watchlist. If you're hankering for something different to keep your attention as the cold season sets in, why not go for sc-fi?
Science fiction is, after all, a versatile genre. It encompasses everything from aliens and robots to movies about deeply philosophical ideas that you witness in your bones as much as in your mind. It also has more crossover potential than it often gets credit for: sci-fi-comedy, sci-fi-romance, and sci-fi-horror are just a few of the genre hybrids that make science fiction as accessible as it is. There's truly something for everyone, and this November, the major streaming platforms have you covered with old favorites, new classics, and movies that deserve a re-evaluation. Here are the five best sci-fi movies coming to streaming in November 2022:
Nope (2022)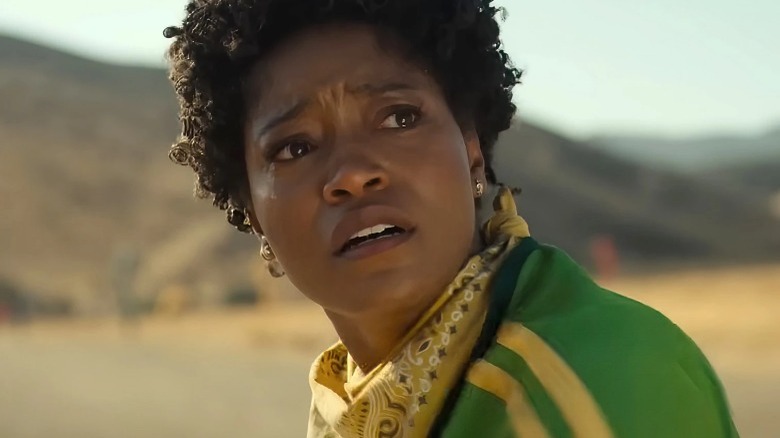 Universal Pictures
The hands-down best sci-fi movie coming to streaming in November is also one of the best movies of the year, period. Jordan Peele's "Nope" is simultaneously an ambitious crowd-pleaser and a subtle, character-driven horror movie. The story follows the Haywood family, Hollywood horse wranglers who provide animals for movie sets and tend to them back at their ranch on the outskirts of LA county. But Emerald (Keke Palmer) and OJ's (Daniel Kaluuya) lives are soon disrupted by a series of strange occurrences, including a spontaneous storm of metal debris falling from the sky.
"Nope" is a wildly entertaining, incredibly intense, and often hilarious alien movie, but like all of Peele's films, it's also about much more. Themes of the commodification of the untamable and underestimation of the unknown run through it, making it as close a cousin to "Jurassic Park" or "Jaws" as it is to "Close Encounters of the Third Kind." Steven Yeun's character, former child star Jupe, embodies the film's enigmatically intertwined plot threads perfectly, while Palmer blows the roof off the whole production with an unforgettable performance. "Nope" doesn't include a lot of hard science, but it's all about the natural world, and when the mechanisms of its antagonist are finally revealed, they're as delightfully geeky as they are awe-inspiringly cool.
"Nope" will begin streaming on Peacock on Friday, November 18, 2022.
Oblivion (2013)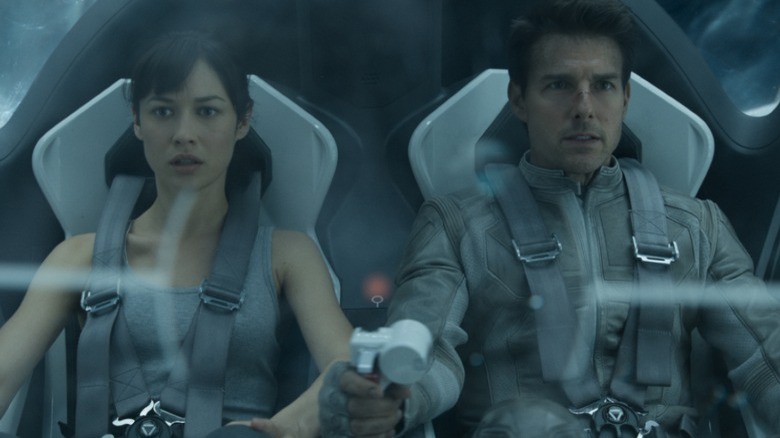 Universal Pictures
The Tom Cruise starrer "Oblivion" wasn't particularly well-received by critics when it hit theaters in 2013, but nearly a decade later, it deserves revisiting. Why? Because it was the first collaboration between Cruise and Joseph Kosinski, the dream team that would go on to make the monster hit "Top Gun: Maverick" together. "Oblivion" is nowhere near as wildly entertaining as that film, but the complex and challenging futuristic film — based on Kosinski's own graphic novel — still show hints of the movie magic the pair are capable of making together.
Cruise stars as Jack Harper, a technician whose somewhat solitary life is spent repairing drones on a version of Earth that's been decimated by a previous combat with alien invaders. This new version of earth includes things like hydrorigs, which turn ocean water into powerful energy, and a sky tower where Jack and his by-the-books coworker Vika (Andrea Riseborough) live above the clouds. Their existence is lonely and sparse, but safe, until he comes across a woman he's been dreaming about (Olga Kurylenko) in real life. That's just the begin, as "Oblivion" unfolds across two hours, revealing itself to be a surprising — and surprisingly romantic — cinematic offering.
"Oblivion" will begin streaming on Netflix and Hulu on November 1, 2022.
Seeking A Friend For The End of The World (2012)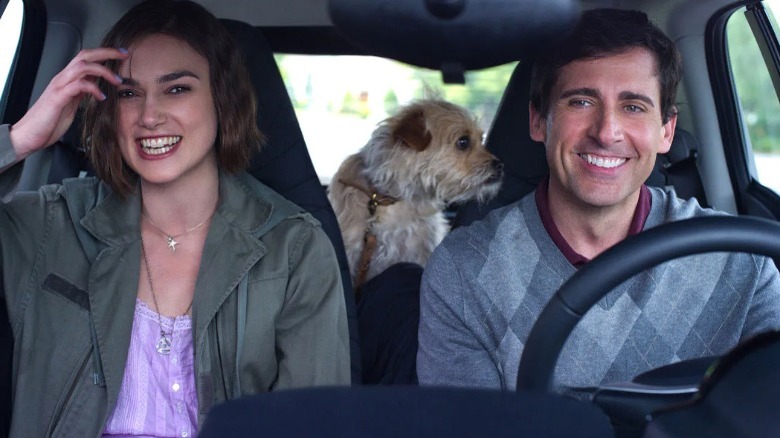 Focus Features
Sci-fi is a broad genre with a little bit of something for everyone. For science lovers, there are plenty of movies that dig into the hows and whys of their premise, explaining their speculative fiction plot points in-depth in a way that makes viewers either feel very smart or very confused. But for everyone else, there are movies like "Seeking a Friend For The End of the World," a sweet and melancholy romantic comedy that just so happens to be set against a science fiction premise.
The film begins with the absolute worst breaking news: All efforts to divert the path of a massive asteroid named Matilda have failed, and it'll make impact with Earth in three weeks. The script by writer-director Lorene Scafaria picks up the story at the end of the stereotypical sci-fi movie rather than the beginning. The film isn't concerned about saving the world, but finishing it off with a bang. Specifically, viewers get to see the end of the world from the perspectives of Dodge (Steve Carrell) and Penny (Keira Knightley), an odd couple who teams up to spend their final days together. Funny, dark, and life-affirming despite its bleak setup, "Seeking A Friend For The End of The World" is an unorthodox apocalypse story that wears its heart on its sleeve.
"Seeking a Friend For The End of the World" will begin streaming on Peacock on November 1, 2022.
Star Trek: The Wrath of Khan (1982)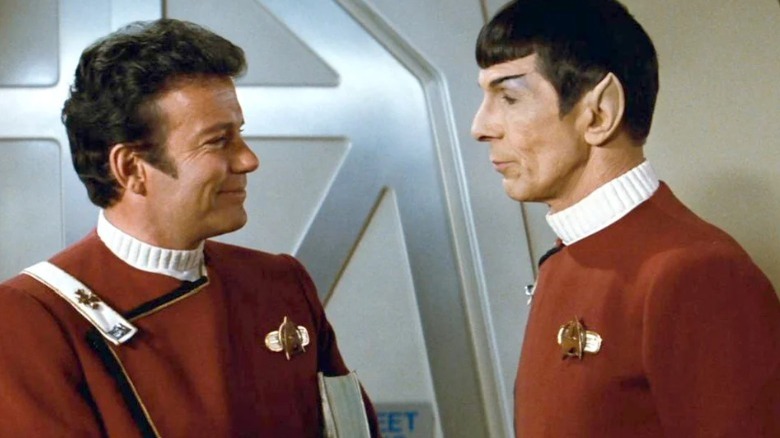 Paramount Pictures
Ten different "Star Trek" films are coming to HBO Max in November, so fans of the long-running franchise about intrepid space explorers can take their pick from the best the franchise has to offer. In terms of stone-cold classics, though, few can beat 1982's "Star Trek: The Wrath of Khan." The movie that's often remembered for William Shatner's all-time-great climactic yell ("KHAAAAN!") and Ricardo Montalbán's stylish, chest-baring getup is actually much more than the sum of its most-memed parts. In fact, it's a highlight of a half-century old franchise.
While the first "Stark Trek" film released three years before "Wrath of Khan" fell flat, the second installment finally recaptured some of the wit, adventure, and epic feeling of "Star Trek: The Original Series." Leonard Nimoy's beloved half-Vulcan Spock returns alongside Shatner's Captain Kirk, as the Enterprise crew faces off agains Khan Noonien Singh (Montalbán), a genetically engineered supervillain who first popped up in season 1 of the seminal series. "Star Trek: The Wrath of Khan" feels like classic Trek, but it's also older and wiser, and its two leads have settled into an endlessly watchable dynamic that carries them through to the film's genuinely heartbreaking end.
"Star Trek: The Wrath of Khan" will begin streaming on HBO Max on November 1, 2022.
Terminator 3: Rise of the Machines (2003)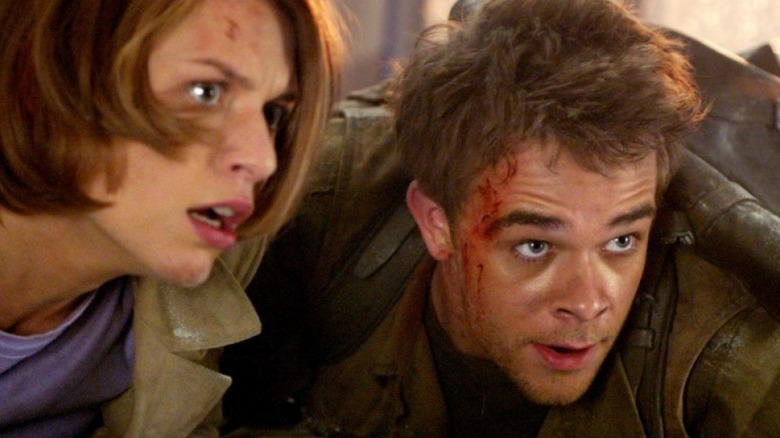 Warner Bros.
Neither the best nor the worst the "Terminator" franchise has to offer, "Terminator 3: Rise of the Machines" is nonetheless an essential part of any series rewatch. As the last consecutive film to star Arnold Schwarzenegger's T-800 before 2009's "Terminator Salvation" took the series in another direction, the third "Terminator" film often feels like the closing of the series' core trilogy. It also feels like the last entry that's able to revel in the schlockier, came-from-the-'80s aspects of the series before a more modern — and sometimes rather empty — action movie aesthetic took over the franchise.
The film follows a now-grown-up John Connor (Nick Stahl), who's living in a world where the prophesied Judgment Day never came to pass. But the evil company Skynet isn't content with this version of reality that sees humans at peace, so they send a T-X Terminator (Kristanna Loken) back in time to kill anyone who could end up helping the humans in the future fight. Of course, the T-800 shows up to aid John and his classmate Kate (Claire Danes), but "Terminator 3: Rise of the Machines" stands out not because of its hero moments, but because of its losses. It's a much bleaker movie than its predecessors, with a memorable ending that's at once shocking and inevitable.
"Terminator 3: Rise of the Machines" will begin streaming on Hulu on November 1, 2022.