Kevin Bacon Still Sees Potential In A Tremors TV Series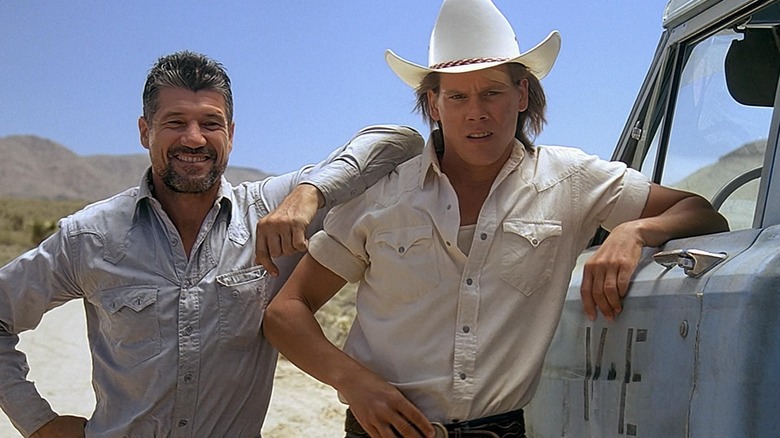 Universal Pictures
In between pandemic musical sessions with his goats, Kevin Bacon seems to have figured out the world. From admitting to having skin too thin to read social media comments to reflecting on how volatile Hollywood can be, a revealing 2021 interview with Esquire shows that he's also learned a lot about himself and life.
So, when he admits that there's only one film role he cares to revisit in the dozens of movies he's appeared in since his 1978 debut in "Animal House," we should pay attention. Bacon has walked a fine line between leading man and this generation's greatest character actor, playing everything from the provocative new kid in town in "Footloose" to a tortured and menacing child molester in "The Woodsman."
Bacon says he prefers to move on to the next role once a project is done, although there is one film that might be worth revisiting. One might say that there is a role out there that still has a little meat –- or bacon –- left on the bone.
'Tremors' is his only film he's rewatched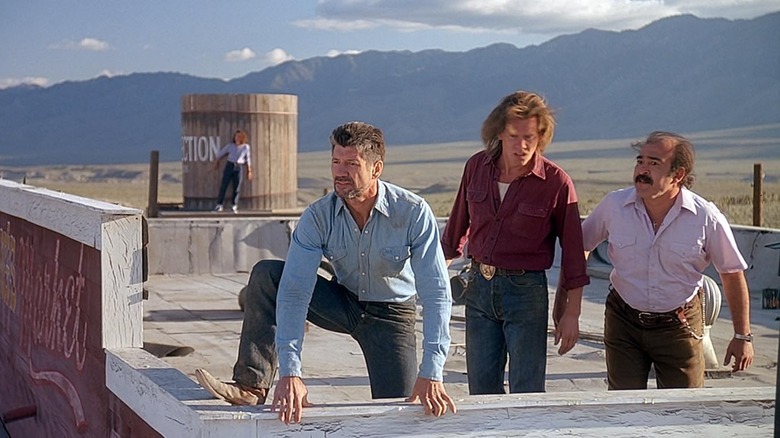 Universal Pictures
When Kevin Bacon says he moves on from past roles, he means it. "I don't look back at all," the actor confessed to Esquire. "In fact, 'Tremors' is the only movie of mine that I have rewatched since it has come out." Which is kind of odd, given the film's history.
When the throwback monster movie "Tremors" was released in 1990, it was both a critical and financial failure. Universal barely recouped its budget, and the movie was swallowed whole by critics. The New York Times called it a "jokey attempt to re-create the pleasures of those post-World War II B-pictures about commonplace creatures" with special effects that looked purposely bad. Variety expounded that "the heroes carry on like Curly and Larry in search of Moe."
Bacon even admitted that he took the role out of desperation, thinking he was above the concept of underground monsters a.k.a. Graboids.
But then, a funny thing happened on the way out of Perfection, Nevada. Though the Graboids might have been dead, "Tremors" found a cult following thanks to VHS rentals and cable television. It was enough to convince Universal to turn the movie into a straight-to-video series, which Bacon declined. Even without its star, the original film spawned six sequels, each one arguably progressively worse, as well as a short-lived Syfy television series in 2003.
It begs the question: why is "Tremors" the only of his own films Bacon is willing to re-watch, and will he ever return to Perfection?
A TV pilot starring Kevin Bacon exists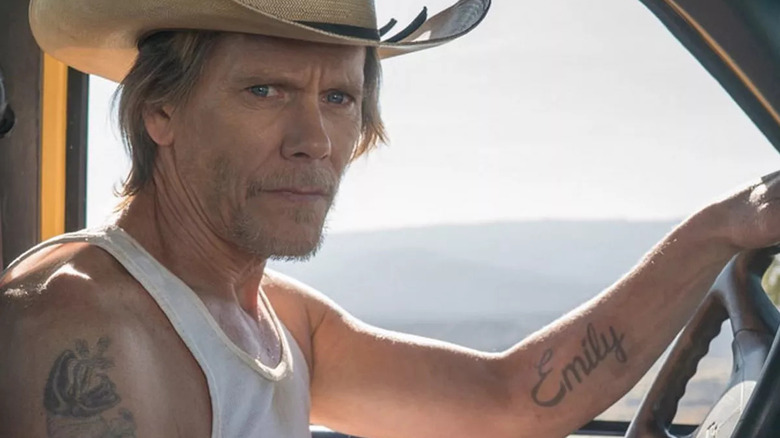 Syfy
When Universal first approached Bacon about re-joining the franchise, he questioned their motives. "Well, why are you making a sequel of a movie that I was in that bombed?" Bacon asked the studio. Knowing what direct-to-video meant to his career, he wisely walked away from the offer. But time is a funny thing, and it turns out that Bacon had some interest all this time. More than two decades after the original film, Bacon almost returned to the franchise. The actor said:
"We were around the 25-year anniversary. I went to Blumhouse, and they were totally into the idea. Universal didn't want to remake it as a feature and also maybe because it didn't work as a feature the first time. So we put it aside. Then they came back to me and said, 'What would you think about doing it as a series?'"
And a TV series almost happened. Actually, it did happen ... kind of. In 2015 Bacon signed on to star and serve as executive producer of a "Tremors" TV series. Syfy picked up the series and a pilot episode was even filmed. But TV Line reported that the project was inexplicably shelved in 2017. It's a shame too, because the pilot, which revisits Perfection 25 years later, looked promising.
So, what does the future hold for "Tremors" and Kevin Bacon? It sounds like we haven't seen the last of Val McKee or the Graboids. "I would still love to do it, believe me," Bacon said with resolve. "Maybe it needs to be the 30th anniversary or the 35th. We'll keep going."