Skeptics Are Eli Roth's Favorite Subjects For A Ghost Ruined My Life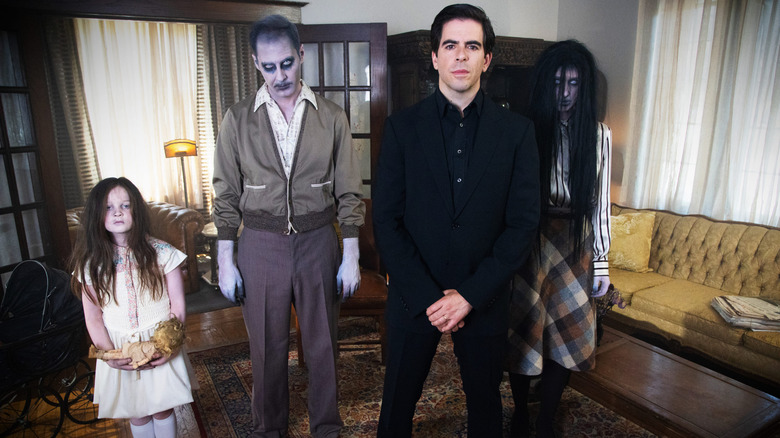 Blue Ant Media
It's not surprising that Eli Roth ("Hostel," "The House With a Clock in its Walls") has transitioned somewhat into the role of TV host. Roth is a veritable encyclopedia of genre film and loves just talking movies. As far as movie geeks go, he's also a little more presentable and "TV ready" than the average horror fan (I know, I've been to A LOT of horror conventions). Roth has already hosted three seasons of "AMC Visionaries: Eli Roth's History of Horror" where the writer, producer and director interviews famous luminaries and storytellers from the vast world of horror. In what might be his most disturbing film, Roth also directed the Discovery+ documentary, "FIN," produced by Leonardo DiCaprio, that exposed the worldwide corruption of the shark fin industry where hundreds of thousands of sharks are murdered and maimed every year. 
This October, "Eli Roth Presents: A Ghost Ruined My Life" season 2 just had its premiere on T+E as a part of the channel's annual Creep Week. The series features close encounters that everyday people experience with the supernatural, and Roth promises that "season 2 is much, much scarier," based on an interview with Global News. These kinds of paranormal shows can be borderline absurd at times, but they do offer up some comforting content during Halloween month. "A Ghost Ruined My Life" sounds like the title for a sci-fi B-movie from the 1950s and, that alone, makes me want to watch it. If you don't actually believe in ghosts (like me), Roth thinks you're the perfect conduit for all the non-believers watching these supposedly true, haunted accounts.
Better tales of terror for season 2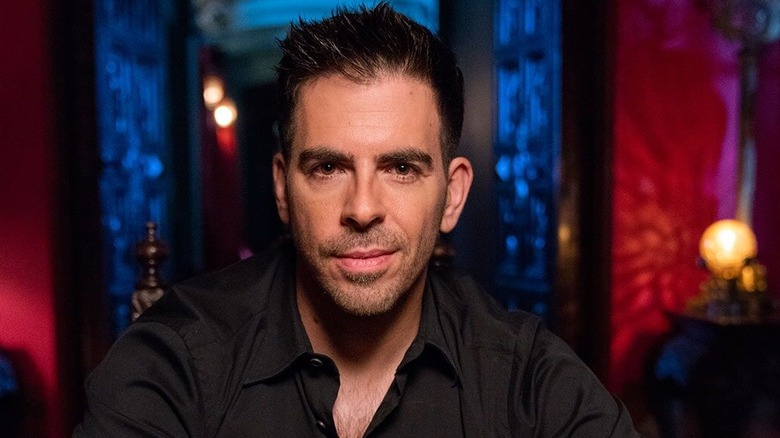 Discovery+
Roth is always a great interview and, in his conversation with Global News, he spoke about how much scarier the stories are this season. "With the benefit of people watching the first season, we got over 300, so we really were able to choose eight terrifying stories to tell. People really opened up to us, it's incredible." That's a lot more ghosts! Honestly, after watching a lot of paranormal shows, so many of them can get repetitive (just stop with the night vision, please). As a connoisseur of the occult, Roth is fully aware of the potential pitfalls with this kind of programming:
"We don't want to see the same thing happen to the same type of people. One of the challenges is not repeating yourself, but every haunting is different. I generally look for great stories that happened to people you absolutely would never believe a paranormal experience would happen to."
Roth is absolutely right about finding subjects that aren't looking for any kind of exposure based on a truly frightening ordeal. So many of these shows, like "Ghosthunters" on Discovery+, tend to focus on unconvincing investigators searching for a cold temperature change in a drafty basement or some sinister bedsheet pulling in the middle of the night. Finding real people that have a genuine experience is much more unnerving and effective. "Skeptics, non-believers, they're the best because they speak to a large part of the audience that want to believe in ghosts, but stop short of fully believing," agrees Roth.
After watching the eight terrifying stories in "Eli Roth Presents: A Ghost Ruined My Life" season 2, maybe we'll all be a little more willing to believe. 
"Eli Roth Presents: A Ghost Ruined My Life" season 2 is available to stream on Discovery+ with new episodes releasing on Saturdays.