Something In The Dirt Trailer: Benson And Moorhead Go Searching For Other Dimensions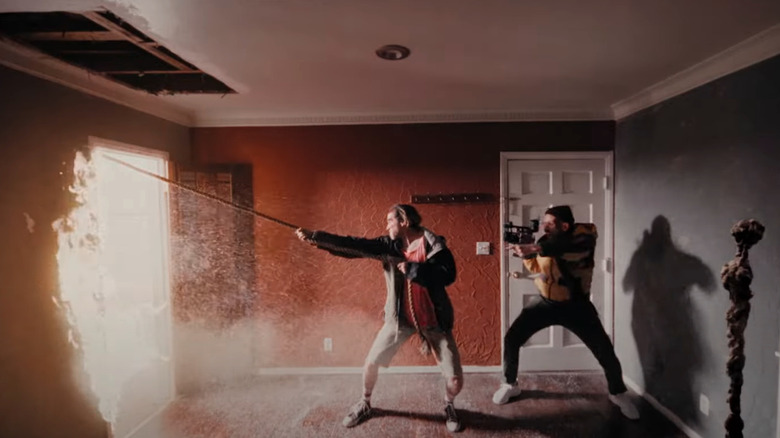 XYZ Films
Gee, Justin Benson and Aaron Moorhead have become a bit of a hot commodity in the science-fiction space, huh? With their big mainstream break coming in the form of "Moon Knight" earlier this year, the multi-hyphenate duo are gearing up to release their fifth feature together, the festival darling "Something in the Dirt."
You may be asking yourself what this film is about, and if we're being completely honest, it's not that easy to put into words. As /Film's Chris Evangelista said in his review out of this year's Sundance Film Festival, it is "a strange, twisting, inscrutable path, and we're not entirely sure what's real and what's staged." That is far from a bad thing, though, as its recently-released trailer from distributor XYZ Films proves.
All of the complex and seemingly-disconnected visuals will probably have you believe that the film had a massive budget and crew. However, that is far from the case: According to Sundance, "Something in the Dirt" was actually filmed on a shoestring budget and with a crew of only twelve people, including Benson and Moorhead. That is some unbelievable stuff — almost as unbelievable as the twisty dimensional shenanigans our main characters Levi (Benson) and John (Moorhead) find themselves in.
Watch the Something in the Dirt trailer
Benson wrote the screenplay for the film, while he and Moorhead not only co-directed and co-starred, but also co-produced and co-edited it, the latter alongside Michael Felker. Moorhead also contributed to the film's visual effects as a digital compositor. Needless to say, they were wearing a lot of hats, and we can't wait to see their vision when it is unleashed.
"Something in the Dirt" releases in select theaters on November 4, 2022, and arrives on demand a few weeks later on November 22. If that trailer has melted your mind a bit, check out its official synopsis from its Sundance premiere below:
Levi has snagged a no-lease apartment sight unseen in the Hollywood Hills to crash at while he ties up loose ends for his exodus from Los Angeles. He quickly strikes up a rapport with his new neighbor John, swapping stories like old friends under the glowing, smoke-filled skies of the city. Soon after meeting, Levi and John witness something impossible in one of their apartments. Terrified at first, they soon realize this could change their lives and give them a purpose. With dollar signs in their eyes, these two eccentric strangers will attempt to prove the supernatural.