Angela Lansbury's Brilliant Acting Career Started With An Oscar Nomination For Gaslight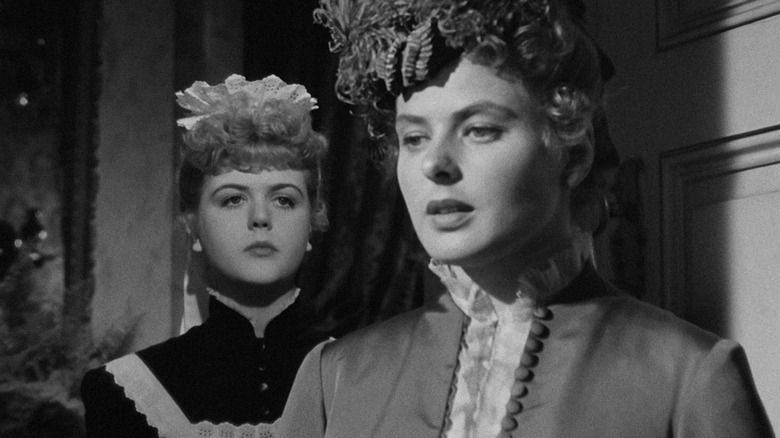 Metro-Goldwyn-Mayer
Patrick Hamilton's play "Gas Light" debuted on the London stage in 1938. It was about Jack and Bella, characters who had recently married but whose relationship is immediately rocky. She hates his flirtatious ways and mishandling of money. Most frustratingly, he seems to disappear from their home for hours at a time without explanation. During this time, the gaslights in the house (for it was lit by old in-wall, gas-powered lanterns) would dim. Whenever Bella brought up this odd quirk or mentioned any missing objects, Jack would assure her that she was imagining it — indeed, that she might be going insane. It is from Hamilton's play that the modern vernacular has taken "gaslighting" as a verb. 
"Gas Light" was first adapted to film in 1940 by director Thorold Dickinson. That version starred Anton Walbrook and Diana Wynyard, and it was a modest hit. The 1940 version, however, is not nearly as well-remembered as George Cukor's far more popular remake only four years later. That version starred Ingrid Bergman in the Bella role, renamed Paula, and Charles Boyer as the caddish husband. The MGM-produced "Gaslight" was a smash hit upon its release and garnered seven Academy Award nominations, including Best Picture. It won Oscars for Bergman and for its art direction.
Also nominated was a 19-year-old, first-time professional actress named Angela Lansbury as the maid, Nancy, a vaguely sinister presence constantly lurking behind Bergman. In every scene, Nancy is seemingly projecting madness directly into her co-star's brain. The audience cannot be sure how much Nancy hates Paula, or how much she might be complicit in the crime. She's wry, sardonic, perhaps even a little bit nasty. It was a clarion call for a talented actress whose career would go on to span decades and earn multiple awards.
The 1944 version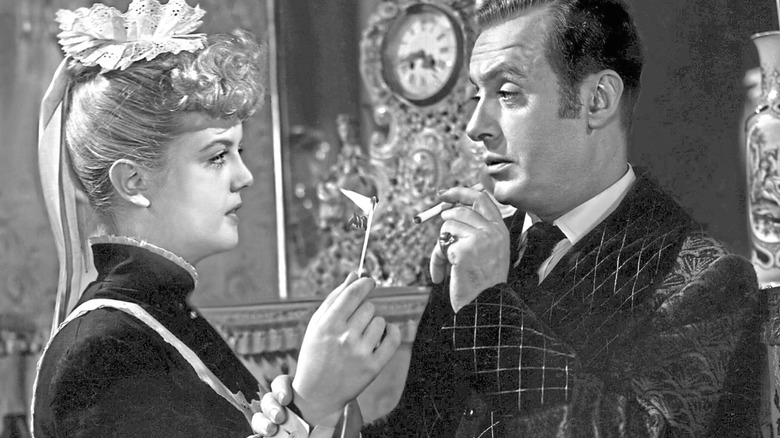 Metro-Goldwyn-Mayer
In the 1944 New York Times review of "Gaslight," critic Bosley Crowther didn't feel the film matched the intensity of the original play, but he praised the film's performances, even noting Lansbury provided "nice little personality vignettes." Variety was also warm to the film, but mentioned that it was a ho-hum retread of the live rendition. Since then, Cukor's film has grown in estimation quite considerably, with many critics and film experts considering it an indelible classic; "Gaslight" was included on AFI's list of the 100 most thrilling films of all time. 
Although only occupying a supporting role, Lansbury practically carries the tone of "Gaslight" all on her own. While Bergman skillfully plays the fear and confusion of Paula and Boyer comes across as a charming but untrustworthy lothario, it's Lansbury who carries the film's menace. Without her condescending stares, her mock-confused prodding, and her wraithlike presence, "Gaslight" would be a mere psychological hothouse. With Lansbury, "Gaslight" tips in the direction of horror. It could be argued that it is she who ensures that the film is scary and not merely effective. 
Watching "Gaslight" will be a startling experience for those who, as this author did, grew up watching Lansbury on her long-running and comforting murder mystery series "Murder, She Wrote" (1984 — 1996). In that show, Lansbury was warm, motherly, and approachable. She was not hardened by constant exposure to murder. "Gaslight" presents Lansbury as a vaguely sinister character. It wouldn't take too much imagination to picture Nancy as the secret mastermind behind the movie's wickedness.
Lansbury's darkness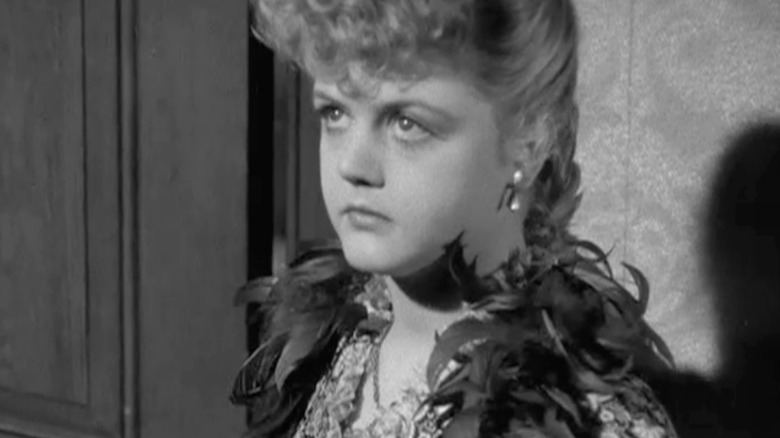 Metro-Goldwyn-Mayer
The same year as "Gaslight," Lansbury would appear in the saccharine horse-based movie "National Velvet," in which she played one of lead actress' Elizabeth Taylor's sisters. Lansbury would alternate throughout genres very rapidly in Hollywood, sometimes appearing in broad, bright Judy Garland musicals ("The Harvey Girls"), adventure films ("The Three Musketeers"), Biblical epics ("Samson and Delilah," "The Greatest Story Ever Told"), and dark, bleak horror movies ("The Picture of Dorian Gray," for which she received her second Oscar nomination). Those who only know Lansbury for one or two roles have never had the pleasure of witnessing her amazing range and pliability. In life, she was dazzling and bright. On stage and on screen, she could be just about anything. 
Indeed, between "Gaslight," her turn as a wicked and vaguely incestuous mother in 1962's "The Manchurian Candidate" (for which she received her third Oscar nomination), and her highly rewarded performance as Mrs. Lovett in the 1979 production of "Sweeney Todd: The Demon Barber of Fleet Street" (for which she won her fourth Tony), one might glean that Lansbury was best know for playing villains, murderers, and heavies. 
Given the scope and breadth of her career, kicked off by playing a sardonic, threatening maid, one can't really point to what Lansbury was "known for." One will have to settle on the fact that she was known for everything. For her film, TV, and theater careers. For her capability of playing kind characters and cruel ones. She was known for being Angela Lansbury. 
Lansbury died on October 11, 2022 at the age of 96. Rest in peace.