Beverly Hills Cop Was Originally Conceived As A Dark Drama With Sylvester Stallone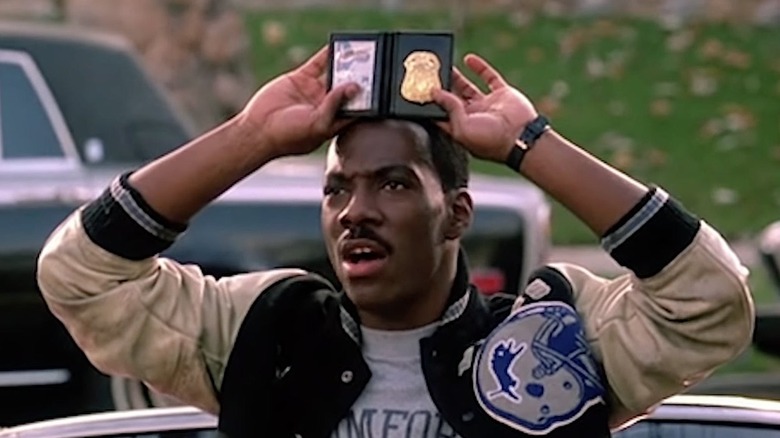 Paramount Pictures
There was perhaps no person who is more representative of comedy in the 1980s than Eddie Murphy. His time on "Saturday Night Live" was legendary, as was his run of movies that followed made him an international star. For a while, he was basically the undisputed funniest man on the planet.
When Murphy was cast as the lead in "Beverly Hills Cop," a classic comedy movie was bound to happen. Murphy was at the height of his powers, and the main character of "Beverly Hills Cop" suited his persona extremely well. Once Murphy arrived and started punching up the film's script, it was destined to be one of the funniest films around.
But the movie wasn't always going to be a fish-out-of-water comedy. It was originally intended to be a much darker take on the realities of policing a population of the extremely wealthy, according to the book "Wild and Crazy Guys: How the Comedy Mavericks of the '80s Changed Hollywood Forever." The movie was in part inspired by an experience Paramount executive Michael Eisner had with a real-life Beverly Hills cop.
The movie's lead part was originally meant for Mickey Rourke, who left to make "The Pope of Greenwich Village." The role was then shopped around to a variety of other actors, such as Jack Nicholson, Dennis Quaid, and Al Pacino.
Sylvester Stallone, who had an overall deal with the studio, was initially not considered. However, due to a quirk of Hollywood politicking, they soon realized that they had to offer him the part in order to be polite. They sent Stallone the script, assuming he'd turn it down. But to their surprise, Stallone accepted, and suddenly Sylvester Stallone was set to be Axel Foley.
Rambo Goes to Hollywood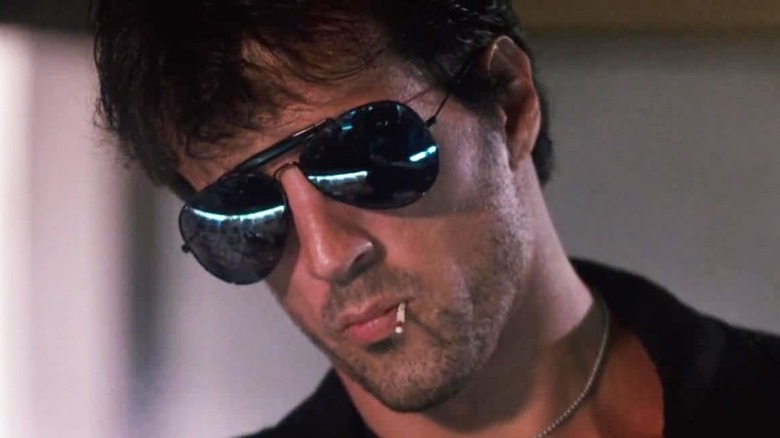 Warner Bros.
By the time Stallone received the script, the movie had gained a slightly lighter tone, and Stallone found the idea of himself starring in this kind of comedy humorous. "I thought they'd sent it to the wrong house," Stallone said in "Wild and Crazy Guys." "Somehow, me trying to comically terrorize Beverly Hills is not the stuff that great yuk-festivals are made from."
And so Stallone began to attempt to serious up the script. After trying and failing to get Martin Scorsese on board to direct, Stallone began rewriting the script himself. It was to be grittier and more action-packed. As the book said, "it was, essentially, 'Rambo Goes to Hollywood.'"
According to a New York Times piece, Stallone's script was great in its own right, despite not fitting the film's original vision. "Sly's rewrite had heart, passion and pathos," said producer Don Simpson. "It was superb. It had more edge and more of the blood vengeance motif."
Ultimately, a mutual agreement was reached between Stallone and the movie's production team, and he would leave to go film a version of his script that would result in 1986's "Cobra," while the production moved forward with Daniel Petrie Jr.'s more comedic take on the story.
Eddie comes in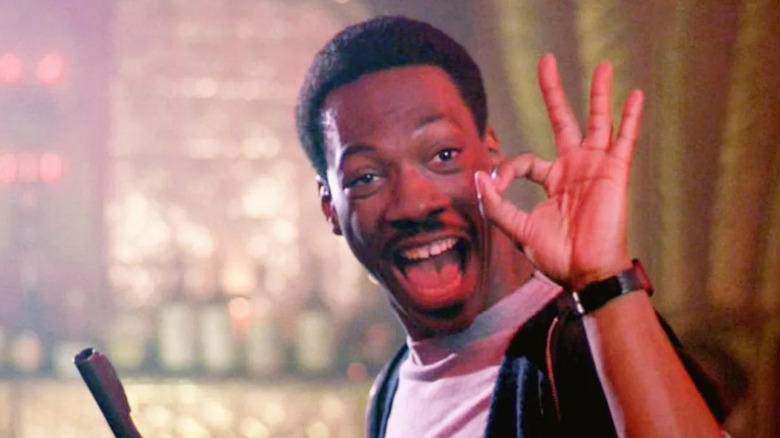 Paramount Pictures
With Stallone now out of the picture, the movie was still in need of a star. According to the book, Don Simpson, who had met with Murphy a few times, eventually suggested the "SNL" star to executives, who were instantly on board.
According to the Times piece, Murphy loved the project right away. "I told Eddie about it a month before Sly dropped out and he went crazy," said Simpson. "He loved it. He wanted to know why he hadn't been exposed to it."
Murphy came in and instantly altered the very DNA of the film. The film's protagonist, Axel Foley, went from a hard-boiled tough guy cop to more of a snarky wise-ass, getting by less on brute force and more on street smarts. Murphy also altered the costume he was given, wanting to look more scruffy and casual.
Martin Brest, the film's director, also loved working with Murphy, finding he could punch up virtually any line of dialogue, according to the book.
"Every time, he came up with something that knocked me to the floor. He's a director's dream. He magnifies every bit of work you do by a thousandfold."
"Beverly Hills Cop" went on to have great financial and critical success, producing two sequels and another on the way. The films have become iconic, and it's hilarious to imagine the Sylvester Stallone version that almost was.