My Father's Dragon Review: Netflix Animation Sparks Joy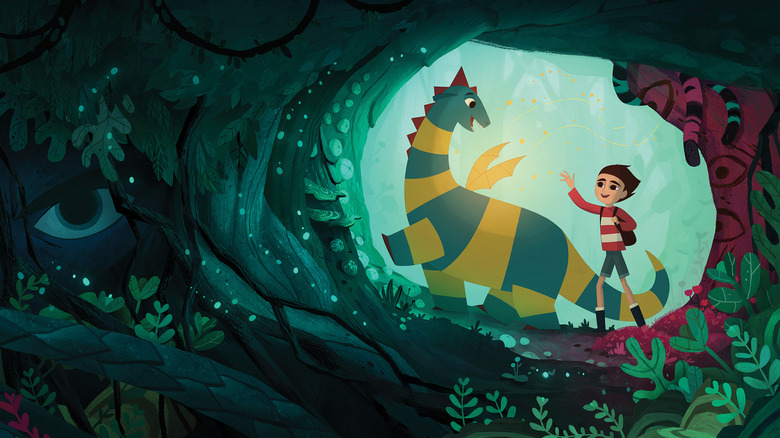 Netflix
"My Father's Dragon" is a 2022 animated feature that feels like a classic. Between the charming hand-drawn aesthetic, the imaginative setting, and the myth-like narrative structure, it has that rare quality of being truly timeless; this is a film that could have come out forty years ago, and will feel as relevant generations from now as it does today. 
And I worry that no-one else will like it. 
Directed by Irish animator and director Nora Twomey ("The Breadwinner"), "My Father's Dragon" tells the story of a boy who finds himself on an unexpected adventure. When he and his mother lose their shop and fall on hard times, Elmer (Jacob Tremblay) runs away from home, vowing to raise the money to reopen the family business. Elmer has a knack for finding things and prides himself on being a fixer, which only makes it harder for him to accept that some problems in life don't have answers. He meets another youngster out to prove himself — a dragon, in fact, trying to prevent an entire island from sinking. Boris (Gaten Matarazzo) is clearly in over his head, faced with an insurmountable problem. Together, he and Elmer try to find a solution, and in the process, learn more about themselves.  
"My Father's Dragon" is an adaptation of a 1948 children's novel of the same name by Ruth Stiles Gannett. This may be why the story feels almost quaint — writers Meg LeFauve and John Morgan have kept the fantasy story focused on the journey, rather than spice things up with pop culture references or meta-jokes. There are no splashy musical numbers or laugh-out-loud gags, and no winks to the audience or innuendo aimed at Mom and Dad. It's an earnest, serious kids movie — the kind of film that the big studios just don't make anymore. 
A boy and a dragon
Netflix
I thoroughly enjoyed "My Father's Dragon," and I wish more children's media took this approach. The animation is fresh and vibrant, and brimming with personality, all while maintaining a unique style. It looks ripped from the pages of a children's book, and that's a key part of the charm. The sequences are creative, and evocative, and there's a whimsy here that really compliments the admittedly basic story. The plot is predictable — it's based on a children's novel written in the '40s, so that's expected — but Twomey finds ways to lean into that, bolstering the themes of caring, friendship, and personal responsibility. It's a gentle personal journey that Elmer takes, one that eschews current conventions while also being very traditional.     
"My Father's Dragon" exudes kindness. There's a clear moral center to the film that is plain and simple for kids to understand, all without really villainizing any particular character. This is what really elevates the deceptively simple-seeming story to something remarkable; "My Father's Dragon" crafts several honest, relatable figures in a very short run-time, demonstrating how differing interests and perspectives can lead to conflict. It's surprisingly mature in that regard, and manages to pull this off subtly without resorting to preaching. 
Tremblay is excellent as Elmer. The young actor has already proven himself in films like "Wonder" and "Luca," and "My Father's Dragon" continues this trend. Matarazzo is also surprisingly strong as Boris. His characteristic croaky voice suits the insecure young dragon. Neither actor is given a lot to work with in terms of dramatics, but there are some very tender moments between them and their chemistry is strong. For me, Ian McShane as the intimidating Saiwa was the clear standout. The veteran actor gave a performance that I would put alongside Jeremy Irons as Scar in "The Lion King" or even George Sanders as the original, terrifying Shere Khan in the 1967 "Jungle Book." There's a gentle wisdom to Saiwa's baritone growl that really distinguishes him from McShane's other cartoon villain roles (Captain Hook in "Shrek the Third" or Tai Lung in "Kung Fu Panda").
"My Father's Dragon" is a low-key story. It is exciting and interesting, but it's not what most kids expect from movies today — and dare I say, parents? I don't expect many kids will watch this over and over again ad nauseam like the "Paw Patrol" movie or "Frozen." People who love animation, especially fans of Studio Ghibli and/or Cartoon Network shows like "Steven Universe," will appreciate the artistry.  And that, in itself, is an accomplishment for Netflix Animation. 
/Film Rating: 8 out of 10