The Best New Blu-Ray Releases: Thor: Love And Thunder, Elvis, And More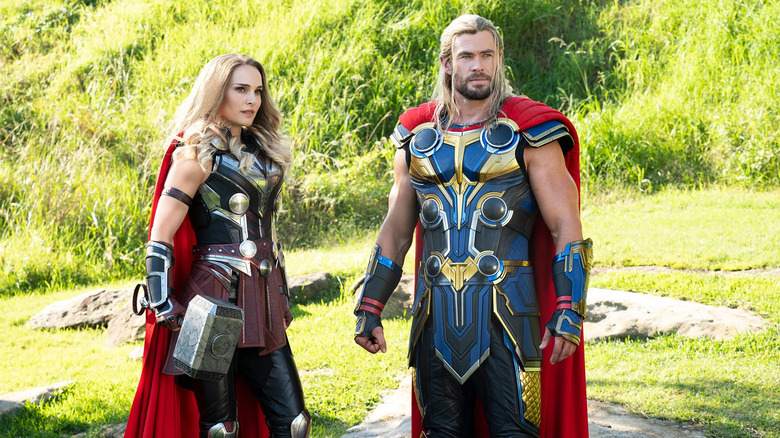 Marvel
Let's get this Blu-ray ball rolling, shall we? In our latest round-up, we have a new Marvel movie, Elvis wiggling his hips, John Travolta caught up in a conspiracy, a lost George Romero classic, the latest from Pixar, and two new 4K horror releases from the fine folks at Shout Factory. So keep those discs spinning and come along with me to the wonderful world of physical media. 
Thor: Love and Thunder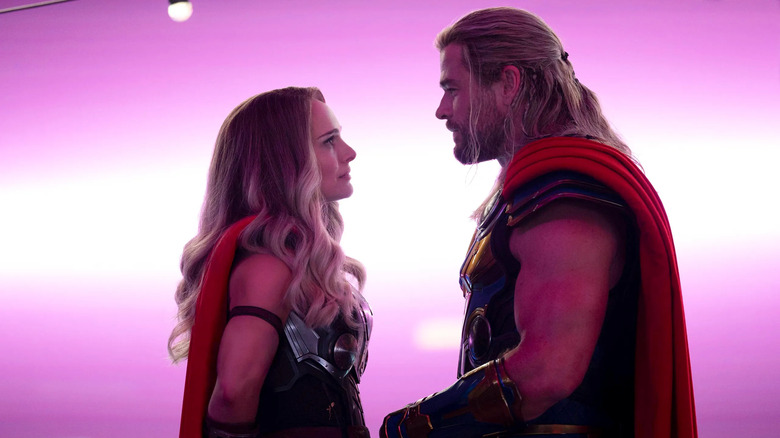 Marvel
"Thor: Ragnarok" felt like a breath of fresh air for both the "Thor" franchise and Marvel, so it made sense to bring back director Taika Waititi for another adventure with the God of Thunder. But it seems like the magic is gone, as "Thor: Love and Thunder" is a weak effort. Sure, there are things too like here — Christian Bale is great as the film's villain, Gorr the God Butcher. And Russell Crowe is clearly having fun playing a goofball version of Zeus. But the story, in which Thor has to team up with ex Jane Foster (Natalie Portman), who is now a Thor, too, in order to stop Gorr, is rather lame. Why? Because it's hard to not agree with Gorr. Gorr was once a faithful man, but when his entire civilization, including his daughter, died, and his people's own personal god mocked him for his loss, he snapped. And now his plan is to kill all gods. And ya know what? Good for him. The gods have it coming. And yet we're supposed to not side with him the entire movie. On top of that, a subplot about Jane dying from cancer doesn't fit with the film's wacky tone at all. Can't win 'em all, Taika. 
Special features:
Gag Reel – Take a look at some of the fun outtakes on set with the cast and crew of Thor: Love and Thunder.
Audio Commentary – Watch the film with audio commentary by director/writer Taika Waititi.
Featurettes
Hammer-worthy: Thor and The Mighty Thor – Trace Chris Hemsworth and Natalie Portman's journeys to becoming Thor and The Mighty Thor, respectively. Watch as the costars speak about the preparation behind embodying their legendary roles and describe how they combine their unstoppable forces.
Shaping a Villain – This featurette introduces Love and Thunder's primary antagonist, Gorr the God Butcher. Shining a light on the man who brings the character to life, this piece highlights his recruitment and process. Then fellow cast and crew reveal personal anecdotes.
Another Classic Taika Adventure – This piece looks back on Taika Waititi's journey taking over the Thor franchise and reinventing the God of Thunder. Revisit the moment Taika was announced as the new custodian of Thor and follow Taika through the production of Thor: Love and Thunder.
Deleted Scenes
Looking for Zeus – Thor, Valkyrie and Korg run into a few characters while seeking an audience with Zeus.
Wasting Time – Star-Lord and Mantis convince Thor to help their cause.
A Safe Vacation – A nonchalant Thor chats with a panicked Star-Lord and Mantis in the middle of chaos. An explosion thrusts Korg into the scene.
Fighting For You – Zeus gifts Thor a special tool after overhearing a heartfelt conversation.
Elvis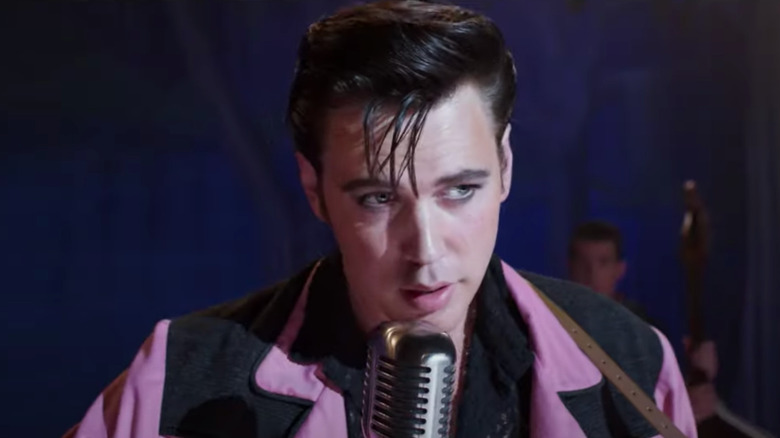 Warner Bros.
I unironically, unapologetically love Baz Luhrmann's "Elvis." Rather than go the traditional biopic route, Luhrmann's portrait of the King is a wild, over-the-top bit of insanity, featuring a fat-suit-wearing Tom Hanks hamming it up as Elvis' manipulative manager, Tom Parker. But the real draw here — beyond Luhrmann's manic style — is Austin Butler's star-making turn as Elvis. This is one of those performances where the actor manages to channel the historical figure he's playing without doing a bad impression. Butler nails down Elvis' body language, his sex appeal, his voice, and his showmanship. We completely buy him in the role, which makes Elvis' ultimately tragic story all the more wrenching. I know many people have no patience for the lunacy Luhrmann is creating here, but to me, it's a feature, not a bug. By all means, give me wacky musician biopics like this over absolute garbage like "Bohemian Rhapsody" any day. 
Special features:

Bigger Than Life: The Making of ELVIS
Rock 'N Roll Royalty: The Music & Artists Behind ELVIS
Fit for a King; The Style of ELVIS
Viva Australia: Recreating Iconic Locations for ELVIS
"Trouble" Lyric Video
Blow Out 4K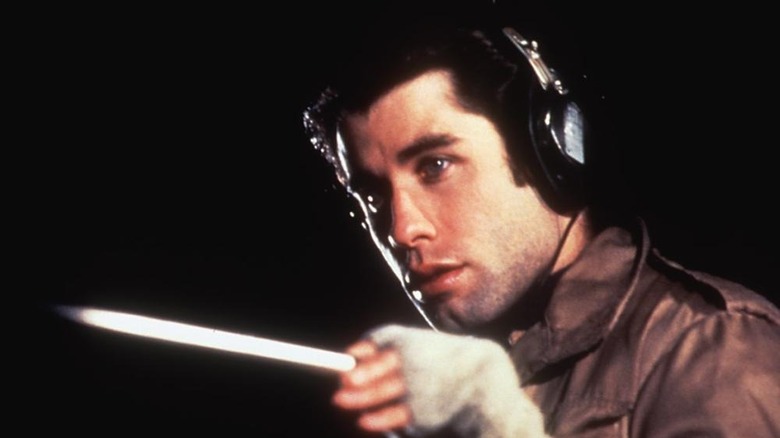 Filmways Pictures
My "favorite" Brian De Palma movie often changes depending on my mood, but the title always near the top is "Blow Out." De Palma's stylish paranoid thriller has John Travolta as a movie soundman who records a political assassination. This draws Travolta's character into a world of danger, along with a prostitute played by Nancy Allen. Meanwhile, a crazed killer (John Lithgow) is on the prowl. Set against the backdrop of Philadelphia, "Blow Out" is a crackling thriller that features some of De Palma's best work. The title now has a much-welcomed 4K release from Criterion, a great upgrade from their previous release. 
Special features: 
4K UHD and Blu-ray: New 4K digital restoration, with 2.0 surround DTS-HD Master Audio soundtrack; DVD: Restored digital transfer
In the 4K UHD edition: One 4K UHD disc of the film presented in Dolby Vision HDR and one Blu-ray with the film and special features
Interview with director Brian De Palma, conducted by filmmaker Noah Baumbach
Interview with actor Nancy Allen
Murder à la Mod, a 1967 feature by De Palma
Interview with cameraman Garrett Brown on the Steadicam shots featured in the film within Blow Out
On-set photographs by Louis Goldman
Trailer
English subtitles for the deaf and hard of hearing
PLUS: An essay by critic Michael Sragow and, for the Blu-ray and 4K UHD editions, Pauline Kael's original New Yorker review of the film
The Amusement Park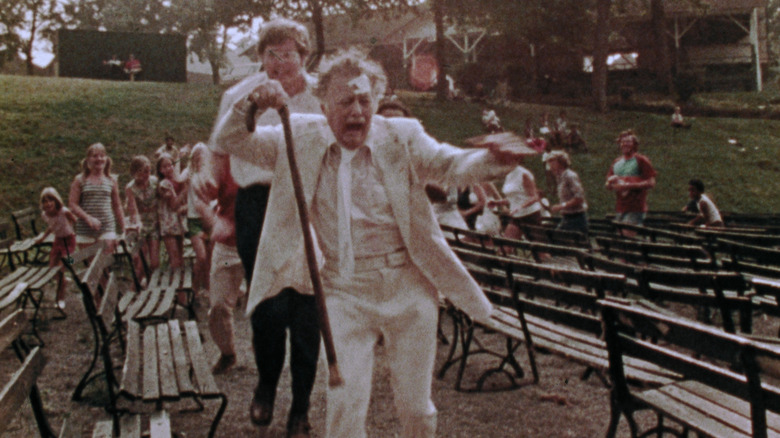 Shudder
In 1973, filmmaker George A. Romeo helmed an educational film about elder abuse for Lutheran Service Society of Western Pennsylvania. That doesn't sound like a high-profile job for the director behind "Night of the Living Dead," but Romero took the work where he could get it. And rather than just phone-in a by-the-numbers PSA, the filmmaker used his skills to create a genuinely unnerving story of an old man (Lincoln Maazel) wandering through an amusement park that seems like it's a gateway to hell itself. The film, "The Amusement Park," was mostly lost for years — until being rediscovered, cleaned up, and released to a wider audience. The film is streaming on Shudder, but it's also on Blu-ray now, and that's a great thing in a world where streaming services don't bother giving their titles physical releases. 
Special features:
Audio Commentary with Michael Gornick
Re-Opening The "Park" with Suzanne Desrocher-Romero
Bill & Bonnie's Excellent Adventure with Bonnie Hinzman
For Your Amusement with Artist Ryan Carr
Panel Interview with Suzanne Desrocher-Romero, Sandra Schulberg, Greg Nicotero and Daniel Kraus moderated by Shudder's Samuel Zimmerman
THE AMUSEMENT PARK Official Brochure
THE AMUSEMENT PARK Script
Behind-the-Scenes Photo Gallery
Lightyear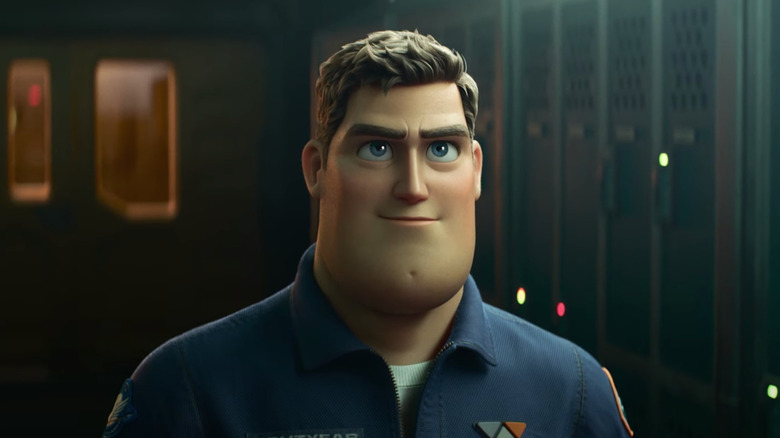 Disney
Disney has been dumping a lot of great new Pixar movies (like "Turning Red"!) straight to Disney+. Which makes the fact that the subpar "Lightyear" received a theatrical release kind of depressing. "Lightyear," which, just to be clear, isn't Buzz Lightyear the toy, but rather the origin story of the human Buzz Lightyear that the toy is based on, is meant to be a movie from the 1990s that "Toy Story" character Andy saw and loved. Naturally, Andy then wanted an action figure from the film, and that action figure is the Buzz Lightyear from the "Toy Story" films. But here, Buzz is a human character on sci-fi adventure. And that's not a bad idea, honestly! But the end result is lackluster. Chris Evans can't channel his usual charm into voice acting, the plot is rather drab, and the emotion that usually comes with a Pixar film just isn't there. On top of all that, nothing here feels like it's from a movie released in the 1990s. Why not have fun with that premise and make the movie more '90s-centric? I don't know, but at least that would've resulted in something slightly more interesting than this. All that said, the robot cat Sox rules, so I guess "Lightyear" isn't a complete misfire. 
Special features:
Deleted Scenes
Deleted Scenes Introduction – Director Angus MacLane introduces six scenes that are all drawn, set to music, timed and voiced, but are not included in the final version of this amazing film – which took five and a half years to make!
The Dump – In one of LIGHTYEAR's original opening scenes, we explore Proxima B, with its carnivorous plants, sulfur pits, weird bugs, hot climate, and lack of coffee! A familiar Space Ranger volunteers to risk all in an effort to return to Earth.
Polly – Buzz relives childhood memories when he visits an aeronautic museum in which his father is memorialized. There, he finds Polly, his dad's robot companion bird, who possesses a very revealing recorded message meant for Buzz!
Meet Izzy – After young Izzy and her family (including her brother Maurice) move in next door to Buzz, the adorable, talkative girl bursts into Buzz's home, warms up to Sox, and asks Buzz a lot of questions.
Up in the Lair – After his spacecraft crash-lands and he winds up in the bunker of fledgling Space Rangers, Buzz is introduced to cheesy snacks and a character whose role was cut due to time. He also receives shocking information about his father.
Tilted Ship – Star Command Space Rangers of the 56th Airborne Alpha Quadrant meet Buzz and the Space Ranger students. Buzz is given a truth serum so he'll expose whatever he knows about his father's connection to the aliens who have taken over Proxima B.
Fathership – Buzz wakes up in what he thinks is his childhood home, where he meets his father, who was a time travel pilot, just as he is. But it turns out he's on the mothership of the aliens who are destroying Proxima B – and hope to vanquish Buzz as well!
Featurettes
Building the World of Lightyear – Visits to the Johnson Space Center in Houston and a very familiar cinematic archive gave the filmmakers inspiration as they embarked on the exciting journey of creating Lightyear's breathtaking production design.
The Zap Patrol – Meet the actors who gave voice to Izzy, Mo and Darby, the untrained, unprepared rangers who join Buzz on the adventure of a lifetime. While the misfits may not seem ideal for the mission, their unlikely friendship helps see them through challenging times.
Toyetic – Learn why Lightyear is one of the most "toyetic" films ever. Join director Angus MacLane and others on the meticulous, fun process of creating toy models for spaceships and other production elements that led to the film's richly textured animation.
Audio Commentary
Lightyear Filmmaker Commentary – Join director Angus MacLane, writer Jason Headley, and director of photography Jeremy Lasky as they provide insight into the making of this remarkable animated feature while you watch it.
Cat People 4K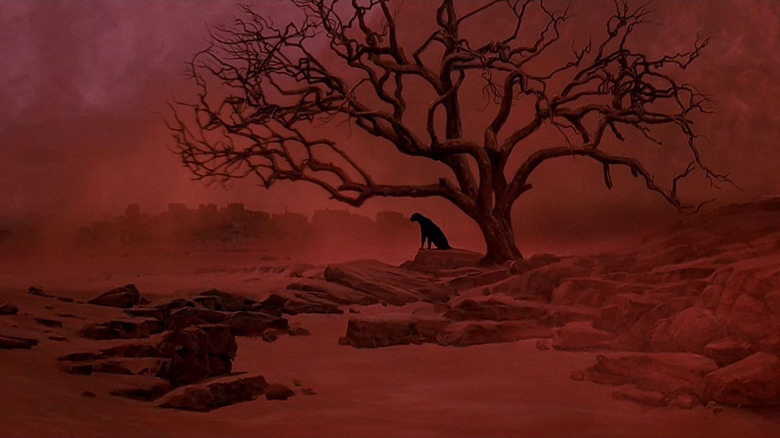 Universal Pictures
Paul Schrader's "Cat People" is a very horny movie. And not normal horny, either. Oh no. This is the type of sweaty, manic horniness that gets people in trouble. Based extremely loosely on the 1942 film of the same name, "Cat People" stars Nastassja Kinski Irena, as a woman who heads to New Orleans to connect with her estranged brother Paul, played by Malcolm McDowell. Paul lusts after his sister, Irena lusts after a zookeeper (John Heard), and oh yeah, there's a black panther stalking around eating people. Weird, dreamy, and more than a little confusing, "Cat People" now has a great 4K release that lets you really focus on the buckets of horny sweat everyone is covered in. 
Special features:
DISC ONE (FEATURE FILM – 4K UHD):
NEW 2022 4K Scan Of The Original Camera Negative In Dolby Vision (HDR 10 Compatible)
Audio Commentary With Director Paul Schrader
DISC TWO (FEATURE FILM & SPECIAL FEATURES – BLU-RAY):
NEW 2022 4K Scan Of The Original Camera Negative
Audio Commentary With Director Paul Schrader
More Than A Remake – An Interview With Director Paul Schrader
Unleashing The Animal Within – An Interview With Actress Nastassja Kinski
Making Memories – An Interview With Actress Annette O'Toole
Caging The Animal – An Interview With Actor John Heard
Reconnecting With Cat People – An Interview With Actor Malcolm McDowell
Cat Fight – An Interview With Actress Lynn Lowry
Composing A Cult Classic – An Interview With Composer Giorgio Moroder
Cat People: An Intimate Portrait
On The Set With Paul Schrader
Filmmaker Robert Wise On The Producer Of The Original Cat People, Val Lewton
Special Makeup Effects By Tom Burman
A Look At The Film's Matte Paintings
Original Theatrical Trailer & TV Spot
Photo Galleries – Photos From The Film, Production Art, And Posters
Dog Soldiers 4K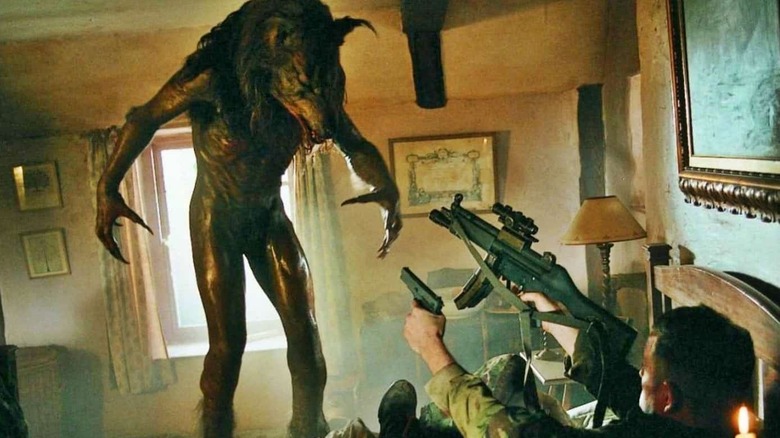 Pathé
Special features:
DISC ONE (4K UHD):
NEW 4K Restoration from The Original Camera Negative By Second Sight Films – Approved by Director Neil Marshall And Director Of Photography Sam McCurdy – Presented In Dolby Vision
NEW Audio Commentary With Writer And Associate Professor Of Film Alison Peirse
Audio Commentary With Director Neil Marshall
Audio Commentary With Producers David Allen And Brian O'Toole
DISC TWO (BLU-RAY):
NEW 4K Restoration from The Original Camera Negative By Second Sight Films – Approved by Director Neil Marshall And Director Of Photography Sam McCurdy
NEW Audio Commentary With Writer And Associate Professor Of Film Alison Peirse
NEW Werewolves, Crawlers, Cannibals And More – An Interview With Neil Marshall
NEW A History Of Lycanthropy – Author Gavin Baddeley On Werewolf Cinema
NEW Werewolves, Folklore And Cinema – A Video Essay By Author Mikel J. Koven
Audio Commentary With Director Neil Marshall
Audio Commentary With Producers David Allen And Brian O'Toole
Werewolves Vs. Soldiers – A Look At The Making Of DOG SOLDIERS Featuring Interviews With Director Neil Marshall, Producers Christopher Figg And Keith Bell, Actors Kevin McKidd, Sean Pertwee, Darren Morfitt, Leslie Simpson And Emma Cleasby, Special Effects Artist Bob Keen, And More!
A Cottage In The Woods – A Look At The Production Design With Production Designer Simon Bowles
UK Theatrical Trailers And U.S. Home Video Promo
Combat – A Short Film By Neil Marshall
Two Still Galleries – Photos From The Film And Rare Photos From Production Designer Simon Bowles And Special Effects Artist Dave Bonneywell's Archives