An Impromptu Audition Kickstarted Jean-Claude Van Damme's Acting Career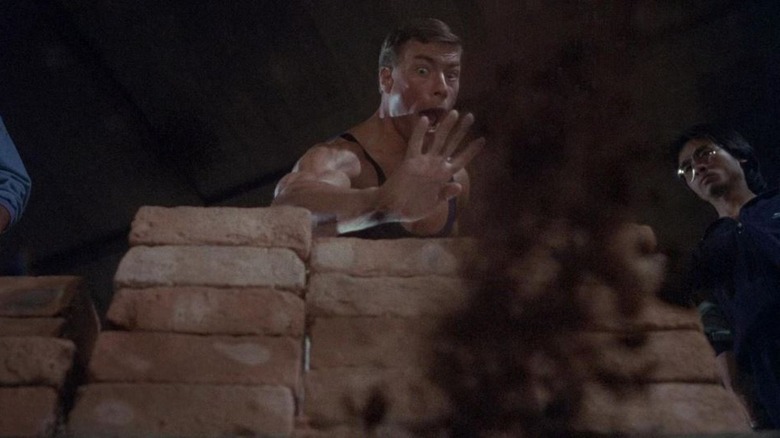 Warner Bros. Pictures
Known for his high-flying kicks and flexibility, Belgian actor Jean-Claude Van Damme is trained in kickboxing, taekwondo, and kung fu. As a teen, he won the European Professional Karate Association's middleweight championship. Hoping to use his unique skillset to become the next big thing in Hollywood, he moved to Los Angeles in the '80s. Today, Van Damme is regarded as one of the best action stars of all time.
His impact extends beyond the world of cinema. He inspired the ring name for one of my favorite professional wrestlers, WWE Hall of Famer Rob Van Dam, whose look and high-flying maneuvers were identical to those of the "Timecop" star, so much so that I actually thought they were brothers. In a 2021 episode of "WWE Icons," the wrestler explained the effect the actor had on his career:
"When I'm down in Florida in '91 and '92, [wrestler-turned-promoter] Ron Slinker is running the [professional wrestling studio] Tampa Sportatorium. Ron Slinker said that he thought I looked like this actor, Jean-Claude Van Damme, who was very over. Ron Slinker told me to tell people that I was his cousin. He wanted me to sound like I had a Belgian accent. I was just like, '[in accent] I'm very excited to see these people. All of you people, your love for me.' I was embarrassed and shy, and I just did my best, but it stuck."
Before his popularity helped an aspiring wrestler develop his signature persona, Jean-Claude Van Damme struggled to launch his own career. He worked as a waiter in Beverly Hills. That job, however, turned out to be a blessing in disguise. During his shift, he spotted a film producer who had the cachet to put the aspiring action star on the map. Van Damme leaped into action ... literally.
'He jumped his foot above my head'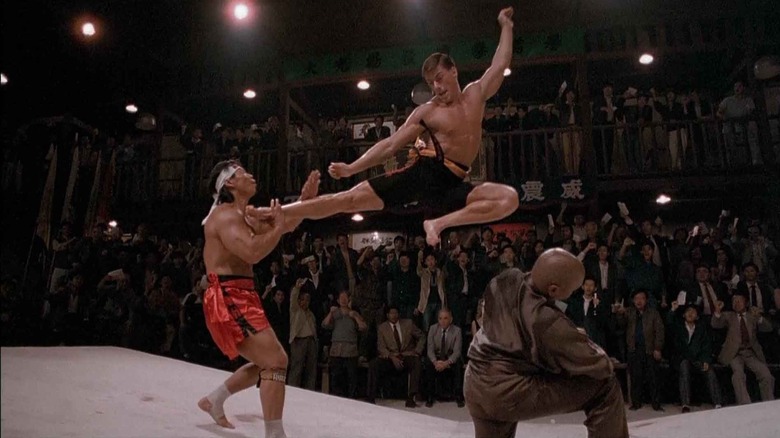 Warner Bros. Pictures
The Hollywood producer Jean-Claude Van Damme spotted dining at his place of employment was the late Menahem Golan, who operated Cannon Films with his cousin Yoram Globus. Golan worked with Chuck Norris on the '86 action flick "The Delta Force," in which Norris stars as a leader of an American special ops team who takes down a terrorist group that hijacked a Boeing 707. The following year, he worked with Sylvester Stallone on the sports-action movie "Over the Top." The "Rocky" star plays a truck driver who yearns for his son's love while trying to win a huge cash reward in an arm wrestling competition. 
Van Damme closed in on Golan and made his move. In an interview, Golan recounted the chance meeting. "He came to me in a restaurant, you know, and he jumped his foot above my head while he was holding two plates of soup, which did not move," he said. "And I thought, 'if he can do that, then he can kick like a real martial artist.' And he could. And he came to us, a month later we'd produced already his first film, 'Bloodsport."
In the 1988 film, which is supposed to be based on true events in the life of Frank Dux, Van Damme plays a U.S. Army captain who goes AWOL to compete in Kumite, a brutal underground martial arts tournament in Hong Kong. The movie was a box office hit and made Van Damme the action star he moved to America to be. "My connection with Van Damme is special for, that I discovered this young man and potential martial arts star," Golan said. But the impromptu audition wasn't the first time Van Damme showcased his karate prowess to get a movie role.
Jean-Claude Van Damme and the Predator debacle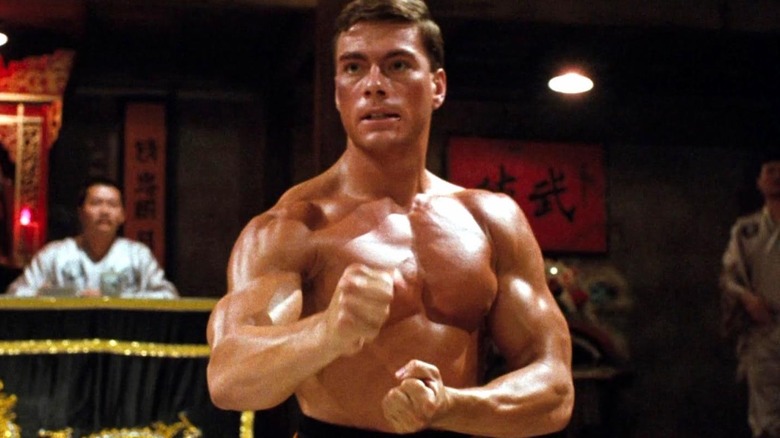 Warner Bros. Pictures
A little known fact is that Jean-Claude Van Damme was originally tapped to star opposite Arnold Schwarzenegger as the alien villain in the science fiction-action film "Predator," but his casting was doomed from day one. Uncomfortable in the plastic alien costume and with the director's requests for him to perform dangerous and impossible stunts, Van Damme complained a lot on set. To his credit, the producers agreed that a new costume was needed, so they paused production, designed something that fitted the much taller Kevin Peter Hall, and never called Van Damme to return. 
But he got the role in the first place because he impressed the film's casting director, Jackie Burch, with his jumping ability, as she told The Hollywood Reporter in a 2017 oral history of "Predator."  "Jean-Claude Van Damme was someone who used to constantly come into my office, jumping up in the air, showing me his moves, begging me for work," Burch said. "So finally, I said to [producer Joel Silver], 'He'd be great as the Predator because no one moves like him.' I mean he really is quite amazing."
Unfortunately, it didn't work out as Burch anticipated. Van Damme appeared to have soured on the opportunity when he realized that he wouldn't be allowed to showcase his martial arts prowess in an epic showdown with Schwarzenegger. I must admit though: he is resilient and persistent. It takes major guts and confidence to do what he did in that restaurant. What if he had accidentally roundhouse kicked Menahem Golan in the head and spilled the hot soups on patrons? He could've been relieved of his waiter duties on the spot and blackballed from Hollywood before his career began. Van Damme betted on himself and won.