Robin Williams' Wildest Mork & Mindy Performances Happened When The Cameras Weren't Rolling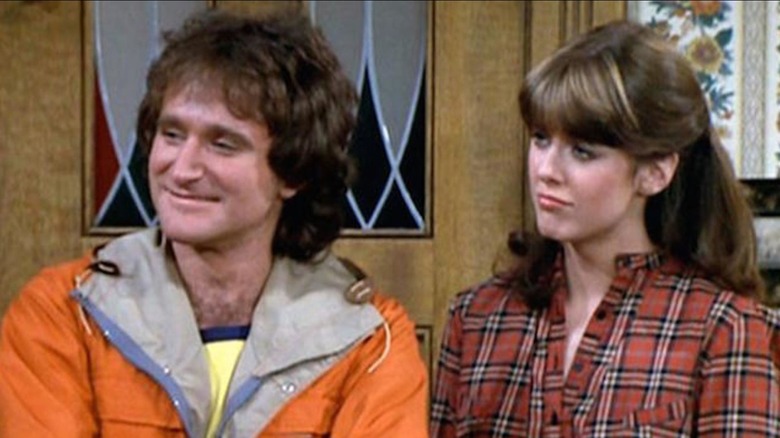 ABC
When it comes to kooky sitcoms you have to see to believe, "Mork & Mindy" is near the top of the list. To describe the late-'70s comedy to a young audience today feels a bit like trying to have a conversation in Orkan. 
There was this show called "Happy Days," you see, with Henry Winkler as leather jacket-clad Fonzie and Ron Howard as the aw-shucks protagonist Richie. That otherwise non-fantasy show, for reasons that had to do with "Star Wars," had a surreal episode about aliens. This led to the alien-human roommates spinoff "Mork & Mindy," which is how legendary comedian Robin Williams got his big break, playing a rainbow-suspender-wearing being who liked to declare stuff like "Shazbot!"
Williams saved his wildest stunts for the pre-show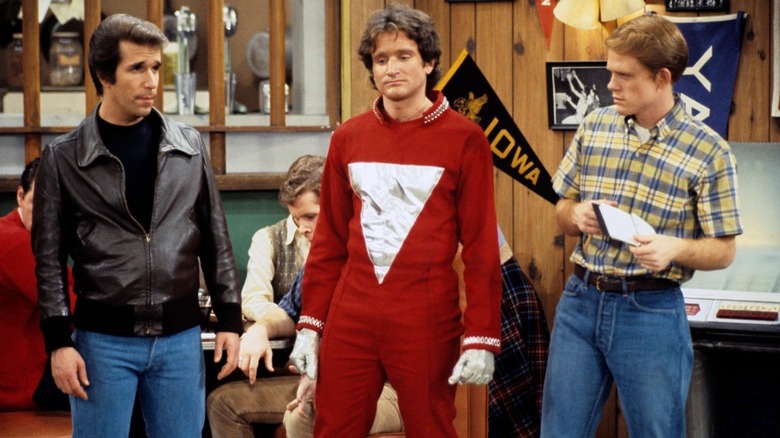 ABC
"Mork & Mindy" is already a pretty wild show on the surface, but when you take into account the fact that it was energetic and outrageous comedian Robin Williams' breakout role, it's no surprise that the behind-the-scenes stories about the show were just as ridiculous as the plots audiences saw on screen. In his memoir "My Happy Days in Hollywood," series co-creator Garry Marshall explained that the actor's antics didn't stop when the camera stopped rolling. In fact, some of his most off-the-wall work apparently happened before the studio's recording light clicked on.
"Robin knew we would protect him, so he felt free enough to push his own limits and those of the network censors," Marshall wrote. "Very often the preshow live audience warm-up was funnier than the script because Robin could be more irreverent and use bad language, which can be very funny in the right hands." 
While the surreality of "Mork & Mindy" and some of its surprisingly deep observations ("This week I discovered a terrible disease called loneliness," Mork says in one episode) made the series intriguing for adults, it was technically a kid-friendly show, so Williams had to stick with G-rated scripts. Yet the comedian who would soon go on to make several adult-oriented comedy specials with HBO still found surprising ways to make studio audiences — and his costars — double over in stitches.
He was constantly trying to make his co-star laugh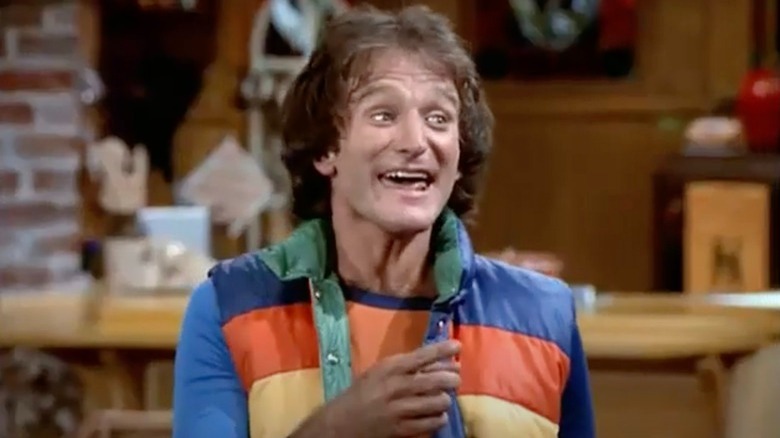 ABC
"He would always try to make Pam Dawber laugh," Marshall wrote. "Sometimes he would even walk out, offstage and then come back naked. He used any means he could to shock Pam and make her mouth literally fall open." 
Since the series was filmed in front of a live studio audience, Williams' pre-show methods got the crowd ready to laugh early and often. In Dave Itzkoff's book "Robin," Dawber, who played Mork's human love interest Mindy, describes the array of shocking improv tactics the comedian used, including some handsy comedic bits that she says wouldn't fly today. However, she describes him as "guileless" and "playful" and emphasizes the fact that she had "so much fun" with his constant attempts to get a rise out of her.
"Over time the on-screen relationship of Pam playing the straight woman to Robin's funny man became even better-defined and more reliable," Marshall wrote in his memoir. "The audience knew every time that if Robin did something crazy, Pam would react in a shocked and embarrassed way, like the proper character she was playing." Williams' wild and goofy hijinks were just the beginning for the actor: he would go on to win an Oscar as well as Emmys and Grammys before his passing in 2014, and he's warmly remembered as one of the best comedians of all time.