Welcome To Chippendales Trailer: Kumail Nanjiani Welcomes You To A World Of Luxury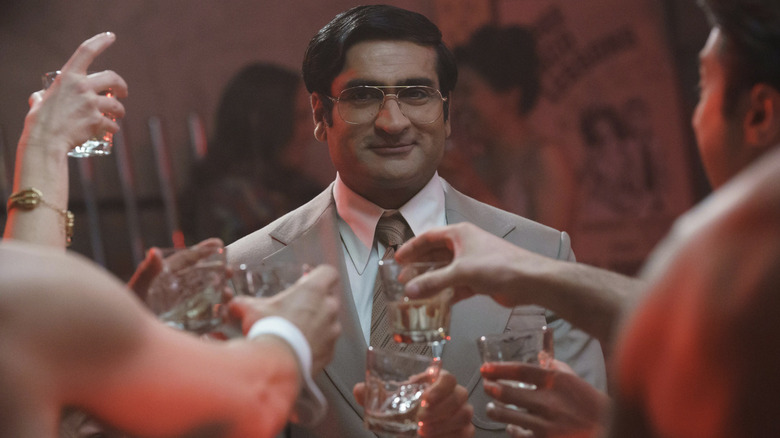 Hulu
You might know the Chippendale erotic dance troupe, but do you know the story of how it came to be? Probably not, but you are about to thanks to Hulu's upcoming limited series "Welcome to Chippendales" (which you might have heard about under its original title, "Immigrant"). 
Believe it or not, the story behind Chippendales is wild. It's one that involves dancing, mud wrestling, and intricate murder plots, with Kumail Nanjiani playing the man at the center of it all.
Somen Banerjee, nicknamed Steve, was an ambitious businessman who, after a few failed investments, decided to fill a significant gap in the striptease market with the creation of Chippendales. Wanting to ensure the longevity of the company and brand, he did whatever he could to secure its success — including some things that sound almost too wild to be true. Check out the limited series' newest teaser below to learn more about this salacious story.
Check out the Welcome to Chippendales teaser
Joining Nanjiani as Banerjee is newly-minted Emmy winner Murray Bartlett as Nick De Noia, the ill-fated Chippendales choreographer who meets his boss's ire. Dan Stevens plays Paul Snider, a nightclub promoter that became infamous after murdering his estranged wife, Dorothy Stratten, played in a guest role by Nicola Peltz. Robin de Jesús plays Ray Colon, a former police officer who factors into the story in a significant (and possibly spoilery) way. Other actors slated for the miniseries in more mysterious roles include Juliette Lewis, Annaleigh Ashford, Quentin Plair, Spencer Boldman, and Andrew Rannells.
Robert Siegel, who wrote last year's "Pam & Tommy" miniseries, serves as writer and executive producer on "Welcome to Chippendales." Nanjiani also executive produces the series alongside his wife and frequent collaborator, Emily V. Gordon. The very busy Matt Shakman will direct all episodes of the limited series, having replaced original director Ramin Bahrani back in February of this year.
"Welcome to Chippendales" will arrive on Hulu on November 22, 2022. In the meantime, read its official synopsis below:
A sprawling true-crime saga, "Welcome to Chippendales" tells the outrageous story of Somen 'Steve' Banerjee, an Indian immigrant who became the unlikely founder of the world's greatest male-stripping empire—and let nothing stand in his way in the process.