A Clockwork Orange Star Malcolm McDowell Got Shortchanged By Stanley Kubrick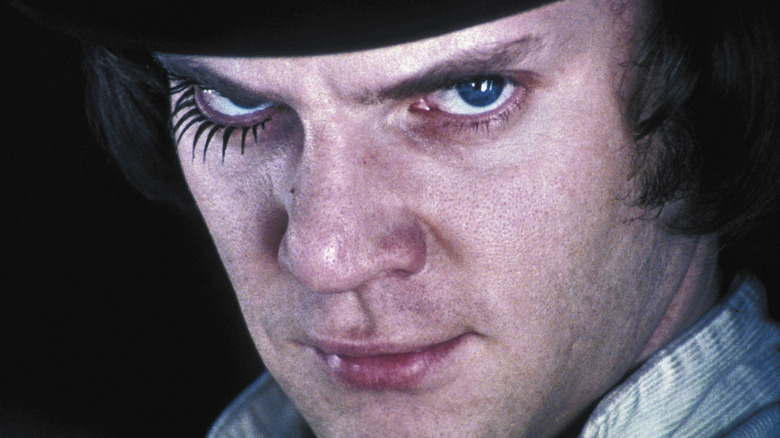 Warner Brothers
Malcolm McDowell's role in "A Clockwork Orange" is likely the one he'll always be known best for. He played the role of Alex in the 1971 film based on the novel of the same name, a charismatic juvenile delinquent in a dystopian future England. He leads a band of his buddies (or "droogs," as he calls them) around committing horrible crimes and acts of "ultraviolence," as they like to call it. The movie's commentary on things like juvenile delinquency, psychiatry, and government brainwashing have kept it relevant through the years, and McDowell played the role of the rebellious thug pristinely.
The film was directed by Stanley Kubrick, one of the most acclaimed directors of all time. It's considered one of Kubrick's greatest works, as well as McDowell's. Kubrick was very complimentary of McDowell's performance. "He was, without the slightest doubt, the best actor for the part," said Kubrick in an interview with Michael Ciment. "It might have been nicer if Malcolm had been seventeen, but another seventeen-year-old actor without Malcolm's extraordinary talent would not have been better."
One would think that receiving the role of your life from one of history's great directors at the age of 28 would be the sort of thing McDowell would be eternally grateful for. Unfortunately for McDowell, his relationship with Kubrick was extremely strained following the film's release, with issues both personal and financial arising between the two.
Harsh treatment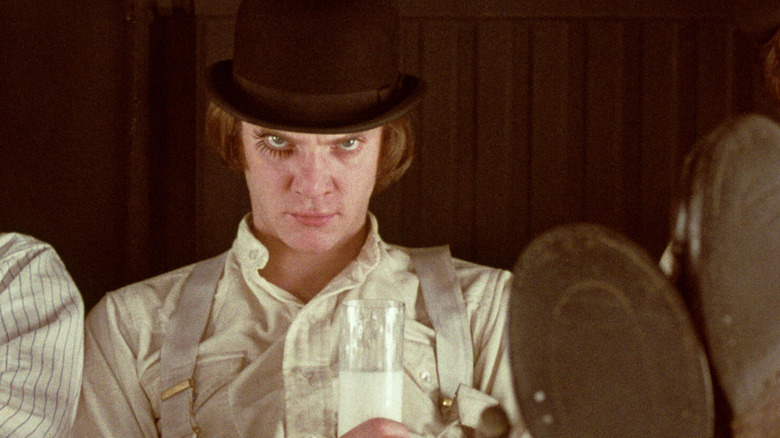 Warner Brothers
Kubrick is considered one of the great directors of all time, but his methods were known to be morally questionable, at best. His treatment of Shelley Duvall on the set of "The Shining" was nothing short of abusive, and McDowell was not able to escape his work with Kubrick unharmed as well.
Kubrick expected authenticity from McDowell, which led to multiple cracked ribs during his filmed beatings, and went temporarily blind when Kubrick had a doctor anesthetize his eyes. Despite all this, Kubrick was happy with McDowell's work. McDowell even invented what would become known as "the Kubrick stare," a facial expression that would carry through to much of Kubrick's other work.
But even after suffering so much for Kubrick's art, McDowell revealed in an interview with The Guardian that he had trouble negotiating his payment with the director. "I'd asked for $100,000 and 2.5% of the box office, which is what I'd got paid on my previous film," said McDowell. "Stanley told me Warner had refused the 2.5%. But when I was invited to meet the studio heads, they said: 'You're going to be a very rich young man on the 2.5% we gave Stanley for you.'" McDowell knew he had been played. This behavior sadly doesn't seem very out of character for Kubrick, considering some of his other actions.
Personal rejection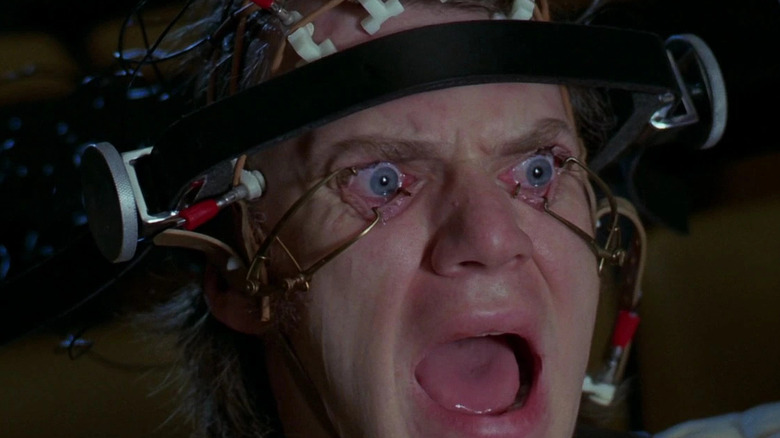 Warner Brothers
The shortchanging by Kubrick was extremely hurtful to McDowell, especially after he'd really put in so much of himself into the film. "It was a shocking hurt," McDowell said in a 2014 interview with Entertainment Weekly. "I'd been used to Lindsey Anderson, who was my best friend. And then with Stanley, I gave him absolutely everything I had — everything I had—and he barely called me after that."
For McDowell, it was more than just a financial slight. It was a horrible personal insult. "It was like a total rejection of you as a person," McDowell said. "Sure, he'd call when he wanted me to go to America to sell the bloody movie, but it really hurt. It was shocking. In fact, I couldn't talk to him. There were other things, which I really don't want to rehash, but you know, I had my issues with him. I thought that he had betrayed me in such a way."
McDowell would go on to have an extremely successful career in his own right. He'd make lots and lots of money. But the way Stanley Kubrick treated him clearly affects him to this day, and he's right to feel that way. To suffer the abuses he did on set, only to not even get the agreed-upon compensation, was horrible. Kubrick's films are nearly all considered classics, but between McDowell and Shelley Duvall, it hardly seems worth the human toll.