Yes, Brendan Fraser Really Is As Great As You've Heard In The Whale, Even If The Movie Itself Is A Disappointment [TIFF]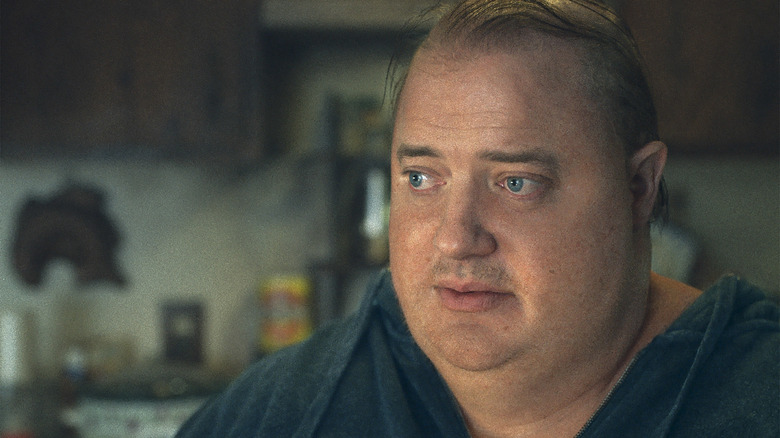 A24
In 1999, Brendan Fraser became a big star thanks to "The Mummy." The actor had more than a few roles before that blockbuster, but it was the "Indiana Jones"-inspired adventure that truly launched him to superstardom. And it was easy to see why: he was a hunky guy with a chiseled jaw, but he was also a goofball — the perfect combination of tough and cute. He was easily likable, and he had some chops, too — before "The Mummy," the actor gave a great dramatic turn in Bill Condon's 1998 film "Gods and Monsters." But while Fraser continued to work steadily, his roles never quite matched the charm of "The Mummy."
And then he left us. The actor kept working off and on, but he put his career on pause following a series of issues — he had to undergo several surgeries due to performing stunts (including a partial knee replacement), he got divorced, his mother died, and, in addition to all of this, Fraser was allegedly sexually assaulted by Philip Berk in 2003, when Berk was the president of the Hollywood Foreign Press Association (the organization that runs the Golden Globes). 
Recently, though, Fraser has slowly been returning to the spotlight. He had a small but memorable role in Steven Soderbergh's "No Sudden Move," he was supposed to appear in the DC movie "Batgirl" before it got shelved, he'll soon be seen in Martin Scorsese's "Killers of the Flower Moon," and, of course, he's now on track to his biggest comeback role yet in Darren Aronofsky's "The Whale." I am no Oscar prognosticator, but I follow the way the wind blows, and there's already a ton of talk about Fraser scoring a Best Actor Oscar for his work in the film. I have no idea if he'll win, but I'm positive he'll land a nomination, because yes, Brendan Fraser really is as great as you've heard in "The Whale." It is, without question, the best performance the actor has ever given, and a reminder of what we've been missing during Fraser's acting pause. 
But that doesn't mean the movie itself is very good. 
We all want the best for Brendan Fraser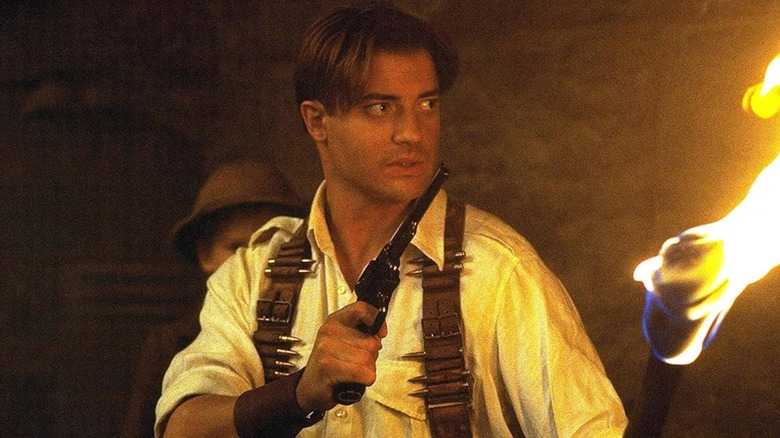 Universal
The press tour for "The Whale" so far has focused primarily on Fraser's big return, and there's no shame in that. The actor appears genuinely humble in interviews, and absolutely touched that his work is being so highly praised. We all want the best for Brendan Fraser — we all want him to succeed; to recapture the stardom that was once in his hands before slipping away. In short, it's great to have him back.
In "The Whale," Fraser plays Charlie, a 600-pound man still reeling from the death of his lover. It was this death that sent Charlie over the edge, binge-eating until he gained so much weight. He's now a shut-in, never leaving his dingy apartment and eating large quantities of food whenever he can. His only real connection to the outside world is Liz (Hong Chau), a nurse who checks in on Charlie and makes sure he's getting what he needs. 
But Charlie's health has caught up with him — he's in the midst of congestive heart failure, which means his days are limited. This inspires Charlie to reach out to Ellie (Sadie Sink), his estranged, extremely angry teenage daughter. When Ellie was eight, Charlie left her and her mother (Samantha Morton) to be with a man, who also was one of his students. This abandonment has turned Ellie against her father, and while she does finally pay him a visit, she is unrelentingly cruel towards him, even as Charlie attempts to be loving and kind to her. 
Aronofsky has traveled this road before — "The Wrestler" was also about a dying man trying to reconnect with his daughter. And while the filmmaker was able to find some pathos and honesty lurking in "The Wrestler," "The Whale" feels like a pale, and often cruel, imitation. None of the other characters in the film can match what Fraser is doing here — Chau comes closest, with her tough-but-fair nurse. But Sink is woefully miscast as the teen furious at the world, and Ty Simpkins, as a religious missionary who keeps showing up hoping to save Charlie's soul, feels like he's from a completely different movie. 
In addition to that, Aronofsky, here adapting a stage play, is saddled with a one-room location. Plenty of filmmakers have made one-room locations work to their advantage, but the set-up seems to have completely hampered Aronofsky. His "mother!" was set in one house, but was free to roam about the rather large residence and reveal new, strange rooms. "The Whale," in contrast, is set almost entirely in Charlie's living room/kitchen, which are all part of the same open floor plan. We catch a glimpse of his bedroom and bathroom, but the bulk of the pic is tethered to this one space. Again: there's a way to make his work. But Aronofsky, a filmmaker who revels in camera movement spliced with jarring cuts, is unable to find his footing. Making matters worse is the clunky, obvious script from Samuel D. Hunter, based on his play. Repetitive and loaded with obvious metaphors and characters who simply refuse to behave like real human beings, it leaves you cringing during moments that are meant to be loaded with emotion. 
In other words, "The Whale" would be a complete misfire — were it not for Brendan Fraser. 
Fraser deserves his praise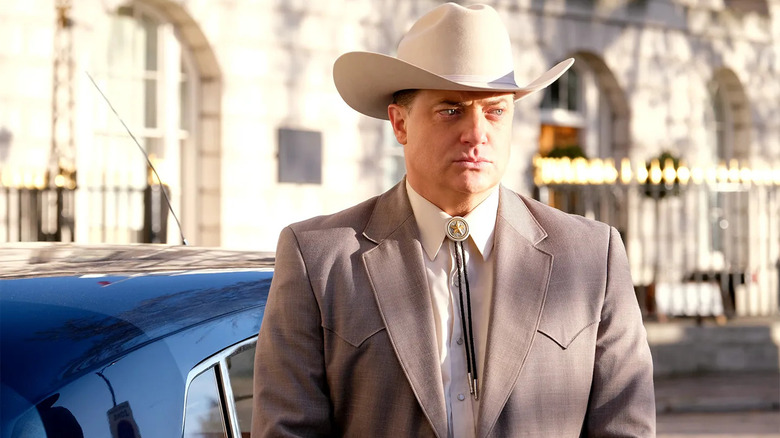 FX
Fraser has done serious work before, but nothing that's come close to what he's doing in "The Whale." Much will be made about the massive prosthetics the actor wears to turn him into a 600-pound man. And the prosthetics look realistic. But Fraser's performance never gets lost underneath that makeup. In fact, one of the things that makes Fraser's work here so incredible is that the actor is able to make his character seem so small despite his size. Fraser plays Charlie as a closed-up, intensely private man, making himself appear compact while also taking up so much space. 
And then there's Fraser's persona, which is so remarkably kind. Charlie is clearly not a happy person, and he struggles every day, both physically and emotionally. But there's a rare, almost unbearable empathy to what Fraser is doing here; even when people are cruel to Charlie, including his frequently nasty daughter, he still exudes a warmth that is heartbreaking. Later in the film, when Charlie has something of a breakdown and begins binge-eating nearly everything in his house, Fraser's compassionate, but troubled, performance makes it clear that we're not meant to laugh at Charlie gorging himself, nor are we meant to be disgusted. We feel only a great sense of sadness, wishing that life could be better for this struggling man. 
Without giving away spoilers, the film's final act finds Charlie at his most tenderhearted. As he delivered a beautiful, loving monologue, I found myself completely breaking down. Not because "The Whale" has earned this pathos — but because Fraser has. Brendan Fraser is nothing short of miraculous in "The Whale," and he'll no doubt take home a slew of well-deserved awards. But here's hoping this is just a stepping stone to get him back on track, and whatever movie he does next is far more worthy of his talents.