Steven Spielberg Had A Personal Reason For Choosing Not To Direct Tom Hanks In Big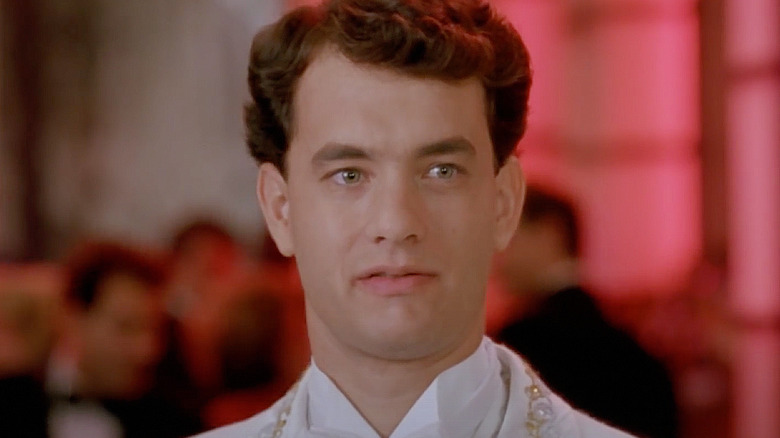 20th Century Studios
Director Penny Marshall's "Big" was, in many ways, the film that made Tom Hanks. Released in 1988, Marshall's hit comedy centers on Josh (David Moscow), a 12-year old boy whose wish to be "big" results in him falling asleep one night only to wake up a 30-something adult (Hanks). Thanks to his child-like outlook, Josh is quickly able to snag a high-profile job at a lucrative toy company. He even begins a romance with his co-worker Susan (Elizabeth Perkins), who finds his sincerity and innocence a welcome balm after years of dating self-absorbed, insecure men.
Yes, Josh and Susan's relationship is kind of weird and creepy when you ignore the magical realist conceit, but Marshall was well-aware of that and took care to handle their love story as sensitively as possible. "Big" is equally thoughtful in the way it shows Josh struggling to adjust to the harsh realities of adult life and coming to see the value in experiencing all the ups and downs that come with adolescence. It's almost like a Steven Spielberg film in the way it blends light-hearted comedy with earnest drama — perhaps because it was co-written by Spielberg's sister, Anne Spielberg.
In fact, it was because of his sister's involvement that Steven Spielberg decided to pass on directing "Big."
Spielberg didn't want to take all the credit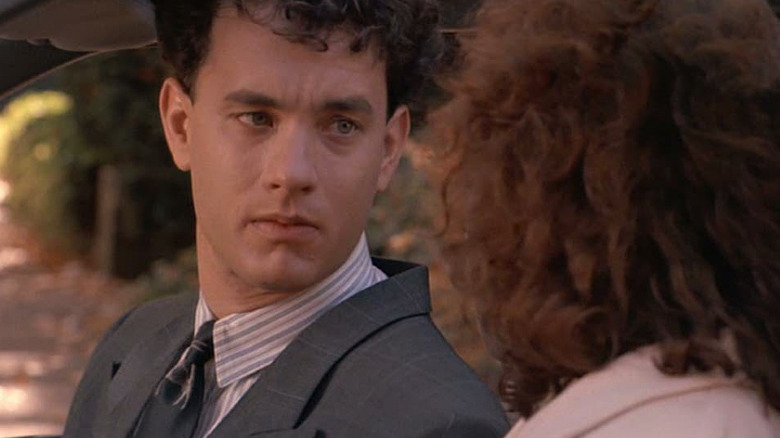 20th Century Studios
Although they didn't work together for the first time until "Saving Private Ryan" in 1998, Steven Spielberg and Tom Hanks were real-life friends well before that. Hanks recalled how they met to Flavourmag in March 2016, stating, "I was petrified. I couldn't believe it. I remember having, for me, a very stilted dinner because I was meeting — ya know — Steven Spielberg."
Spielberg was actually in the running to direct "Big" at one point, with Harrison Ford set to star instead of Hanks. At the time of the film's release in 1988, Spielberg's Amblin co-founder, producer Frank Marshall, said the legendary director had dropped out of "Big" due to a scheduling conflict with his WWII drama "Empire of the Sun." However, Spielberg told Flavourmag the truth is he passed for much more personal reasons:
"I was offered 'Big' and I turned it down because my sister Anne had written it. (Producer) Jim Brooks and I had many meetings about this and he was very persuasive about my doing it. I said to Anne, 'Here's why I'm not doing it. I'm not doing it because you'll get no credit for this great script you wrote. It will all go to me.'"
Thankfully, Anne Spielberg did, in fact, get the credit she deserved for the movie's success, picking up a well-earned Oscar nod for her work on "Big" (which she co-penned with Gary Ross). Save for her uncredited script revisions on director Joe Dante's 1998 action-comedy film "Small Soldiers," Anne Spielberg hasn't written a movie since then. If anything, though, that makes it all the more meaningful that her contributions to "Big" weren't overshadowed by that somewhat famous brother of hers.