Pixar Snuck Some Stephen King Into Their Latest Take On Cars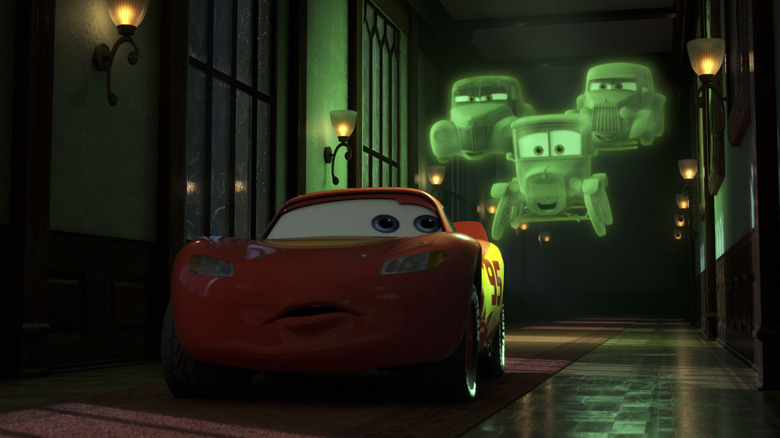 Pixar
The "Cars" universe has taken us all on a journey. With each new installment in the franchise, we learn more about this wacky, wild alternate reality the titular automobiles call home. The creatives involved have no problem further stirring the pot by adding more head-scratching things into their world-building. Sometimes this means pulling in stuff we're familiar with from our reality. And sometimes, it's especially otherworldly.
"Cars on the Road" — the new animated series that just dropped on Disney+ — takes Lightning McQueen (voice of Owen Wilson) and his best friend Mater (voice of Larry the Cable Guy) across the country to meet up with Mater's Sister. Each episode involves a brand new adventure in a brand new place, which has provided director Steve Purcell and the creative team with plenty of fun when it comes to tackling how to go about each episode. 
"We wanted to send them on a road trip [to the wedding of Mater's sister], and make it so that each place they stop was its own mini-adventure," Purcell told IndieWire. "And that afforded us a lot of opportunity to create all these different, interesting locations, each with its own sensibility, style of music."
The sky's the limit when it comes to where in the country to send these characters. And, for Purcell and his crew, one of their inspirations was pulled from the legendary horror author Stephen King. Spoilers: it has nothing to do with Maine ... this time. 
A simple haunting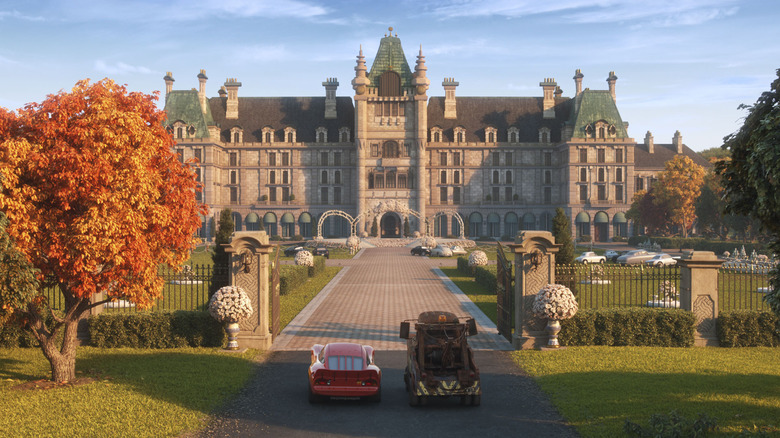 Pixar
In the second episode of "Cars on the Road," Lightning and Mater arrive at a spooky mansion that will remind some of Disney's Haunted Mansion and one oh-so-legendary haunted hotel. If you guessed the show was taking inspiration from the Overlook from "The Shining," you guessed correctly. Since the duo are traveling east on their cross-country road trip journey, it makes sense that they'd stop off at this haunted homage. If you remember, The Overlook is in Colorado, so it fits well into their travel plans.
There are ghosts that follow Lightning around, the ever-memorable twins that just want to play, and an elevator that gushes, well, something. All of this builds up the tension and fear within Lightning McQueen as he tries to navigate these unholy terrors. This navigation leant itself to humor to lighten the mood for the children who'd be watching. As Purcell shared further with IndieWire, the structure of the hotel ended up being used to poke fun at Lightning's pain: 
"Lightning struggles in the hallway and that actually became a joke when one of our animators pointed out that the hallways were too narrow for him to turn around."
"Cars on the Road" is full of homages, but this embrace of Stephen King in an animated series geared towards children makes the heart warm and fuzzy. You've got to start the kiddos off somewhere, and Purcell and the team are definitely here to guide the way.