Posted on Wednesday, February 7th, 2018 by /Film Staff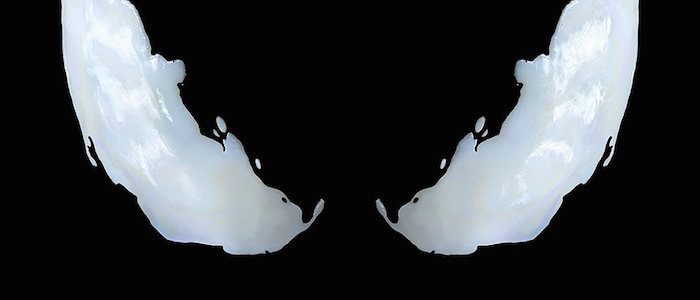 Learn when we will see the new trailers for upcoming films in our continuously updated movie trailer release date calendar.
The first poster for Venom has arrived, teasing a trailer that is set to be unleashed upon the internet tomorrow.
The first poster for Venom was unveiled on the film's official Twitter feed along with a single word: "Tomorrow." The poster itself is very much a teaser, using the recognizable imagery of the title character's eyes to transform negative space into the visage of a familiar comic book anti-hero. The title treatment is a little too "late-90s video game" for our taste, but whatever.
Tomorrow. #Venom pic.twitter.com/Rvh80gmhyI

— Venom Movie (@VenomMovie) February 7, 2018
Venom is directed by Zombieland's Ruben Fleischer and stars Tom Hardy as Eddie Brock, the Marvel character who has bonded with an alien symbiote that grants him a gnarly appearance and super-powers. He began as a Spider-Man villain and eventually evolved into a sometimes Spider-Man ally, but Spidey won't play a role in this movie. And that's weird! How does Venom exist without Spider-Man? Perhaps the new trailer will help fill us in.
In any case, the cast sure is promising. Hardy is one of the greats, and the supporting cast includes Michelle Williams, Riz Ahmed, Woody Harrelson, Jenny Slate, and Scott Haze.
Venom opens on October 5, 2018.
***
This page will be updated with future movie trailer release dates. If you have any information on potential upcoming movie trailer release dates, please shoot us an email using the contact link on the main page of the site.
Cool Posts From Around the Web: