Posted on Tuesday, July 1st, 2014 by Peter Sciretta
Magical Menagerie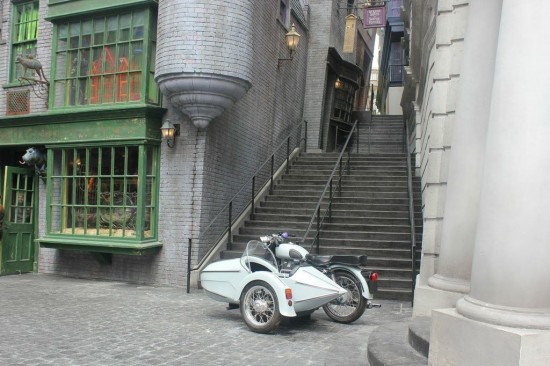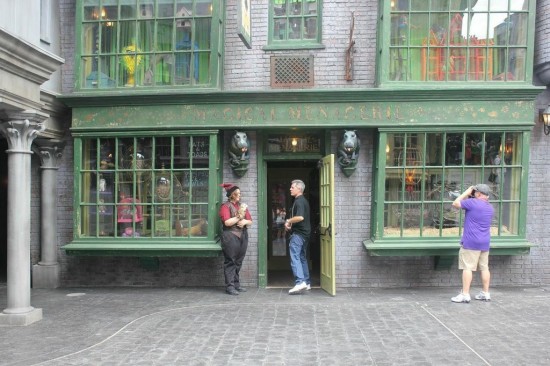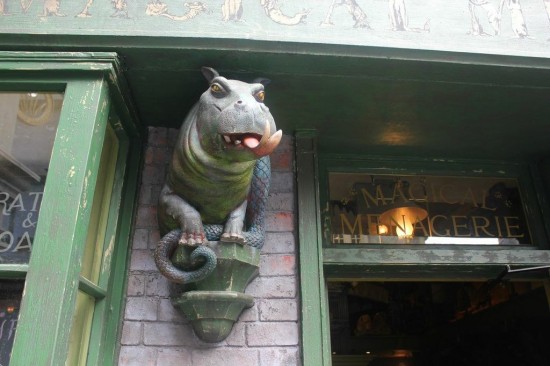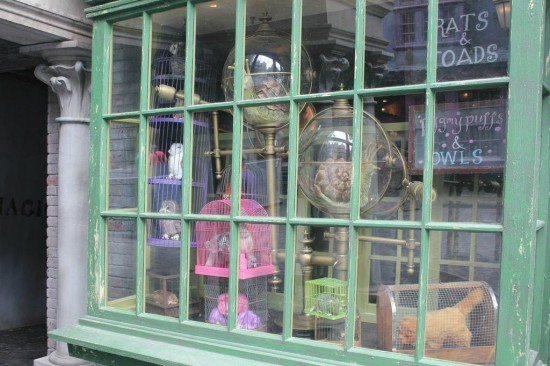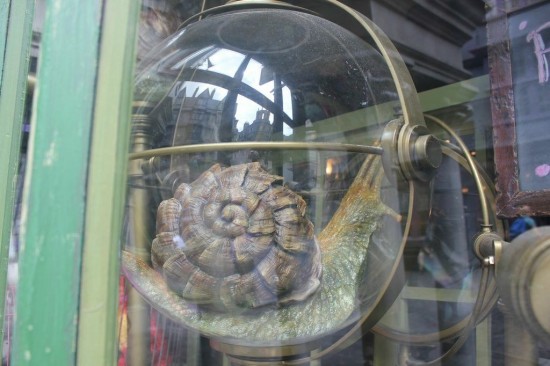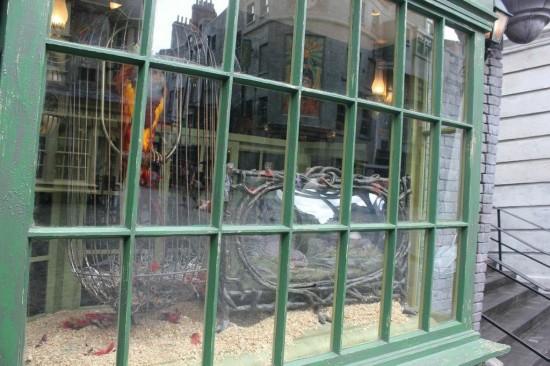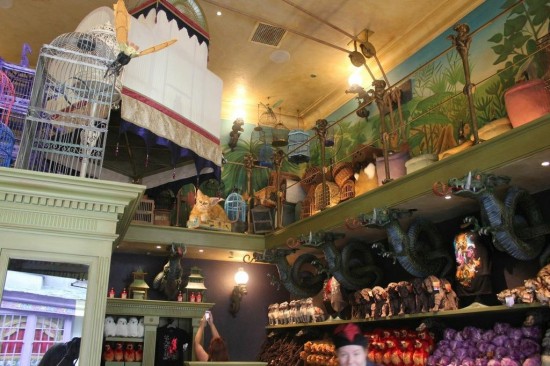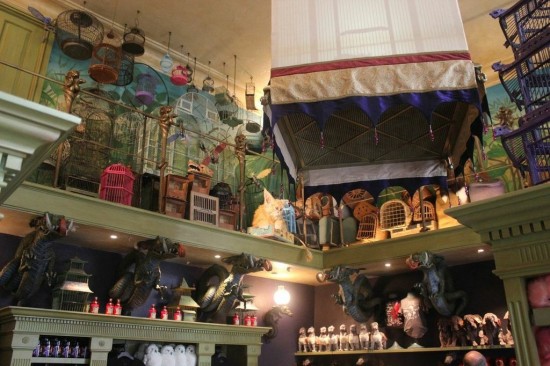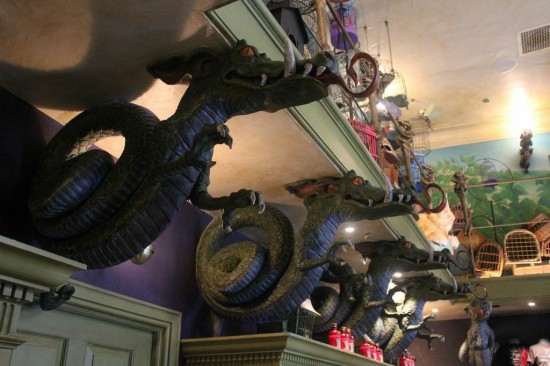 Magical Menagerie features all sorts of magical creatures in the window front including a giant animatronic slug along with giant frogs and other fantasy creatures. A giant cage hangs from the center with silhouettes of jumping rats putting on a show. One of the highlights of this store is the animatronic Kneazle on the second floor, along with the statues of other mythical beasts. If there is a creature from the wizarding world that you need to own, this is the place to buy it in stuffed animal form.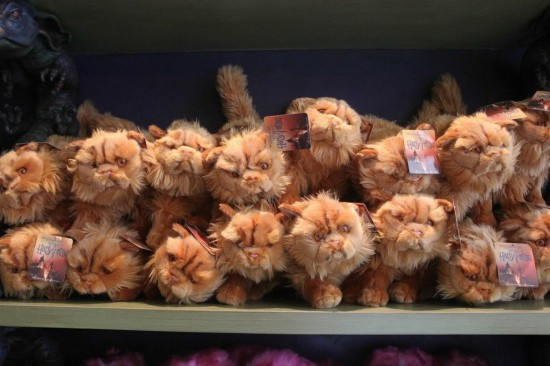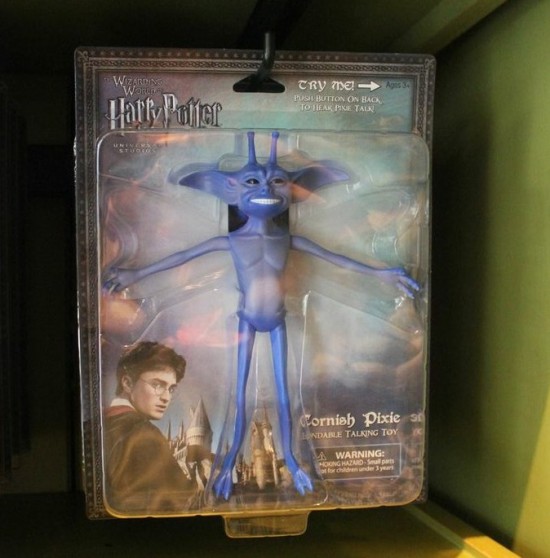 Unique Buys: At this store you can buy a stuffed animal version of crookshanks and Cornish pixie figures, not available elsewhere in the wizarding world.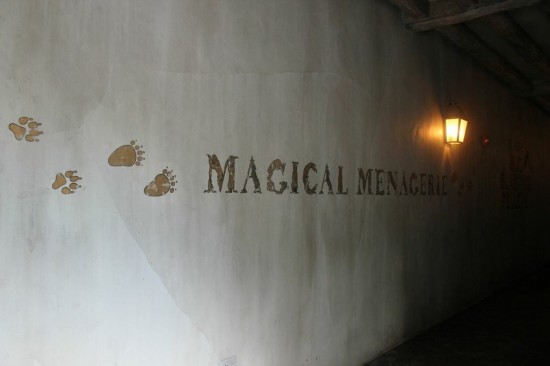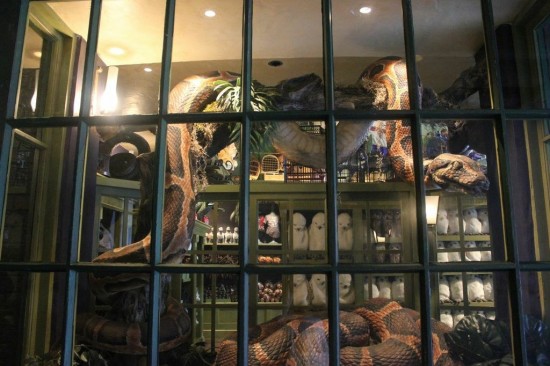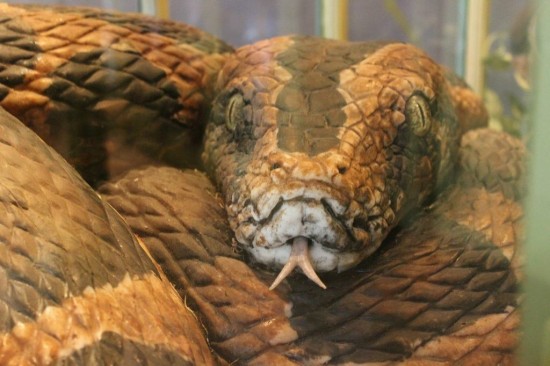 On Closer Look:  If you look above you will see a Crumple-Horned Snorkack living on the second level. Harry Potter star Evanna Lynch says she fell to her knees when she saw the creature in the store for the first time. Lynch's character Luna Lovegood searched the world for her favorite fantastical magical creature but it was never found. Author J.K. Rowling even confirmed to the actress that the fantastical beast isn't actually real in the books, and is likely just a delusion of Xenophilius Lovegood. Here is Evanna Lynch's tweet:
AND I JUST SAW A CRUMPLE HORNED SNORKACK FOR REALS AND PAID MY RESPECTS AND IT FEELS LIKE ENLIGHTENMENT. pic.twitter.com/r6DgfBpdDH

— Evanna Lynch (@Evy_Lynch) June 18, 2014
Also, if you go down the dark alley way on the side of the store, you will find a hidden window front with a 20 foot long animatronic snake. If you have some of the dark arts in your blood, he might even talk to you in Parsletongue tongue.
Tomorrow, we'll be back to conclude our Diagon Alley tour.
Check out my other articles on Universal Orlando's The Wizarding World of Harry Potter Diagon Alley expansion:
Cool Posts From Around the Web: