The 10 Best Celebrity Moments On South Park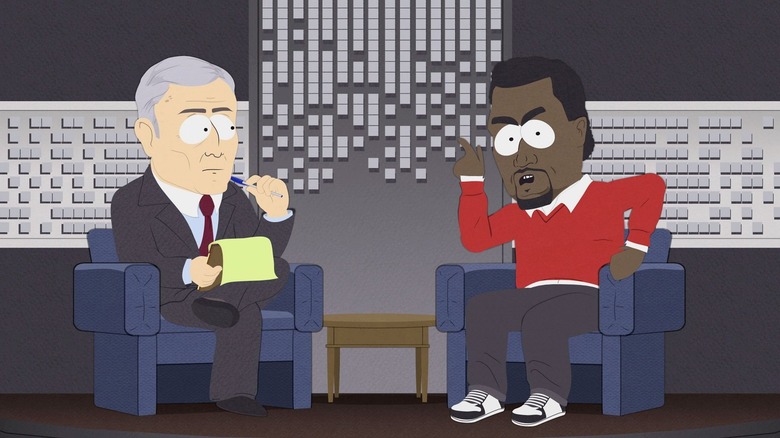 Every episode of "South Park" begins with a disclaimer: There might be some celebrity impersonations ahead, and the celebrity probably had nothing to do with it. The animated series has always been known for its biting cultural commentary and has become hugely popular over its two decades-plus on the air, but its irreverent nature has remained in tact. The show continues to be unrelenting in its portrayal of public figures, from Edgar Allan Poe to Britney Spears.
Not all of these depictions have been kind, but many of them have been legendary. Some celebrities have willingly embraced their roles in the series, while others have voiced their disapproval. And lots of household names have made cameos over the years, making for some truly unforgettable moments.
Whether these characters are voiced by the celebrities themselves, or by show creators Trey Parker and Matt Stone, "South Park" finds the funny bone in everyone. To celebrate the show's 25th anniversary this week, here are the 10 best (unranked) celebrity moments in "South Park" history.
Radiohead in Scott Tenorman Must Die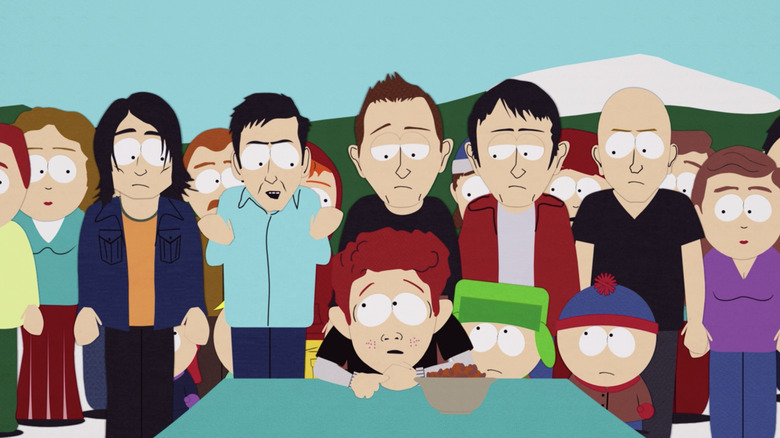 Paramount
In what is popularly regarded as one of the best — and darkest — "South Park" episodes of all time, Radiohead comes to town in honor of a charitable cause. The band unwittingly plays right into Cartman's master plan to humiliate their biggest fan, Scott Tenorman. Scott, an older kid, incurs Cartman's wrath by selling him his pubes. After being sufficiently embarrassed, Cartman learns of Scott's love of Radiohead and uses it against him in a plot as nefarious as it is hilarious.
The band themselves made this special guest appearance, delivering their lines with a biting wit and British charm. "I just remember how funny it was that I was sitting there trying to direct Thom Yorke to emote more," Stone recalled in the Season 5 audio commentary. "This guy emotes so heavily when he sings and he's sitting there reading the lines and I'm saying 'emote more.'"
Yorke and the rest of the band may have had trouble expressing it at first, but they were definitely enthusiastic about the episode. "They liked the show," Parker chimed in. "They liked that people were made into chili."
Lorde in The Cissy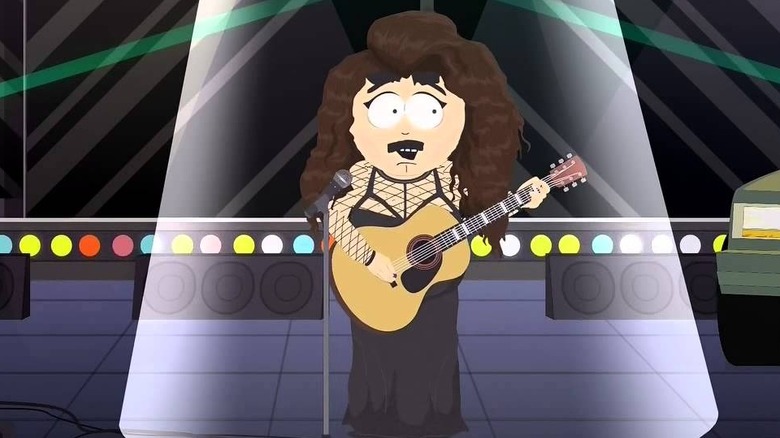 Paramount
One of the funniest running gags of the later seasons is that Randy Marsh is secretly the internationally renowned pop star, Lorde. What began as a plot to use the women's restroom in his office evolved into an astronomical musical career.
The character isn't designed to bear much of a likeness to the real Lorde — in fact, it looks conspicuously like Randy in a wig and a dress. This makes the secrecy of Randy's double identity all the more hilarious. His own daughter has a Lorde poster in her bedroom and doesn't realize that it's her father's face on her wall.
While Lorde is mostly voiced by Parker, who voices Randy as well, the song she performs in "The Cissy" is actually sung by "Chandelier" singer Sia.
Lorde was fond of her portrayal on the show, calling one heartfelt scene "surprisingly cute" (via NME). "From what I can tell [it] also has a message of transgender acceptance," she added, stipulating that she is "still very new with this type of humour," but that it seemed to be "actually genuine."
Elon Musk in Handicar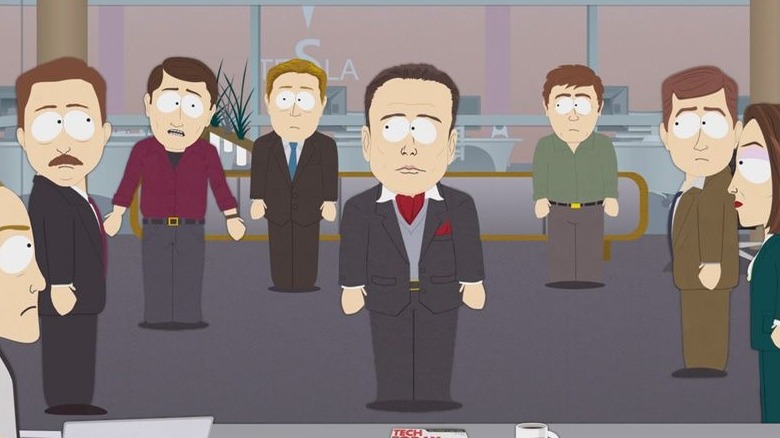 Paramount
Musk first appears on "South Park" in the episode "Handicar," and is voiced by Matt Stone. The animated Tesla CEO feels his company is being threatened by a new competitor — Timmy's app-based ride service, Handicar. To prove his product's superiority, Musk pilots a Tesla in a race that also includes an Uber and a classic yellow cab. 
The Tesla CEO and founder was a longtime fan of Stone and Parker's work before appearing on the series, as he revealed on Twitter. "Kinda trippy seeing myself on @SouthPark. I've watched the show ever since the J vs SC short," Musk wrote, likely referring to the 1995 short "The Spirit of Christmas: Jesus vs Santa," which precluded the series.
If this tweet was not evidence enough of Musk's support, he later joined the series as a voice actor to reprise his character in "Members Only" and two other episodes of Season 20. He gives the kids a tour of SpaceX and discusses his plans to go to Mars, which he has been struggling with. Luckily for him, he has Heidi's help, and she is super smart and funny!
Kanye in Fishsticks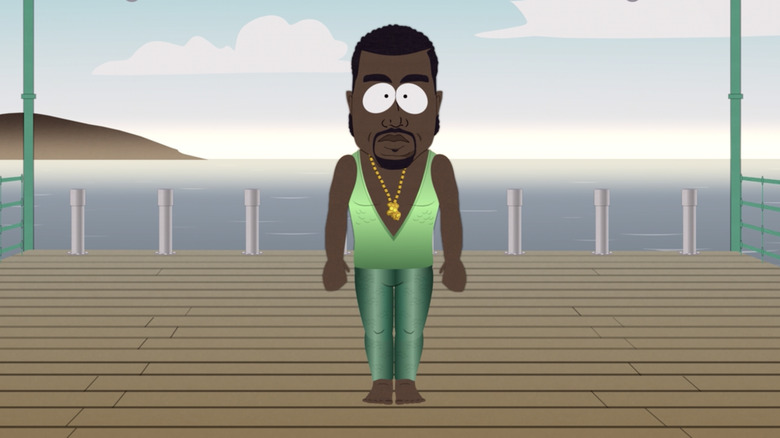 Paramount
Do you like fish sticks? Do you like putting them in your mouth? Well, what are you, a gay fish?
When this joke circulates from South Park Elementary to late-night talk shows and reaches the ears of rapper-producer Kanye West, it bamboozles him. It seems he is the only person in the world that doesn't understand the joke, which frustrates him to no end. Eventually he is forced to conclude that he is, in fact, a gay fish.
Although this episode aired before Kanye had taken to posting Twitter rants, he still never failed to make his thoughts known. He regularly updated his blog, "Kanye Universe City," to keep his fans in the loop. In true Ye fashion, the rapper took no time responding to the show and blogged a response the next morning. "'South Park' murdered me last night and it's pretty funny," Kanye wrote (via Pitchfork). "It hurts my feelings but what can you expect from 'South Park!'" This feedback was predictably emotional, yet admirably and uncharacteristically diplomatic.
Malcolm McDowell in Pip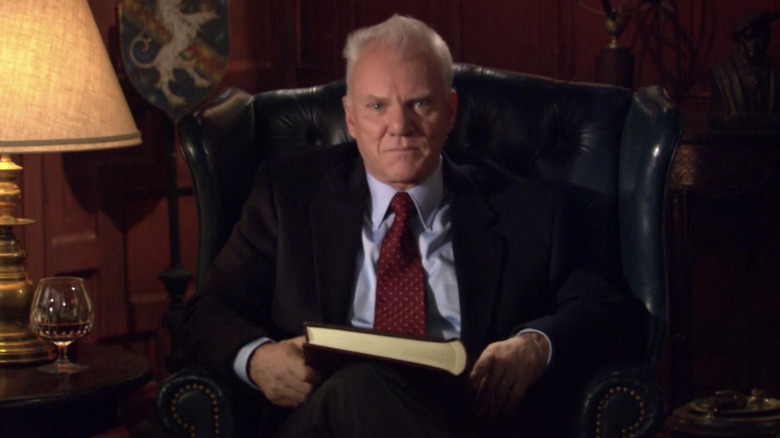 Paramount
Introducing himself simply as "a British person," Malcolm McDowell joined the "South Park" universe in Season 4 to narrate the story of local British orphan, Pip. Pip is a character from the Charles Dickens "Great Expectations," and the episode acts as a hilarious retelling of the classic tale. McDowell's voice moves the story along for the entire episode, and he even appears intermittently in live-action form.
McDowell's filmography includes classics from "A Clockwork Orange" to "Star Trek: Generations." His persona, along with his accent, automatically suggests a more serious tone. Americans have long seen British people and culture as their more buttoned up and formal counterpart, and McDowell plays into this "expectation." Introducing himself as "a British person" instead of by name hilariously disregards his own celebrity and suggests that any British person would do for the job. McDowell's witty narration at once invites the familiar comfort of Dickens and the irreverent comedy of "South Park," making him one of the most unexpectedly brilliant celebrity guests of all time.
Alec Baldwin in Let Go, Let Gov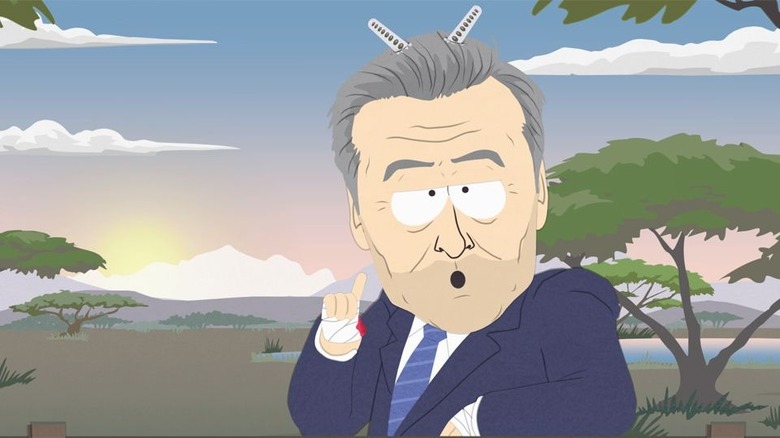 Paramount
In the hilarious premiere of Season 17, Alec Baldwin advertises a new social media that transmits thoughts directly onto the internet. He launches the service as an alternative to Twitter because he is no longer able to type after cutting off his thumbs. His thumbs were punished for the crime of being homophobic online — "I don't think that way, I just type that way," his animated character explains. Luckily, he found a solution and cut out the middle man.
Baldwin is voiced by Bill Hader, a longtime collaborator on the show. Hader worked as a writer on the show on the twelfth and thirteenth seasons, and later returned to voice various characters from Season 15 to Season 19, Baldwin included.
This caricature of Baldwin was inspired by a Twitter rant wherein Baldwin referred to a Daily Mail reporter as a homophobic slur, according to The Atlantic. The "South Park" creators later confirmed this source of inspiration in a tongue-in-cheek tweet.
Mel Gibson in The Passion of the Jew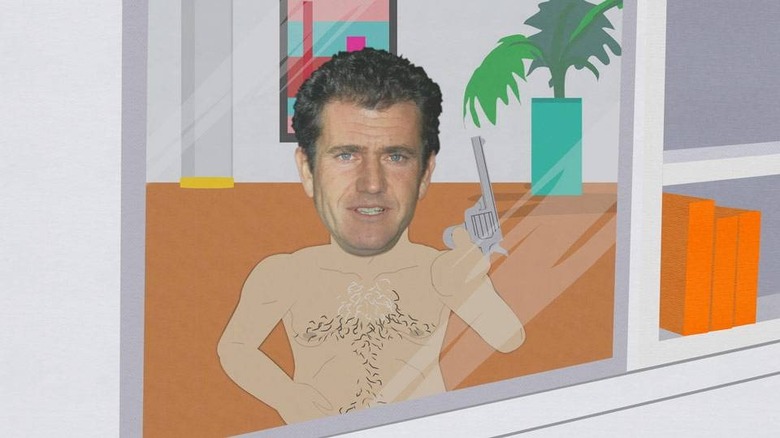 Paramount
Who can forget the image of Mel Gibson's real-life face pasted onto an animated body? Voiced by Parker, Gibson first appears in "Passion of the Jew," a parody of the film "Passion of the Christ." Gibson stars in the epic retelling of Jesus' crucifixion that makes Kyle question his Jewish heritage. Stan and Kenny, on the other hand, hate the film so much that they track Gibson down to demand their money back. They find that the actor is a vehement masochist obsessed with being tortured in his underwear, much like his character in "Passion." 
Gibson suffers from one of the more unhinged impressions on "South Park," perhaps because he is such a controversial figure. Anti-semitic allegations were first leveled against the actor in the '90s and were recently reinforced by actress Winona Ryder (via The Times). His role in "Passion" certainly didn't help matters, as the film was criticized for anti-semitism by Jewish and Catholic organizations alike.
Gibson appears later in the episode "Imaginationland" and again briefly in the episode "200."
PewDiePie in #HappyHolograms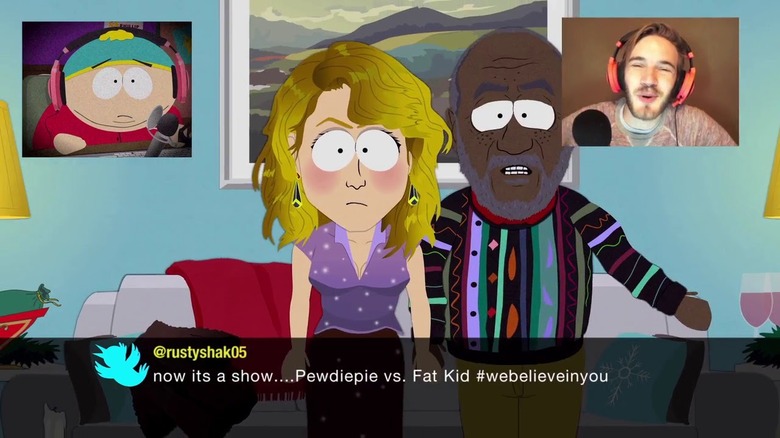 Paramount
Pewdiepie, born Felix Arvid Ulf Kjellberg, makes a rare guest appearance towards the end of Season 18 in "#Rehash" and again in the subsequent episode "#HappyHolograms." Ike and his friends are obsessed with watching YouTubers comment on video games and other media. This baffles Kyle, who likes playing video games in the living room like a traditionalist.
The streamer not only plays himself, but also appears in live-action — a rarity in "South Park." The kids of South Park weigh the pros and cons of this emerging form of media while Pewdiepie comments intermittently from a little box in the corner of the screen. His involvement in the show suggests that the YouTuber is not afraid to engage with criticism, but he's also not afraid to poke fun at it a little.
Kjellberg was excited to be a part of "South Park," but ran into a lot of difficulty on the way. Due to the show's tight scheduling, he was forced to film his part in a traditional Japanese inn, which was "probably the worst place ever" to deliver such loud and vulgar dialogue, the streamer recalled. "They got really upset that I was being too loud, and to top it all off, I got the flu ... so I was so sick when I did the lines," he lamented. Despite being critical of his own performance, Kjellberg was extremely grateful for the opportunity.
Caitlyn Jenner in Where My Country Gone?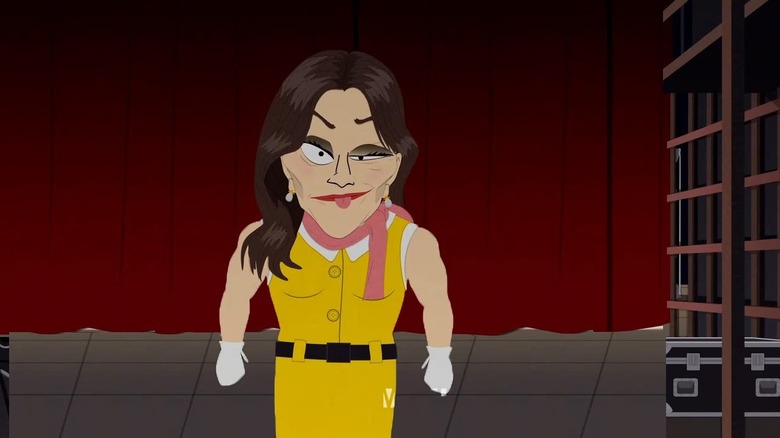 Paramount
The Olympian-turned-reality-star Caitlyn Jenner received one of the most brutal treatments in "South Park" history. In "Where My Country Gone?" there is a raucous debate about her status as a hero between the boys and PC Principal. Jenner, voiced by Parker, is featured as Mr. Garrison's running-mate throughout Season 19. Mr. Garrison is the Donald Trump of the "South Park" universe, but Jenner certainly makes for a more entertaining VP than stiff-shirted Mike Pence.
The show also parodies Jenner's driving skills, a nod to her involvement in a fatal car crash in 2015. Jenner was deemed responsible for the accident and settled with the victims and their families, the Associated Press reported.
Like "The Simpsons," the satirical events of "South Park" have a habit of repeating themselves in real life. Shortly after "South Park" introduced her role as Garrison's running mate, the real-life Jenner announced her campaign for California governor.
Jenner never responded to her appearance in the series, but given how harshly she was depicted, it is unlikely that she was happy about it.
Jay Leno in City on the Edge of Forever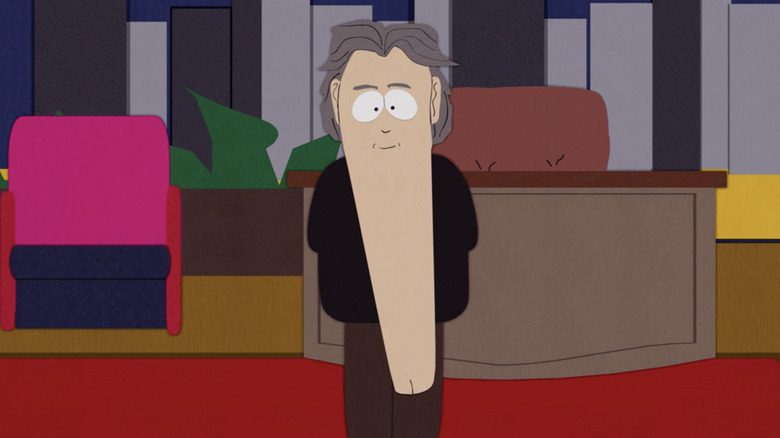 Paramount
As any longtime fan will tell you, Jay Leno was integral to the early seasons of "South Park." He first appeared in a self-titled Thanksgiving short in 1997. An animated Leno, voiced by himself, visits South Park Elementary to teach the history of the holiday to the kids, only to be berated for his abnormally large chin. His chin becomes the subject of even more jokes in the Season 2 episode "City On the Edge of Forever." 
When a class field trip goes awry, the kids get stuck on a school bus teetering off of a cliff. Ms. Crabtree wanders off to get help and finds herself rising through the ranks of the stand-up comedy sector. As the boys recall their fondest memories through flashbacks, Crabtree finds herself in "The Tonight Show" studios as a featured guest. Leno later appeared briefly in "Fishsticks" in Season 13 and "Funnybot" in Season 15. 
(Bonus: Henry Winkler also makes a guest appearance in "City on the Edge of Forever" as the voice of his iconic character Fonzie from the sitcom "Happy Days.")