Maggie Smith's Downton Abbey Role Was Written With A Very Specific Person In Mind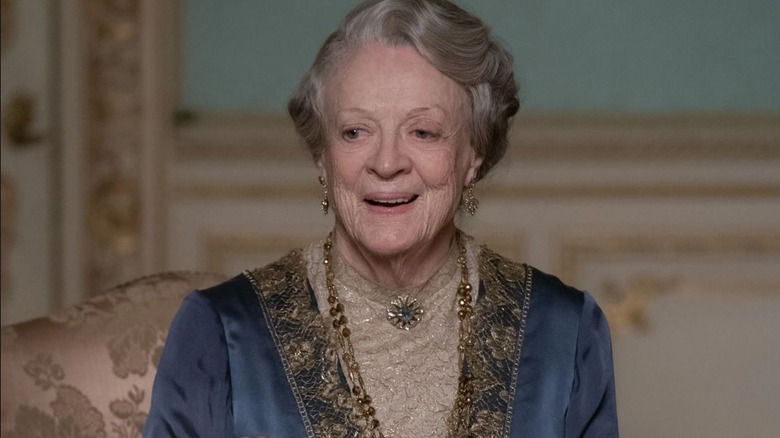 Ben Blackall/Focus Features
Writing what you know is a piece of advice that keeps being shared for a reason. We all need a launching point in our writing, especially when it comes to crafting and developing characters. A strong base for a character can make all the difference in the world. This is even more important if you are planning or accidentally get thrust into creating a long-running series. The characters need to make audiences run the emotional roller-coaster, much like the ones in creator Julian Fellowes' series "Downton Abbey" do.
Fellowes has gone into detail over the past decade about the influences he's used on his characters. Some, like Lady Cora Grantham, were based on the American heiresses of the Gilded Age like Lady Almina. Others, like Violet Crawley, Dowager Countess of Grantham, were inspired by Fellowes' upbringing among the wealthy British elite, and his observations of his own family members.  
"My impressive, if tyrannical, great-aunt, Isie, [is] the principal model for Violet Grantham, a woman whose dry wit concealed a good deal of personal suffering and who was no tougher on the rest of us than she was on herself," he explained in the foreword of the companion book, "The Chronicles of Downton Abbey: A New Era." While the idea of his aunt provided the foundation, that was only the start of the process. Fellowes then infused the character with a variety of little quirks to add extra depth to the character that viewers might find surprising.
Lady marmalade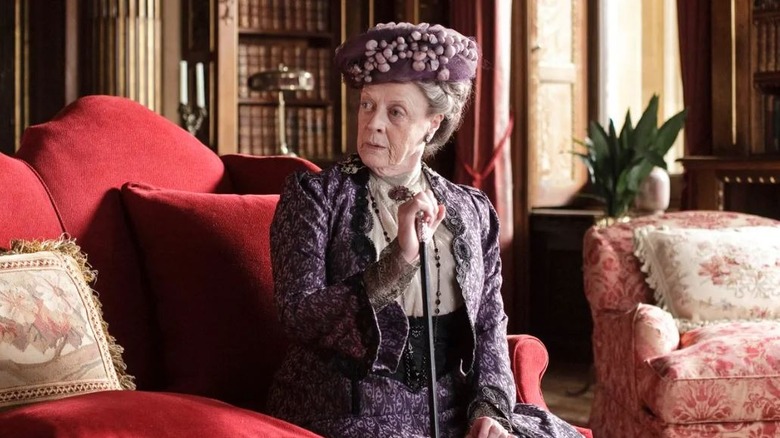 PBS
The specificity in the details can only add to a character, grounding them and making them more human in the eyes of viewers. For Julian Fellowes, a lot of the particular attributes we see in Violet Crawley are bits and pieces he recalled from his time with his great-aunt. 
During a talk on NPR's "Fresh Air," Fellowes described his great-aunt as tragic, but not without her humor: "Her husband died of wounds at the end of the First World War. And her only child drowned on active service in the second, so she had a lot to bear, poor thing. But she was tough and funny."
His great-aunt, full of nuances and quirks, appeared in other ways that required a bit more explanation. Fellowes shared how Dame Maggie Smith came to him to understand the mindset of Violet's specific snobbery toward marmalade. "This particular aunt always thought that if a house ran out of its own jams and jellies, then it was not being well run, that it was a sign of its weakness," he had explained to Smith. When it came to execute the line, Smith then perfectly understood the assignment and nailed it. 
The collaboration between Fellowes and Smith went on to create one of the most memorable matriarchs audiences had seen in years. Knowing the Dowager Countess was heavily inspired by his great-aunt, it can easily be said that her legacy lives on, and it encapsulates a bygone era in history.