The Brooklyn Nine-Nine And New Girl Crossover Episodes Created Some Problems, Folks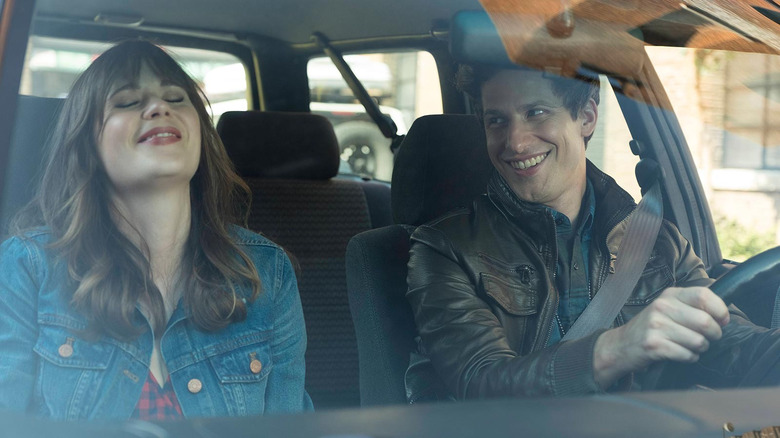 Fox
Big TV crossover events aren't nearly as ubiquitous as they used to be. Forget about huge interconnected universes like the Arrowverse and don't even get me started on the many Marvel heroes beginning to cross paths on Disney+. I'm talking about the magic of "Scoobynatural," or that time the Simpsons met the Griffins when "Family Guy" and "The Simpsons" came together. My favorite versions of this came from childhood cartoons, in the heyday of Disney and Nickelodeon's animated hits ("The Jimmy Timmy Power Hour," you will always be famous). But while there's not much hope for the Bridgertons to cameo in next season's "Squid Game," the crossover phenomenon hasn't entirely disappeared.
A few years ago, two of the most binge-able sitcoms of the 2010s came together for a sorely underrated crossover event that meshed their comedy styles and brought lots of beloved characters face-to-face. Back when "New Girl" was still running and "Brooklyn Nine-Nine" had a home at Fox, the tenants of apartment 4D took a trip to the Big Apple where they encountered members of the 99th Precinct.
All things considered, it was pretty low stakes. Jess (Zooey Deschanel) spends a couple of minutes in a car commandeered by Jake Peralta (Andy Samberg), then gets some important life advice from Captain Holt (Andre Braugher). The funniest part of the crossover unsurprisingly involves Jake Johnson, when Nick (Johnson) and Winston (Lamorne Morris) try their hand at busking while Charles (Joe Lo Truglio) watches. But the biggest takeaway from the event might be the answer to why these crossovers don't happen as much as we'd all like: they have the potential to decimate continuity.
The B99 extended universe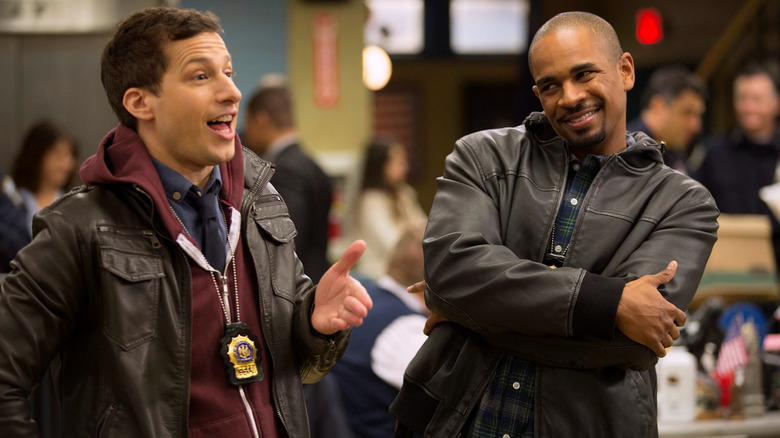 NBC
There is a Damon Wayans Jr.-sized hole in this plot! The crossover episodes establish that "Brooklyn Nine-Nine" and "New Girl" exist in the same universe, which really complicates reality since Damon Wayans Jr. has appeared in both shows in completely different roles. Not only does the actor play a major role in "New Girl," as occasional loft resident and main character Coach, but he also found his way over to the Nine-Nine as Detective Stevie Schillens, Jake's former partner, who is revealed to be a dirty cop.
The crossover episodes take this even further. At this point in the "New Girl" continuity, Coach has left the group in LA to live with his girlfriend in New York. Wayans Jr. isn't part of the main cast, but at the end of the episode, the gang bumps into Coach on the streets of NYC. Their mini reunion confirms that Coach and Stevie Schillens live in the same city! With the same face! Sounds pretty suspicious, if you ask me.
So how can these two different men exist in the same universe with the same face? There are lots of fun possibilities (aka conspiracy theories) to speculate about. When Coach is preparing for his New York move in the fourth season of "New Girl," he tells the gang all about his clean break system: when it comes to big life transitions, Coach likes to leave everything in the past. Maybe that's exactly what he did. Maybe Coach left LA, abandoned his name and identity, and became a detective. Or maybe they really are different people — long-lost twin brothers. While Coach was finding friendship and love in LA, his secret brother became a dirty cop in New York. Spinoff potential, anyone?
Did someone say doppelgänger?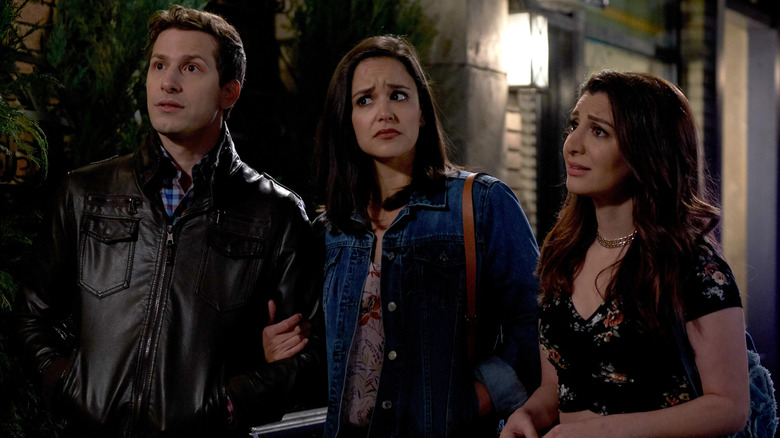 NBC
Alternate possibility: perhaps Damon Wayans Jr. is just so funny that both shows cast him long before they realized the potential for a crossover. This one makes a lot more sense when you realize how deep the conspiracy truly goes. It turns out that Wayans Jr. isn't the only "New Girl" star to also play a role in "Brooklyn Nine-Nine."
The fourth season of "New Girl" introduced Nasim Pedrad as Aly, Winston's partner on the police force who eventually becomes his wife. But on the actual cop show, she isn't on the force at all — she's Jake Peralta's annoying little sister, whom he first meets in handcuffs and later decides to bond with (though she only appears in a single episode). So are Aly and Kate also one and the same? You could try to make that argument; Kate only exists for one "B99" episode, so it wouldn't be hard for her to have an entirely different identity. But the characters are so ridiculously different that it's too hard to believe. Aly is the perfect kind of off-kilter to make her a good match for Winston but is ultimately a very no-nonsense kind of person. Kate is all nonsense. And prone to criminal activity. So it seems like the easiest explanation is best: Coach and Aly are just crossover plotholes.
Either that, or both "New Girl" and "Brooklyn Nine-Nine" take place in an alternate dimension where everyone has their very own doppelgänger.