Statues Of Walter White And Jesse Pinkman Unveiled By The City Of Albuquerque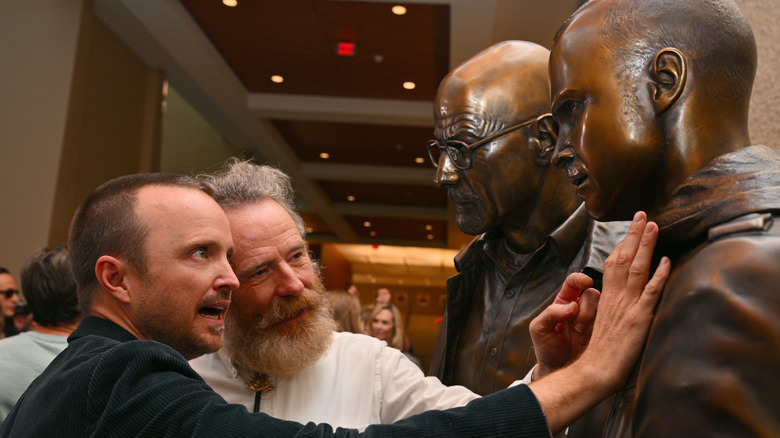 Sam Wasson/Getty Images
Long after strangers on the internet stop confidently tweeting at each other about how "Breaking Bad" is the best show of all time, a testament to the show's greatness will still stand. Two brand new statues have just been unveiled in Albuquerque, depicting high school teacher turned meth-making mastermind Walter White (Bryan Cranston) and his erstwhile partner in crime, Jesse Pinkman (Aaron Paul). The stars of both the original series and its spin-off, "Better Call Saul," were there to celebrate the historic moment.
According to Entertainment Weekly, sculptor Trevor Grove created the 500 pound bronze statues, which depict what appear to be latter-season versions of the two drug manufacturers. While Jesse wears a jacket and the close-cropped haircut he sports in seasons 4 and 5, Walt has a goatee and holds his iconic porkpie hat — a symbol of his menacing Heisenberg persona — in his hand.
The statues stand in the Albuquerque Convention Center, where Cranston, Paul, series creator Vince Gilligan, and Hank Schrader actor Dean Norris appeared for the grand reveal alongside mayor Tim Keller. "Better Call Saul" cast members Rhea Seehorn, Michael Mando, and Patrick Fabian were also present, along with the spin-off's co-creator and former "Breaking Bad" writer-producer Peter Gould.
Tread lightly (around these cool new statues)
"Breaking Bad" location scout Alex Gianopoulos captured the moment of the big reveal on camera, sharing a video to his Twitter account (above) that shows Cranston and Gilligan taking a first look at the statues while Paul briefly stares open-mouthed before quickly snapping some pictures.
EW shared a statement from Gilligan about the statues, which Sony Pictures Television donated to the center. Apparently, Grove first caught the showrunner's attention when he made a small wax sculpture of Walt over a decade ago. Gilligan shared:
"It was so amazing that it just got me to thinking: What if Trevor could sculpt a life-sized version of Walter White in bronze, a medium new to him, and what if he could toss in Jesse Pinkman to boot, and then we donate to the two statues to the city of Albuquerque as a thank-you for your hospitality?"
While a statue honoring a character as nefarious as Walter White might seem strange, this impressive art piece isn't the first public art installation honoring an actor's excellent performance as a prestige TV antihero. Travel to Lithuania (per Atlas Obscura), and you'll find a 15-foot-tall statue of Tony Soprano that decorates a local train station. The "Breaking Bad" statues, though, have the added bonus of being indoors so that, as Cranston eloquently put it at the unveiling ceremony, "the pigeons won't crap on our heads."