The New Zac Efron Wrestling Movie Is Based On A Tragic True Story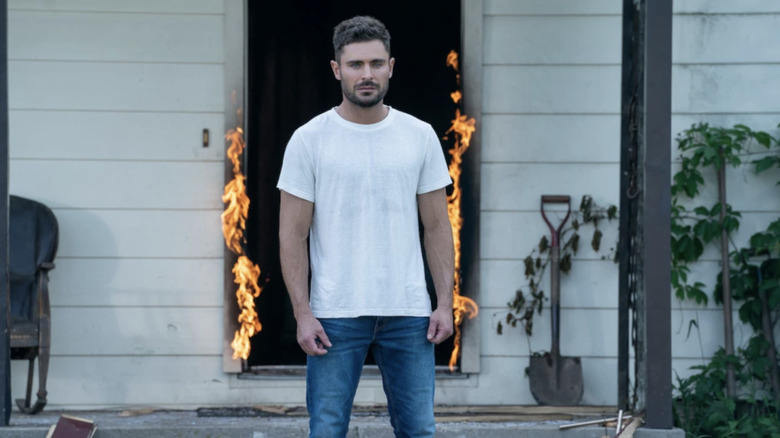 Universal Pictures
It was announced Thursday that Sean Durkin, the mind behind films like "Martha Marcy May Marlene" and "The Nest," was working with A24 on his next film, "The Iron Claw." The film gets its name from the nickname and trademark move of professional wrestler Fritz Von Erich, a 23-time world champion and the patriarch of the legendary Von Erich family of wrestlers. Not much information has been made publicly available regarding the film, with the exception of Zac Efron's casting announcement. It's unsure what Efron's role will entail, with many speculating that he'll be playing one of the members of the Von Erich family which, if the case, means he's going to need to grow a foot taller and add about four inches of muscle around his entire body and some serious neck thickness.
When the announcement was made, there was a stark divide online between people excited that Efron seems to have finally shedded the Disney demeanor that defined the start of his career by acting in an A24 movie, and wrestling fans who actually know the history of the Von Erich family. For the general public, the world of professional wrestling is mostly defined by crossover superstars like Hulk Hogan, Dwayne "The Rock" Johnson, and John Cena, which means most are not familiar with the unbelievably tragic history of the Von Erich dynasty. If you thought this new movie would show Zac Efron jumping from the top rope in a glittery outfit like something out of "GLOW," you're, uh, you're about to have a bad time.
The Von Erich Dynasty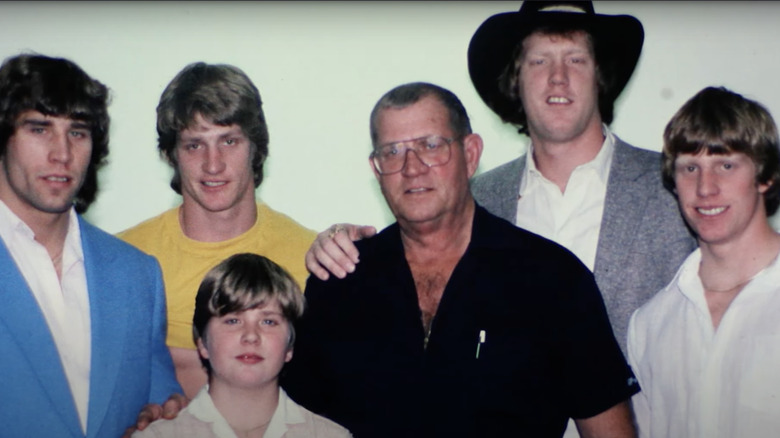 Vice
Fritz Von Erich (real name Jack Adkisson) started his athletic career as a Texas football player in the 1950s, but eventually pivoted toward the world of professional wrestling. At 6'4" tall, he immediately drew the attention of Stu Hart (as in the father of Bret and Owen Hart) who was captivated by his size and visible Germanic appearance. He was immediately packaged as the villainous heel "Fritz Von Erich," a Prussian Nazi character. Von Erich drew immediate heat for obvious "Nazis are bad guys" reasons, and while this character angle would eventually phase out throughout his career, the association with this character has been the source of many urban legends to "explain" what would eventually happen to the Von Erichs.
The second generation of Adkisson/Von Erich children would comprise of Jack Adkisson Jr., Kevin Von Erich, David Von Erich, Kerry Von Erich, Mike Von Erich, and Chris Von Erich. The first child, Jack Jr. died prematurely at the age of six when he was shocked unconscious by an exposed wire and fell face first into a mound of snow that eventually drowned him. The other five Von Erich children followed in their father's footsteps by joining the wrestling business, and becoming bonafide wrestling superstars.
"We were family, we loved each other," said Kevin Von Erich in his family's episode of "Dark Side of the Ring." He continued by saying, "We regarded our fans as people, not tickets." There have always been rumors that the Von Erichs weren't as heroic as they appeared, but given the circumstances of their eventual, cataclysmic demise and their legacy in the industry, many have chosen to let sleeping dogs lie.
The tragic truth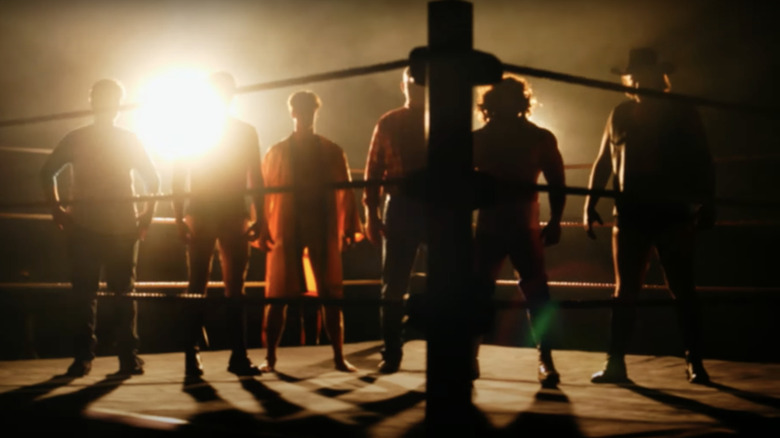 Vice
Of the six Von Erich children, only Kevin Von Erich still remains with us. While Fritz Von Erich passed away due to natural causes, at the time of his death, he had lost five of his six children in unexpected and gruesome ways, including three suicides. It's been called "The Von Erich Family Curse," with some antisemites even believing their deaths were part of a revenge plot from Holocaust victims for Fritz's years of making light of genocide by playing a Nazi character. Their devastating history has been compared numerous times to that of the Kennedy American political family, and were the subject of arguably one of the best episodes of "Dark Side of the Ring," which featured Kevin as "The Last of the Von Erichs."
The Von Erich wrestling dynasty continues today, with Kerry's daughter Lacey Von Erich where she is a one-time TNA Knockouts Tag Team Champion with Velvet Sky and Kevin's sons Ross and Marshall still competing as a tag team today with Major League Wrestling (MLW) where they are former world champions. This is all to say that given the intensity of Sean Durkin's usual filmography and the real life story of the Von Erich family, it's safe to assume that this film is going to be dark, depressing, and difficult to watch. Given the fact Kevin Von Erich is still alive and has been put into a position to be the arbiter of his family's legacy, I sincerely hope that A24 and Durkin have been in communication with him, so as to not exploit the disconsolate truth of the Von Erich family deaths.