Chip 'N' Dale: Rescue Rangers Review: An Unexpectedly Wild Industry Satire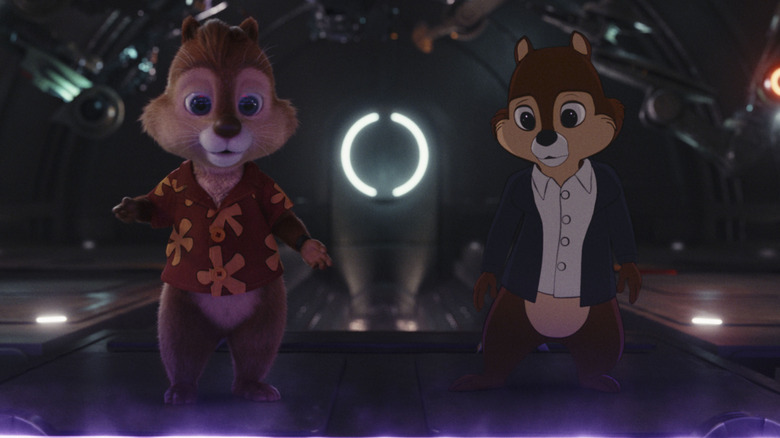 Disney
Almost all of the remakes of Disney classics — those retreads of recent years like "The Lion King" with Donald Glover; "Beauty and the Beast" with Emma Watson; and "Dumbo" with Colin Farrell — have been ungainly and often painful to watch. If nothing else, they're disjointed and rough because the people working on these remakes try to do new things with beloved stories, while also delivering every single beat of those beloved stories to audiences that are vastly less interested in remakes being anything other than a copy. Only twice have the retreads worked, and both times, it was because the creative team was allowed to take the skeleton of the original and turn it into something entirely different. First, there was the emotionally resonant 2016 remake of "Pete's Dragon." And now, we have "Chip 'n' Dale: Rescue Rangers," which is both an homage to the Disney Afternoon classic of the late 1980s, and a brilliant post-modern riff on "Who Framed Roger Rabbit."
John Mulaney and Andy Samberg provide the voices of Chip and Dale, respectively, in a story set in a version of the present-day where humans and animated characters co-exist peacefully (if oddly). Thus, this film's take on Chip and Dale is that they were actors back in the day, and that the TV series serving as this film's inspiration was the show that vaulted them to a brief era of stardom. These days, though, Chip is a very successful and painfully bored insurance salesman, while Dale, desperate for the glory days, is on the pop-culture convention circuit along with everyone from Baloo to Lumiere to Ugly Sonic. The latter, voiced by the hilarious Tim Robinson, is the same Sonic who gave us all nightmares back when he had human-like teeth in the first trailers for the 2020 Paramount film. (There is no better encapsulation of this movie's anarchic spirit than the statement "Tim Robinson voices Ugly Sonic from the early version of the Sonic the Hedgehog movie.")
Though it's been years since Chip and Dale were friends, due to a personal falling-out, they're brought back together to solve a mystery involving a fellow cast member. In the process, this film — written by Dan Gregor and Doug Mand — gradually expands its goofy version of Los Angeles, with riffs on everything from Main Street, U.S.A. to bootleg animation studios operating in secret.
Perhaps the most distinct way in which "Chip 'n' Dale: Rescue Rangers" falls in line with "Who Framed Roger Rabbit," aside from literally featuring a cameo from Roger Rabbit himself, is that there's a surprising number of animated characters from non-Disney studios. Nothing can ever top the scene in Zemeckis' 1988 classic with Bugs Bunny and Mickey Mouse working together, or Donald and Daffy Duck playing a warped piano duet. But blink while watching this film and you may miss characters from "South Park" to "My Little Pony: Friendship is Magic" to side characters from the world of DreamWorks, all existing in the same universe as Chip and Dale team back together to solve a mystery.
A heaping dose of inside-baseball humor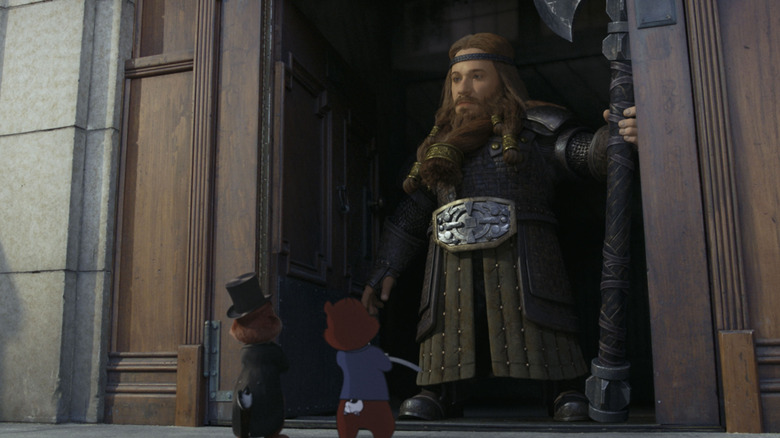 Disney
What "Chip 'n' Dale: Rescue Rangers" has in spades is a heaping dose of industry-focused humor that may or may not be a huge selling point to kids who recognize Chip and Dale from various and sundry Disney projects. But sometimes you have to admit that you laugh at visual gags referencing comic actors' propensity to appear in tons of animated films, or jabs at motion-capture animation and the uncanny valley, or posters for fake movies like "Batman vs. E.T." This is the benefit of Samberg being joined by his Lonely Island cohort Akiva Schaffer as director of the film; it's Schaffer's first feature directing credit since the cult favorite "Popstar: Never Stop Never Stopping," and though "Chip 'n' Dale: Rescue Rangers" isn't quite as good, it's surprisingly close.
Of course, it helps to have Samberg and Mulaney voicing the title characters. The movie has fun with Dale's desperation, as we see that he (unlike his cohort) went to the trouble of having "CG surgery" to make himself fresher for the 21st century. And Samberg's general exuberance fits well with a dopey actor who just wants his best bud back. Mulaney, working in a more family-friendly vein than his standup, acquits himself just as well, as a solid, straight-man-like counterpart. (Granted, some bits, like Chip saying to himself, "Oh, I have a message on my landline ... I don't like that," feel very much in Mulaney's stand-up vernacular.)
It is, of course, entirely possible that some Disney Afternoon stalwarts may be disappointed at how this movie is very much not just an expansion of the "Chip 'n' Dale: Rescue Rangers" TV show. (The other regulars on that series do appear here, but they're supporting characters at best.) Being up on your broader animation history may be useful, even beyond recognizing the poor titles of B-movie retreads, in that some of these jokes are more than just easy laughs. (That said, "Spaghetti Dogs" as a renaming of "Lady and the Tramp" is a solid visual gag.)
"Chip 'n' Dale: Rescue Rangers" is a proudly very daffy and strange movie. The human side of things, mostly represented by a superfan cop played by KiKi Layne, is less fleshed out than was the case in "Who Framed Roger Rabbit." (Layne does as well as possible, but her character is arguably meant to be outshined by characters who are animated by hand, by computer, by clay, etc.) But by leaning more into the manic side of the story with the animated characters, "Rescue Rangers" is able to toe a very careful line between being family-friendly and representing the Lonely Island ethos. The pleasant surprise of the film is how much it leans towards the latter side of that line. That may not appeal quite so much to kids, but for this animation buff and Lonely Island fan, it hit the sweet spot.
/Film Rating: 8 out of 10