Acting Was Just A Small Part Of Ryan Reynolds' Adam Project Role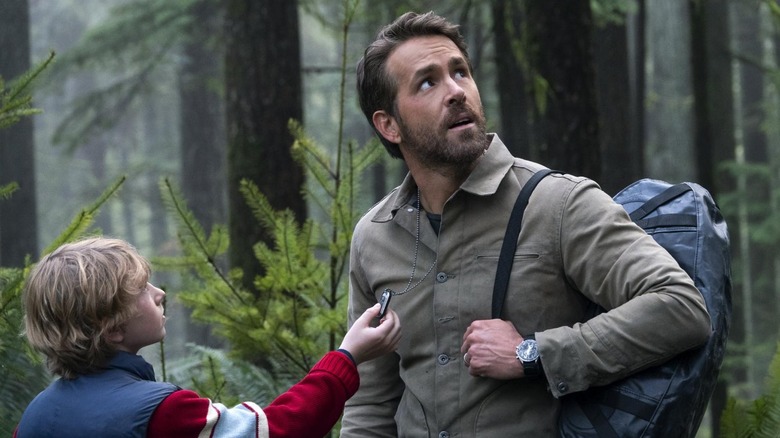 Netflix
Wherever Ryan Reynolds goes, his charm follows. Even though his latest sci-fi action adventure, "The Adam Project," struggles to recapture the natural magic and wonder of the Amblin-inspired filmography it aspires to stand alongside, "The Adam Project" has been well on its way to claim another big hit for Netflix. Not even a truly unsettling deep fake of Catherine Keener can slow down those numbers for the streaming giant.
"The Adam Project" sees Reynolds as a time-traveling fighter pilot who travels back to 2022, where he meets his 12-year-old self, played by Walker Scobell, in an attempt to prevent time travel from being created in the first place. The film, directed by Shawn Levy ("Night at the Museum"), walks this odd tightrope of featuring genuine bursts of emotional bonds between characters, while trapped inside of a lethargic movie-of-the-week story that does an injustice to these moments. With that said, Reynolds is clearly having fun in the role, but the "Adam Project" star holds an important behind-the-scenes position that he feels just as passionate about.
In the producer's seat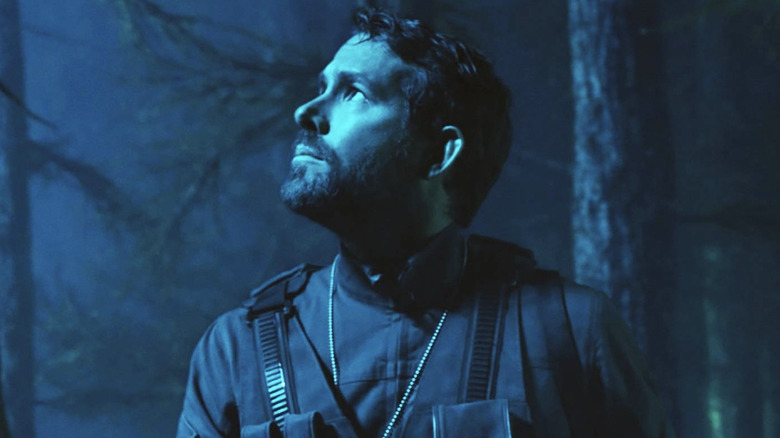 Netflix
In an interview with Collider, Levy had this to say about Reynolds' effectiveness as one of the film's producers:
"I've never had an actual fellow producer alongside me who was as additive and is as additive to every step of the process as Ryan. I think, if I'm not mistaken, Ryan's produced four movies and it's two Deadpools and it's Free Guy and Adam Project. I think that the level of craft, the level of execution in all four of those... And by the way, it's also noteworthy that they're so different from each other. But I never knew that you could have in a fellow producer, someone where in script, in casting, on set, in the edit, in song selection, in score, in sound mix, these are things where Ryan and I have been very much in lockstep and as a duo on Free Guy and Adam Project. He's, as a filmmaker and so much more than just as a performer, he's the real deal."
It sounds like Levy and Reynolds had fun working with one another, and one of the best things you can have on a set is a fun and open line of communication. "I love the creative process of trial and error, of ripping something apart and rebuilding it again," says Reynolds on the joy of being a producer. Seeing how well Levy and Reynolds have worked together producing "The Adam Project" and "Free Guy," which I quite enjoyed as a late summer surprise last year, having them reunite for "Deadpool 3" seems like a no-brainer. Hopefully they can deliver.
"The Adam Project" is currently available to stream on Netflix.