Tales From The Box Office: How Hocus Pocus Went From Flop To Halloween Cult Classic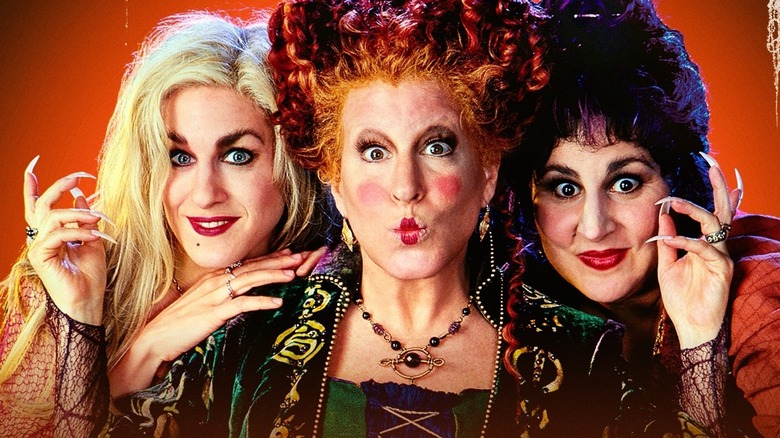 Disney
(Welcome to Tales from the Box Office, our column that examines box office miracles, disasters, and everything in between, as well as what we can learn from them.)
Nearly two decades removed from its initial theatrical release in the summer (yes, summer) of 1993, "Hocus Pocus" has become a bona fide Halloween season classic and an absolute staple for many who watched it while growing up. 
It might be easy to forget, given that history has been quite kind to the family-friendly spooky season feature, that "Hocus Pocus" was not set up to succeed upon its original release and, as a matter of fact, flopped quite hard. It did not seem like a film that would go on to become one of the quintessential classics of the season, and yet, here we are.
With Halloween happening this weekend, we decided it might be fun to take a look back at "Hocus Pocus" and how it went from a downright disaster upon its original release to a full-on cult classic that is, against all odds, getting a sequel. It just doesn't happen all that often anymore and this is a truly unique example of a movie being allowed (even if by accident) to find its audience over time.
The Movie: Hocus Pocus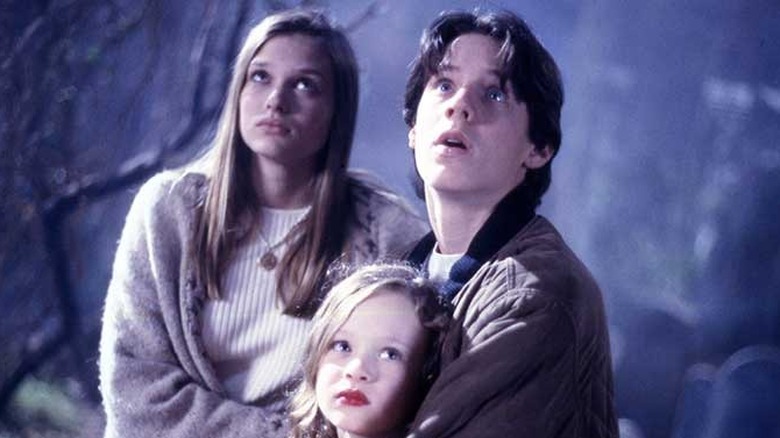 Disney
Interestingly enough, the story of "Hocus Pocus" goes all the way back to 1984 with horror maestro Mick Garris, known for, among other things, writing "Critters 2" and directing "Sleepwalkers." It began life as a darker picture under the title "Disney's Halloween House." As is often the case, it entered development hell, going through various rewrites and what have you. Another interesting tidbit: Garris and producer David Kirschner apparently pitched it to Steven Spielberg's Amblin Entertainment, but Spielberg saw Disney as a competitor to Amblin and, as a result, refused to work with them.
In the end, Neil Cuthbert was credited with the screenplay alongside Garris, Kenny Ortega was brought on to direct, and the movie as we know it entered production in October 1992. For those who need a refresher, here is the synopsis for the version that ultimately made its way to theaters:
After moving to Salem, Mass., teenager Max Dennison (Omri Katz) explores an abandoned house with his sister Dani (Thora Birch) and their new friend, Allison (Vinessa Shaw). After dismissing a story Allison tells as superstitious, Max accidentally frees a coven of evil witches (Bette Midler, Sarah Jessica Parker, Kathy Najimy) who used to live in the house. Now, with the help of a magical cat, the kids must steal the witches' book of spells to stop them from becoming immortal.
Another fun, final fact to throw out there is that a young Leonardo DiCaprio was offered the role of Max before it ultimately went to Omri Katz. He declined, and instead starred in "What's Eating Gilbert Grape?" It's just a real shame that DiCaprio's career never recovered.
The Financial Journey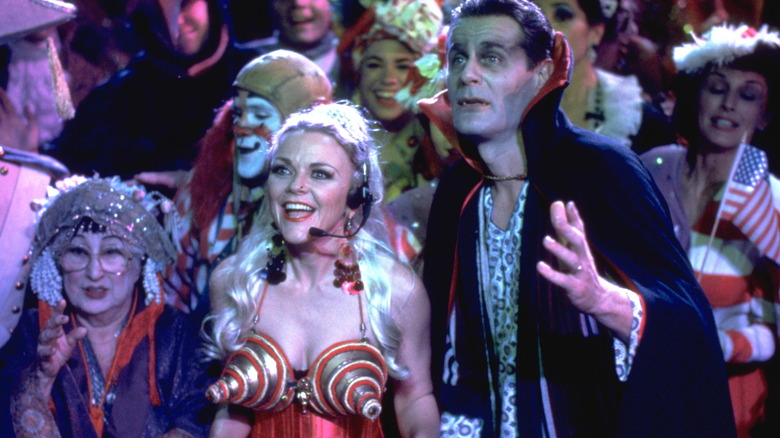 Disney
Making for a pretty quick turnaround, "Hocus Pocus" hit theaters on July 16, 1993. Yes, what is very explicitly a Halloween movie and certainly became a cult classic due to its celebration of the holiday, was actually released right in the heart of the summer movie season. It is a remarkably puzzling decision from a marketing standpoint — and one that did the movie precisely no favors at the box office. No two ways about it, this was a big ol' bomb upon its initial arrival.
Aside from the head-scratcher of releasing a Halloween movie during summer, there was a greater deal of competition at the box office that month. "Jurassic Park" was still tearing it up after being released on June 11, grossing $98 million overall in July of '93. Plus, "The Firm" hit theaters on July 2 and took in $120 million that month. The same exact weekend as "Hocus Pocus," "Free Willy" also hit theaters, splitting the family flicks right down the middle, with that movie taking in $31.6 million in July. Even Disney cannibalized itself a bit with a re-release of "Snow White and the Seven Dwarves," which earned $33 million that month.
Critics didn't do the movie any favors either, as it currently boasts a mere 38 percent critical approval rating on Rotten Tomatoes. In the end, "Hocus Pocus" was doomed to fail with an opening weekend of just $8.1 million against a $28 million budget. To date, it has earned $29.5 million domestically and an estimated $44.9 million internationally. That alone spells flop. But, as Jeff Goldblum's Ian Malcolm so eloquently put it in "Jurassic Park," life finds a way.
Hocus Pocus Finds Its Audience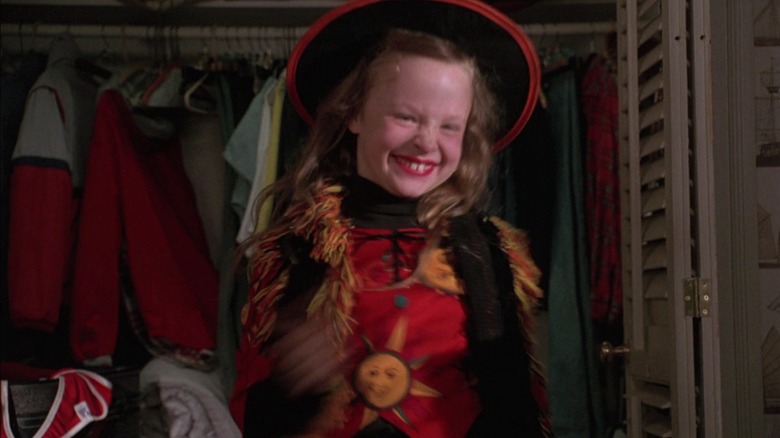 Disney
Most of the time when a movie fails so gloriously up front, it's doomed to play occasionally on cable, with home video releases relegated to discount bins across the country. It's not good. But something happened with "Hocus Pocus," which was originally released on VHS in January 1994. Slowly but surely, people started to discover it, be it through home video or cable TV rotation. The movie was later released on DVD in 2002, and that's when its audience truly started to blossom.
While there are no hard sales figures available, "Hocus Pocus" regularly tops the physical media sales charts around Halloween (per Media Play News), and it's estimated to do around $1 million in sales each October alone. It has had a long life, getting released on VHS, DVD, Blu-ray, and 4K Ultra HD. It had years to generate revenue before Blu-ray/DVD sales began declining more recently, and that mild success has surely added up over the years. Moreover, "Hocus Pocus" was a staple on ABC and Disney Channel in the late '90s and 2000s, eventually becoming part of ABC Family's "13 Nights of Halloween." The ratings were typically great, proving that the movie's audience was growing.
As further evidence that the cult of "Hocus Pocus" has formed in amazing fashion, when movie theaters were on life support last year, the film amazingly topped the box office in the first weekend of October, taking in around $1 million. This was in no small part thanks to drive-ins, which also found new life in 2020. Ultimately, "Hocus Pocus" earned $4.8 million last year, making it the year's highest-grossing re-release and topping "The Empire Strikes Back" ($2.4 million) by quite a lot.
The Lessons Contained Within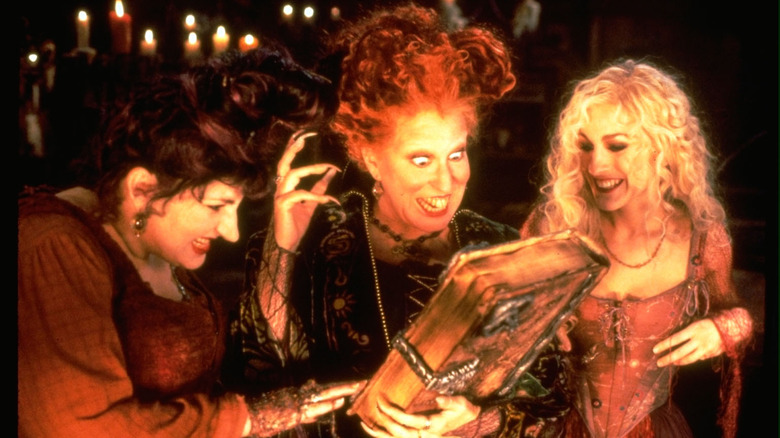 Disney
The streaming age has truly shortened everyone's attention spans, in addition to shortening the window in which a movie has to find its audience and capitalize. Blu-ray sales have dried up, the pandemic changed the scope of what the box office can do, streaming revenue hasn't made up what has been lost in ancillary revenue for theatrically-released movies, and people have more choices of what to watch now than ever. In short, if a movie fails out of the gate now, it's pretty much dead in the water. Time marches on.
Yet because "Hocus Pocus" was allowed the opportunity to grow and find the people that it was made for, it has thrived and become one of Disney's most popular offerings for the season. It is even currently trending on Disney+, yet again finding new life in the streaming era. All of this sustained, stretched-out success has even paved the way for "Hocus Pocus 2," which is coming together behind the scenes and will be released on Disney+. Bette Midler, Sarah Jessica Parker, and Kathy Najimy are returning, and the unlikely journey this movie has taken over the past 18 years is coming full circle.
I'm not saying we should turn back time, and I'm certainly not saying we should release Halloween movies in July when October makes a lot more sense, simply in the hopes that they will find an audience years later. What I am saying is that the system, as it exists, should do its damndest to set movies up for success and, if possible, give them a chance to breathe. Let the audience find the thing, and give them the best chance to do exactly that. In the end, we all win when that happens.