The 15 Best Angelina Jolie Movies Ranked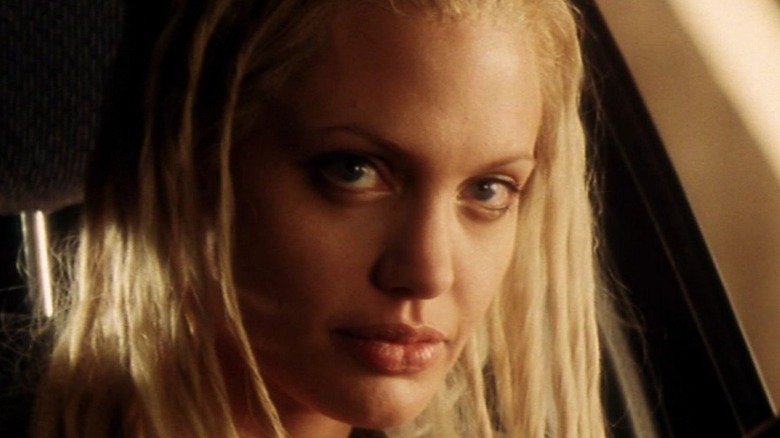 Buena Vista Pictures
While Angelina Jolie's personal life has always been intertwined with her onscreen persona (she's the daughter of Jon Voight and has married three of her co-stars — Jonny Lee Miller, Billy Bob Thornton, and Brad Pitt), she has worked hard to prove that she's more than just a pretty face. To say that has succeeded would be an understatement. 
Over the course of her 26-year career, Jolie has chosen projects that span many genres: action thrillers, prestige biopics, and more. She has won an Oscar, and has been nominated for eight Golden Globes. She has directed four feature films (three war movies, and another, more personal project), and serves as special envoy to the UN Refugee Agency. 
That's more than enough to escape the shadow of the men in her life — in fact, it could be argued that she has eclipsed them all. As a movie star, there's no one bigger. Including both her starring roles and her directorial works, here are Angelina Jolie's 15 best films, ranked.
15. Lara Croft: Tomb Raider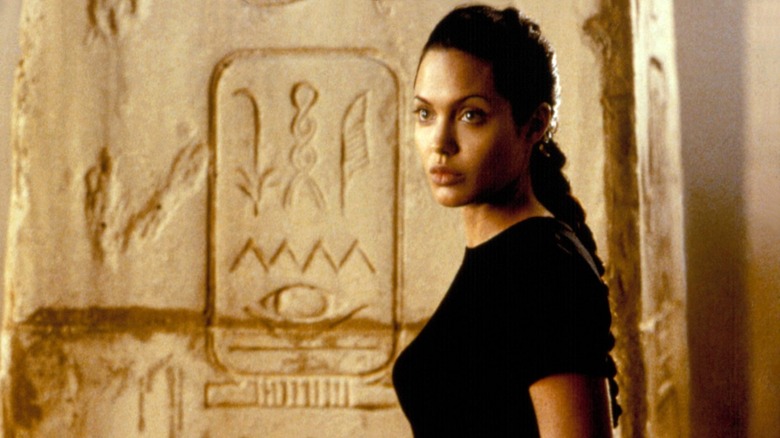 Paramount Pictures
Video game adaptations are always controversial, and rarely successful. "Lara Croft: Tomb Raider" is no exception, although almost everyone agrees that Jolie was the perfect choice for Lara Croft. While the film may not be great, there's no denying that this was an iconic role for Jolie, and launched her to a whole new level of stardom. The supporting cast, including Noah Taylor and Chris Barrie as Lara's staff, are really charming, as is Jolie's real-life father, Jon Voight, as Lara's dad. 
The cohort of villains is made up of Brits Iain Glen, Julian Rhind-Tutt, and Daniel Craig, who is inexplicably doing an American accent. However, Craig and Jolie's chemistry is one of the high-points of the movie. With a plot that involves the illuminati and settings that range from Cambodia (which Jolie would form a strong connection to) to Venice and Siberia, the second half of "Tomb Raider" kicks into an entertaining gear after a first half that drags. 
Still, this franchise piece was just the beginning for Jolie; while Craig will be associated with Bond for the rest of his life, Jolie's obituary may not even mention Lara, as her career has taken many twists and turns since she played the digital adventurer.
14. Maleficent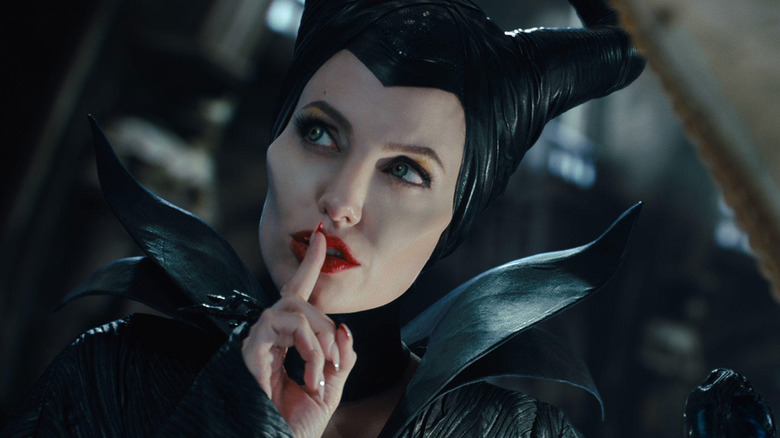 Walt Disney Studios
Glenn Close in "101 Dalmatians." Michelle Pfeiffer in "Stardust." Charlize Theron in "Snow White and the Huntsman." Cate Blanchett in "Cinderella." There's simply something to be relished about actresses of a certain age getting to go full villain (as long as they're still getting to play a wide variety of other parts, of course). 
"Maleficent," in which Jolie plays the big bad from Disney's "Sleeping Beauty," was one of the first live-action films to give a Disney villain a tragic backstory in order to make them more sympathetic, a trend continued in 2021's "Cruella." Jolie and Elle Fanning have good chemistry, but the CGI used to enhance Jolie's already well-defined features is overwhelming. Jolie is in fine scenery-chewing form, however, with an accent as razor-sharp as her cheekbones. 
Meanwhile, the handsome king is played by Sharlto Copley, who gives a surprisingly restrained performance. In fact, the acting is good across the board — it's just a shame that the performers are surrounded by such an ugly CGI world.
13. Girl, Interrupted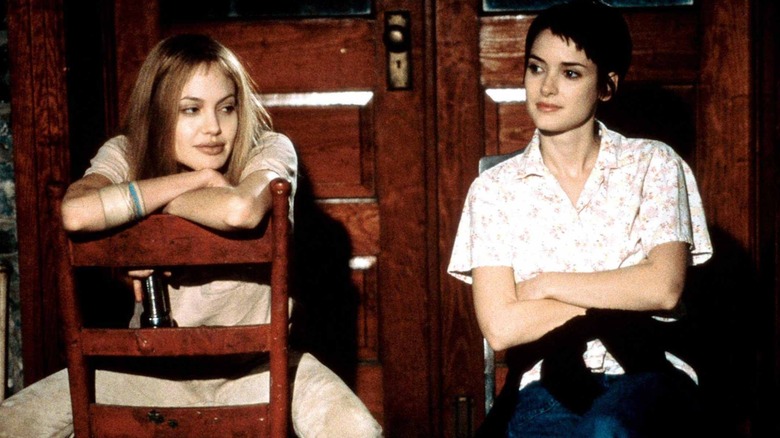 Columbia Pictures
Winona Ryder leads an impressive ensemble cast in "Girl, Interrupted," a film by James Mangold that is set in a late '60s psychiatric hospital. Clea Duvall, Brittany Murphy, Elisabeth Moss, and Jolie play young women on the ward. Jolie won the best supporting actress Oscar for her portrayal of the sociopathic Lisa, a rebellious and bracingly honest provocateur who continually winds up the staff and other patients. 
"Girl, Interrupted" is a simplistic portrayal of the mental health struggles teenage girls face, and could have benefitted from a more nuanced and complex screenplay. The performances save it, with Ryder being especially good in a less showy role. 
As often happens in Jolie's career, this movie is most notable for what it led to offscreen: In 2000, Jolie attended the 2000 Oscars looking like Morticia Addams, with her brother as her date. This is the kind of thing that makes Jolie one of our last great movie stars — she regularly plays around with her public persona, constantly reinventing herself in order to provoke the media.
12. First They Killed My Father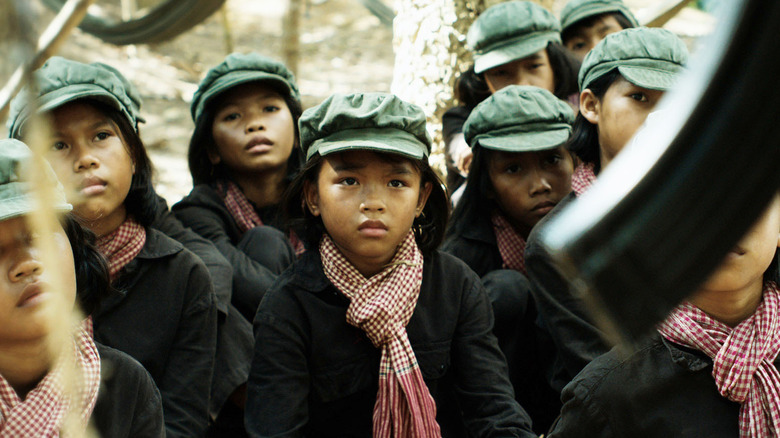 Netflix
Like Jolie's previous films, "Unbroken" and "In the Land of Blood and Honey," Jolie's 2017 directorial feature is based on true events that took place during war time. It is adapted from Loung Ung's memoir, which details her childhood under the Khmer Rouge regime. Loung's affluent family, complete with its seven children, is forced from the city into the countryside, and is gradually split up, with members forced to work in labor camps. Loung trains as a child soldier before eventually reuniting with one of her brothers and one of her sisters. 
The best part of "First They Killed My Father" is the children's performances, particularly Sreymoch Sareum as Loung. As a movie, "First They Killed My Father" gives some typical Hollywood gloss to the real-life events, and is obviously big and weepy, with Loung enduring misery upon misery. Unlike Spielberg's "Empire of the Sun," we don't feel like we're getting a child's full view of war; at the same time, we gain little insight into Loung's parents. Still, it's worth watching to see Jolie's development as a director. 
11. Mr. & Mrs. Smith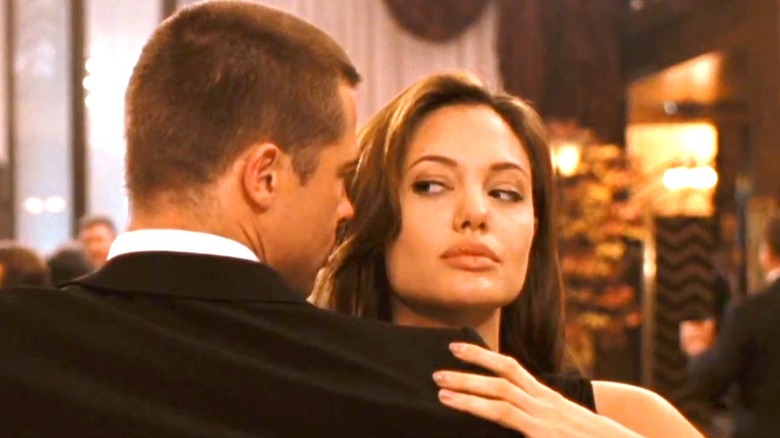 20th Century Fox
At the time of its release, "Mr. & Mrs. Smith" gained more notoriety for sparking Brad Pitt and Angelina Jolie's relationship than for the movie itself. As such, it is an interesting time capsule and curiosity, especially when paired in a double bill with "By the Sea," which bookends the decade that Jolie and Pitt spent together. 
The film's ridiculous premise is that two assassins marry each other as a banal cover for their secret and exciting lives, unaware that they are both technically rivals. A highlight is Michael Kaplan's costume design, particularly for Jolie. A rewatch might surprise you with regard to how deep the cast goes — "Mr. and Mrs. Smith" contains supporting turns from Vince Vaughn, Adam Brody, Kerry Washington, Michelle Monaghan, and Jennifer Morrison. 
The couple's zingy banter and sexual chemistry is enjoyably diverting, especially during a scene in which Pitt and Jolie destroy their perfect suburban home while fighting. Just don't think too hard about the plot holes.
10. Hackers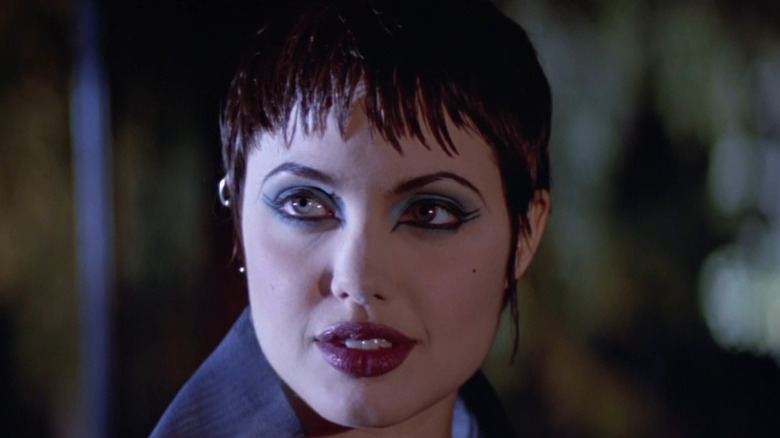 United Artists
Speaking of time capsules, "Hackers" is a perfect encapsulation of the '90s' obsession with the internet and all things cyber. 1995 alone served up "The Net," "Johnny Mnemonic," "Virtuosity," and, of course, "Hackers," which contains Jolie's first really notable role. 
In the movie, Jolie, Johnnie Lee Miller, Matthew Lillard, Laurence Mason, and Jesse Bradford portray a band of teenage hackers who are capable of bringing down corporations and governments. Evil villains Fisher Stevens and Lorraine Bracco try to make the high schoolers into patsies in their nefarious scheme. Wendell Pierce appears as a special agent on the teens' case, and Penn Jillette plays the villains' henchman. 
The hair, clothes, and make-up in "Hackers" are truly breathtaking, and the climax involves an exciting race-against-time on rollerblades through New York. What more could you possibly want from a movie?
9. Unbroken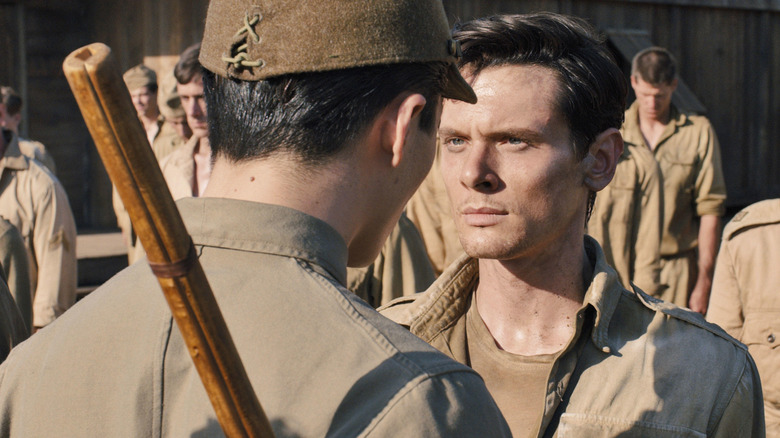 Universal Pictures
This WWII film is based on the real-life experiences of Louis Zamperini, an Olympic runner and bomber who was stranded at sea for nearly 50 days before being interned in several Japanese POW camps. "Unbroken" has quite the pedigree behind the camera, with a screenplay by the Coen brothers, cinematography by Roger Deakins, a score by Alexandre Desplat, and direction by Jolie. It features a large ensemble cast full of young actors, including Garrett Hedlund, John Magaro, and Luke Treadaway. For some reason, when casting the Italian-American Zamperini Jolie looked to Derbyshire-born Jack O'Connell, but he is brilliant in this breakout role. 
O'Connell, Domhnall Gleeson, and Finn Wittrock had to lose a substantial amount of weight to play the three crew members of a crashed plane who drift on a raft, attempting to stay alive by catching birds and fish. Once in the camps, Wantanabe (Miyavi), a particularly sadistic guard, discovers that Zamperini was at the 1936 Olympics and targets him by giving him various physical and mental challenges. This is the type of film that is always going be popular, due to a story about an underdog who perseveres under pressure and defies his bullies, but it is well-directed by Jolie nonetheless.
8. Wanted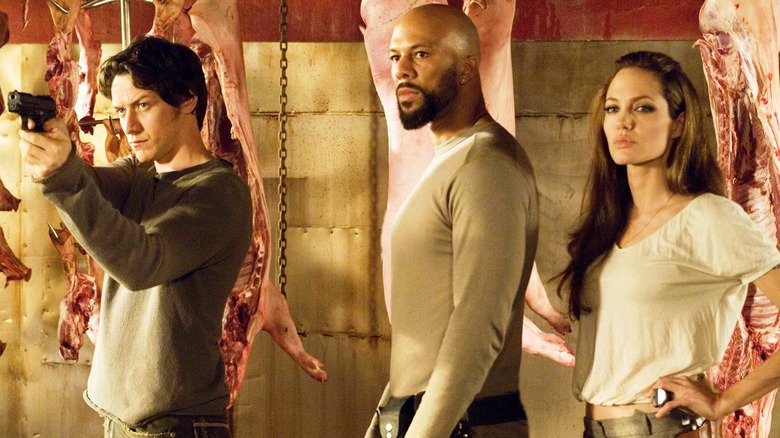 Universal Pictures
While everything about "Wanted" screams '00s (especially the fashions), it's still an entertaining flick that takes an unusual approach to the world of assassins and action. The first third of the film plays more like "Office Space," with James McAvoy as a dissatisfied cubicle jockey whose girlfriend is cheating on him. In swoops Angelina Jolie to yank him out of his crushingly boring existence, with Common, Marc Warren, and Morgan Freeman joining her as members of the mysterious Fraternity. 
McAvoy learns how to curve bullets, run along the rooves of trains, and heal himself using candle wax — it's pretty much the same plot as "Kung Fu Panda," which Jolie also stars in. Two years later, Jolie also starred in the action thrillers "Salt" and "The Tourist." But after making three action films in close proximity, Jolie hung up her running legs for a decade, only breaking them out again for 2021's "Those Who Wish Me Dead." 
If you ask me, "Wanted" is still the most ridiculously entertaining of Jolie's later action flicks — it's definitely dated, but it can be fun to look back on that era, even if it's through your fingers.
7. Gia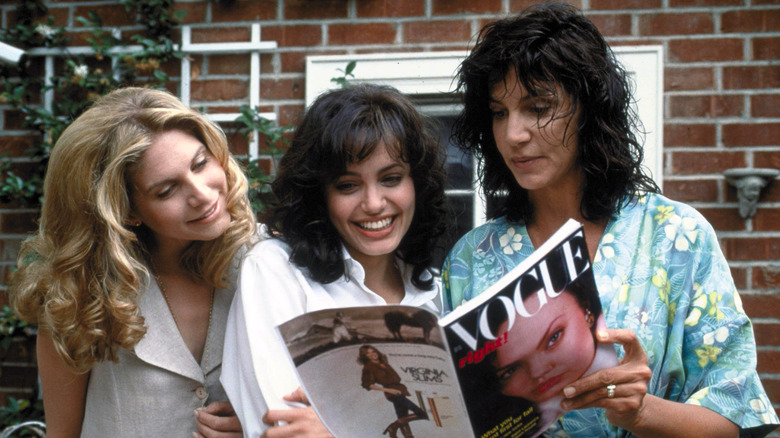 HBO
"Gia" was an early leading role for Jolie, telling the true story of the rise and fall of late '70s and early '80s model Gia Carangi. This HBO film features fantastic performances from three other women in addition to Jolie — Faye Dunaway as Carangi's agent and mentor Wilhelmina Cooper, Elizabeth Mitchell as Linda, as the love of Gia's life, and (especially) Mercedes Ruehl as Gia's mother, who has segments in which she speaks directly to camera. Mila Kunis even appears as the child-aged Gia. 
"Gia" follows the classic biopic format, chronicling its hero's meteoric rise to fame, followed by her drug addiction, which leads to the implosion of the protagonist's career and her tragic end. In 1986, when she was just 26, Carangi was the first famous woman to die of AIDs-related complications. Jolie successfully embodies wild child Gia and is particularly good in her scenes with Mitchell. The only thing that this movie is missing is Studio 54, which Carangi frequented — but even without the infamous club, you still get a good feel for the New York of the time.
6. Original Sin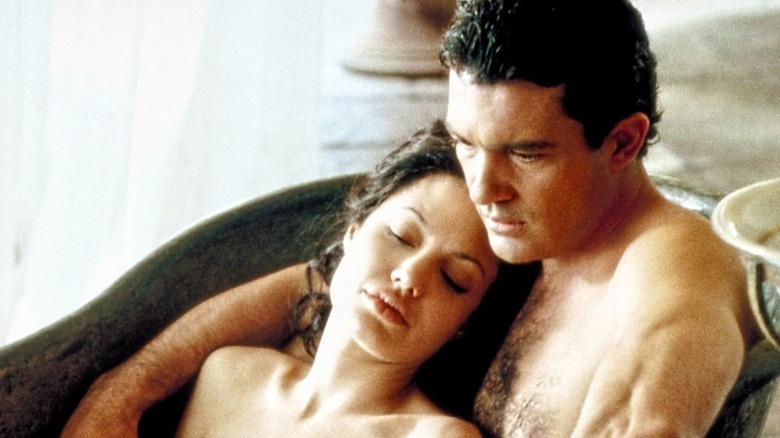 MGM
Two outrageously beautiful people, a hot and sultry setting, erotic thrills and high melodrama — all ingredients for a great time at the movies, if you ask me. "Original Sin" is set in late 19th century Cuba and stars Antonio Banderas as Luis, a wealthy merchant who orders a mail-order bride from Delaware and gets much more than he bargained for. 
Jolie is on thrilling form here as a duplicitous seductress named Julia. Poor Luis is done for as soon as he sees her — but who can blame him? Julia and Luis fall madly in love, although it turns out that this woman is not "Julia" at all, and before long she's gone on the run with her new husband's money. "Original Sin" escalates into further silliness the longer it goes on; no matter what "Julia" or her old lover do to Luis, he cannot be turned from his obsession. 
"Original Sin" is very much a love it or hate it kind of a film, but I can't get enough of this kind of thing. It's deliciously over the top and features Jolie as a femme fatale, a type of role we haven't seen her play nearly enough.
5. A Mighty Heart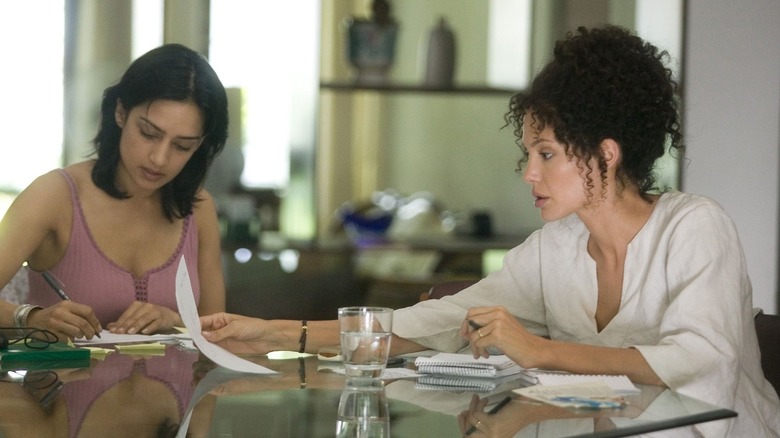 Paramount Vantage
"A Mighty Heart" is yet another biopic for Jolie, based on the true story of Mariane and Daniel Pearl, two American journalists stationed in Pakistan after 9/11. Directed by Michael Winterbottom, "A Mighty Heart" stars Dan Futterman as Daniel, who is kidnapped one evening while taking a meeting at a restaurant. Pregnant Mariane strives tirelessly to find him with help from her friend Asra (Archie Panjabi), the local police captain (Irrfan Khan), and a US special agent (Will Patton). 
As can also be seen in "Changeling," Jolie excels at playing a tough woman who will not be deterred from finding her loved one, no matter how many obstacles are placed in her way. The events of the film actually take place over just one week, but so much emotional turmoil, chaos, and confusion happens during this time, especially as Mariane's home becomes a hub of activity for various agencies, that it seems much longer. "A Mighty Heart" contains one of Jolie's best performances, and is perhaps one of her most underseen films.
4. Gone in 60 Seconds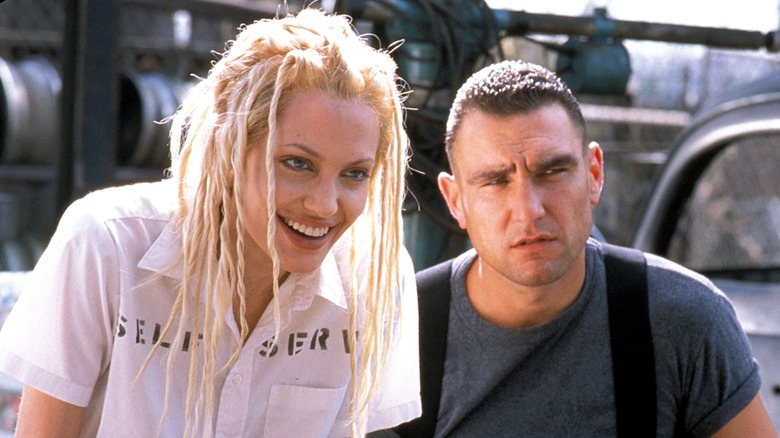 Buena Vista Pictures
While Jolie has proved that she's a capable action lead through movies like "Salt" and "Lara Croft": Tomb Raider," my favorite of her action films actually sees her in a supporting role. With Nicolas Cage leading an ensemble that includes Giovanni Ribisi, Delroy Lindo, Timothy Olyphant, Robert Duvall, and Christopher Eccleston (delightfully doing his own Manchester accent), "Gone in 60 Seconds" is the fun and entertaining car-based heist film that should have spawned ten sequels, not that other franchise. 
Lindo and Olyphant play the cops on the case, as Cage reluctantly steps in to save his brother's life by stealing 50 — yes, 50 – high-end cars in one night. With a dash of "Ocean's 11" (and not just because Scott Caan is present), "Gone in 60 Seconds" taps into the unique appeal of watching an ensemble of unique individuals come together and use their unique skills to pull off a seemingly impossible feat on a tight timeline. Cage is typically great, and his chemistry with Jolie is one of the highlights of the movie.
3. The Bone Collector (1999)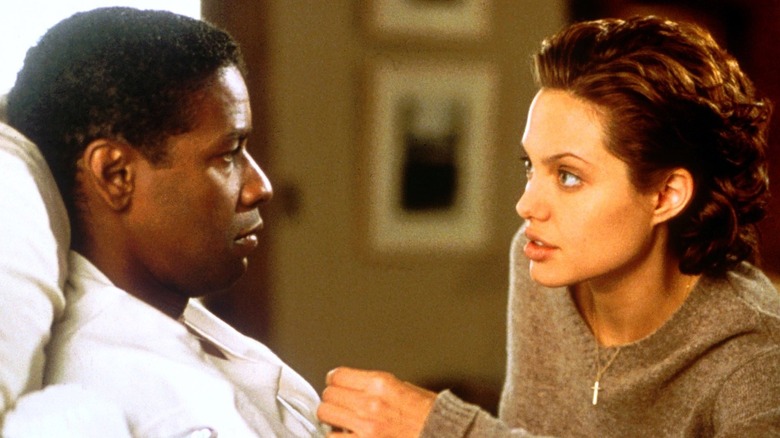 Universal Pictures
The '90s were a heyday for detective and legal thrillers, full of John Grisham adaptations and Ashley Judd films like "Kiss the Girls," "Eye of the Beholder" and "Double Jeopardy." As with "Se7en," these films often borrowed from horror as well, particularly when serial killers were involved. "The Bone Collector" is no exception. 
In this movie, Denzel Washington plays a detective named Lincoln Rhyme who is confined to his bed after an accident on the job. Jolie plays the most beautiful NYPD rookie of all time, who works with Rhyme to assess a serial killer's horrific crime scenes. The sequences set in Rhyme's apartment are the best parts of the movie, and Jolie has convincing chemistry with Washington. Michael Rooker is also great as the police captain who disapproves of Rhyme's methods and attempts to shut the operation down. '90s thrillers have a very specific flavor, but if you're into them, this is a particularly good example.
2. By the Sea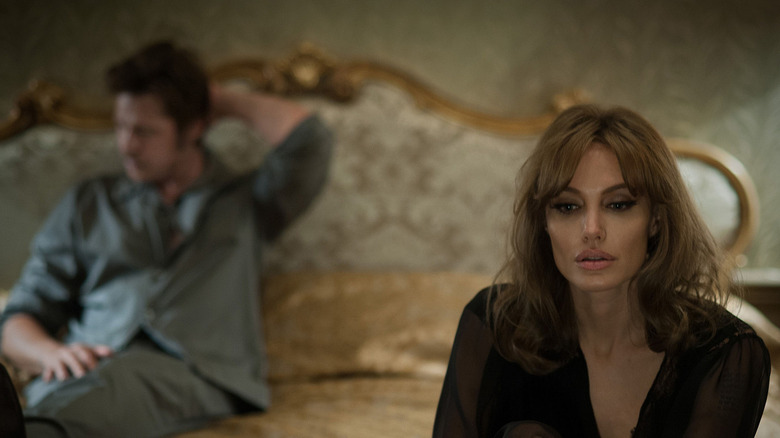 Universal Pictures
Of the four feature films that Jolie has directed, "By the Sea" is the most successful, largely because it is the most personal. Instead of examining various wars throughout the 20th century, "By the Sea" deconstructs the crumbling marriage of a couple vacationing in France in the '60s. The layers involved are fascinating — by this point, Pitt and Jolie had been together for nine years, but didn't take a honeymoon until 2014, during which this movie was filmed. It was released in 2015; just a year later, Jolie filed for divorce. 
Jolie plays Vanessa, a former dancer, and Pitt plays Roland, a once-successful writer who is now blocked. Roland strikes up a friendship with a local café owner and spends his days drinking while Vanessa stays in the hotel room, clearly depressed. Eventually, Vanessa discovers a peephole looking over the room next door, which she uses to watch a happy honeymooning couple. 
The gorgeous setting and clothes create a glamorous veneer that clearly glosses over a rotten core. The performances, especially Jolie as a flawed and complicated woman, are what make this film so good. Unfairly maligned as a vanity project, "By the Sea" is a compelling work that deserves a reappraisal.
1. Changeling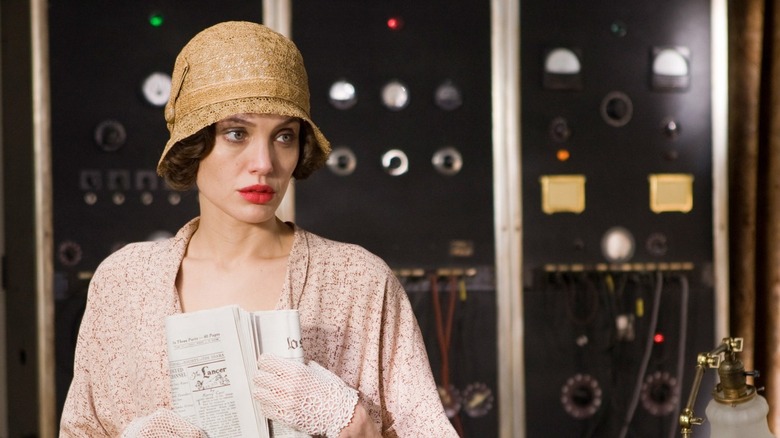 Universal Pictures
Similar to "A Mighty Heart," "Changeling" sees Jolie playing a tireless mother who will not stop searching for her missing son, despite enormous pressure to do so. Based on — you guessed it — a true story, Clint Eastwood's "Changeling" is set in 1928 and is about a woman who attempts to take on the all-powerful Los Angeles Police Department. 
When Christine Collins' son Walter goes missing, the LAPD finds him in Illinois and returns him, a rare happy story that the department hopes will improve its reputation with the press. The only problem? Christine tells them that this boy is not Walter. When she continues to insist that he's the wrong boy, the LAPD commits her to a psychiatric ward. 
In this Oscar-nominated performance, Jolie brilliantly portrays a gaslit single mother who has no one in her corner, other than a pastor played by John Malkovich. She really finds herself between a rock and a hard place — the more Christine protests, the crazier she seems, but she still refuses to give in. While "Changeling" bears some similarities to "Girl, Interrupted," this is the role that should have earned Jolie that Oscar.