13 Box Office Bombs That Are Truly Worth A Watch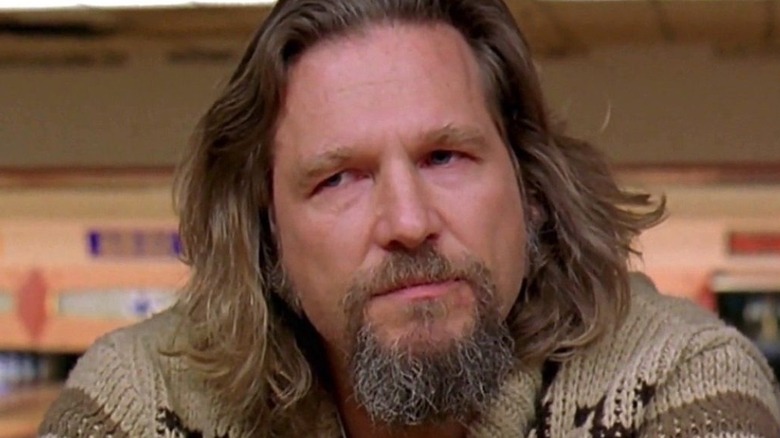 Universal Pictures
Good movies aren't all created equal. While some benefit from great trailers and well-crafted marketing campaigns, other films suffer from a lack of promotion. Sometimes, a good movie is released at the same time as bigger, much-awaited production that overshadows everything else in theaters; it's never a good idea to schedule a movie's opening against the latest entry in a hot franchise or the biggest stars' latest blockbusters. 
Whatever the reason, many truly great movies bomb at the box office, even if they garner positive reviews and become critical successes. Those movies often end up being re-discovered after arriving on home video or streaming platforms, and go on to become very popular with the very same audiences that snubbed them the first time around. These are some of the biggest box-office bombs of the last few decades — if you haven't seen them, they're all absolutely worth watching.
The BFG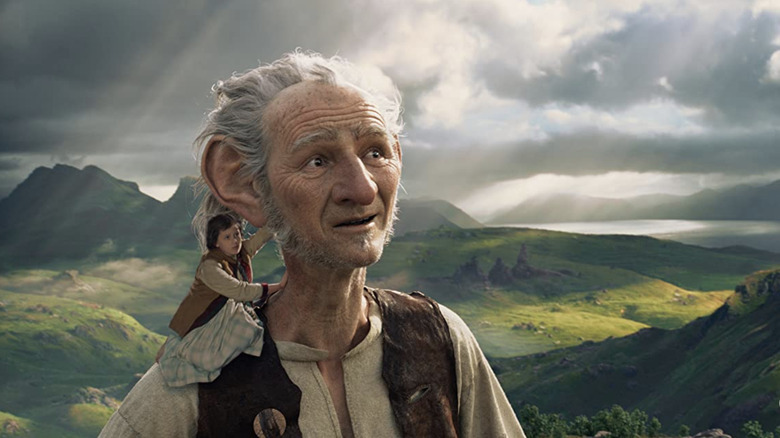 Disney
You'd think a Steven Spielberg movie could never bomb at the box office, yet here we are. Spielberg's 2016 children's movie "The BFG," based on Roald Dahl's classic novel of the same name, was meant to be a summer blockbuster, but failed to bring audiences into the theater, where it was overshadowed by Pixar's "Finding Dory." 
While it's certainly not Spielberg's best movie, "The BFG" is still a charming, whimsical film that's sure to entertain families on movie night. With the help of motion capture, Mark Rylance plays the Big Friendly Giant, who kidnaps 10-year-old Sophie (Ruby Barnhill) from the London orphanage where she lives after she spots him on his nightly stroll around the city. See, the BFG can't allow the girl to reveal the existence of giants to the rest of the world, so she has to come with him to Giant Country. 
The BFG's job is to spread good dreams to children, and Sophie starts helping him. Other giants, meanwhile, go out and eat children during the night. When they find out about Sophie's existence, she's in big trouble. The movie features some amazing animation and a stunning performance from newcomer Ruby Barnhill, which is unsurprising given Spielberg's talent for casting and directing children.
The Iron Giant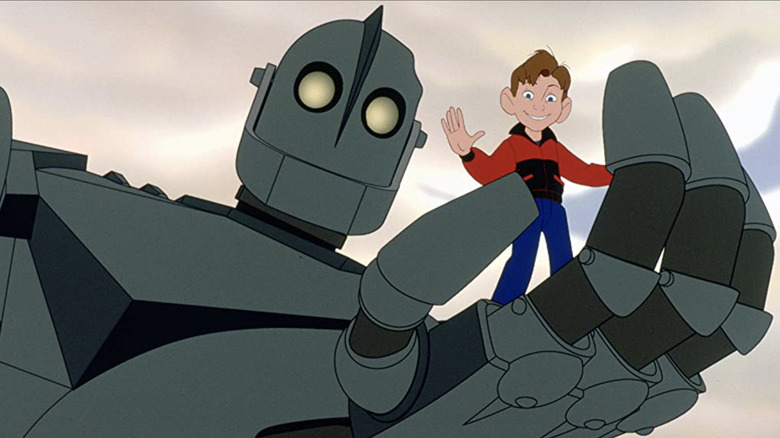 Warner Bros.
Another tale about a friendly giant makes it on this list. "The Iron Giant," directed by Brad Bird in 1999, had a very disappointing performance at the box office, despite being a critical success. Brad Bird went on to direct classic children's movies such as "The Incredibles" and "Ratatouille," and "The Iron Giant" has all the charm and power you'd expect from a director like that. Thankfully, the movie went on to gather a cult following and made quite an impression in pop culture, with its titular character appearing in recent movies such as "Ready Player One" and "Space Jam: A New Legacy."
The story of "The Iron Giant" is set in 1957 and follows Hogarth (Eli Marienthal), a nine-year-old kid living with his single mother Annie (Jennifer Anniston) in Maine. After an unidentified object crashes in the forest near his home, Hogarth investigates and stumbles onto a 50-foot-tall robot who seems to be made by aliens. The Giant (voiced by Vin Diesel, years before he melted everyone's hearts as Groot) is well-behaved and peaceful, and a quick friendship blossoms. However, a xenophobic government agent named Kent Mansley (Christopher McDonald) is also on the case, and devotes himself to destroying the Giant. 
Like all great children's movies, "The Iron Giant" is a parable with a memorable lesson about acceptance. Hogarth defends the Giant, telling his metal friend he can be whatever he chooses to be, even if others are convinced that he is nothing but a weapon.
Treasure Planet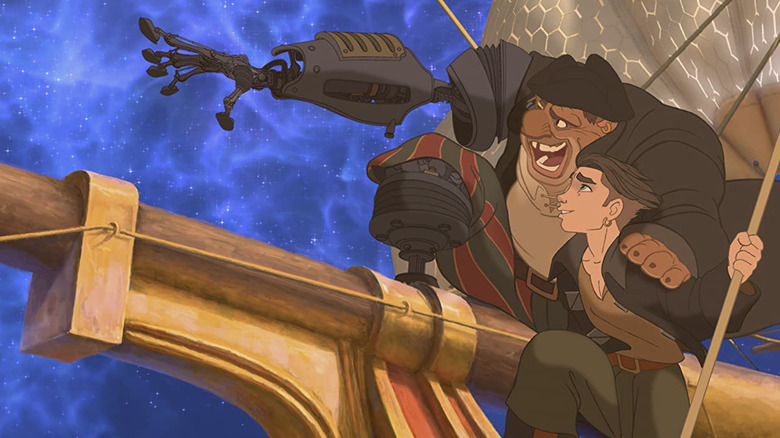 Disney
"Treasure Planet," which was directed by Ron Clements and John Musker, came on the heels of Disney renaissance hits like "Beauty and the Beast," "Tarzan," and "Lilo & Stitch." For Clements and Musker, who helmed "The Little Mermaid," "Aladdin," and "Hercules," the idea for "Treasure Planet" had been percolating for a long time. It was a risky, out-of-the-box idea, and even though it was nominated for an Oscar, it was a flop at the box office.
"Treasure Planet," based on the classic novel "Treasure Island" by Robert Louis Stevenson, is essentially a remake of Disney's 1950 adaptation of the book. It follows the adventures of teenager Jim Hawkings (Joseph Gordon-Levitt), who dreamt of space pirates when he was a kid. Jim gets a mysterious orb after a pirate crash lands near his family's inn, which turns out to house a map to the fabled Treasure Planet, where a famous space pirate has been hiding his loot. Jim and his friend Dr. Delbert Doppler (David Hyde Pierce) commission a ship to go and get the treasure, befriending a shifty cyborg cook called John Silver (Brian Murray) along the way.
"Treasure Planet" uses a mix of hand-drawn animation and CGI, and the result is stunning, full of bold steampunk aesthetics and characters like swashbuckling aliens and robots that sail on 18th-century-style ships that shoot laser beams. It's a feast for the eyes, with lots of humor and charm.
Hocus Pocus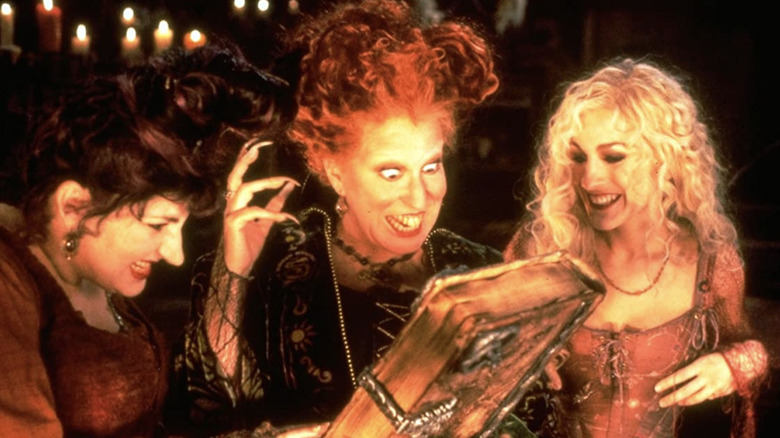 Disney
Directed by Kenny Ortega in 1993, "Hocus Pocus" didn't really make any waves when it was released. It was a flop at the box office, and critics panned it. It didn't help that it was competing against the likes of "Jurassic Park" and "Free Willy," and that it was released in the summer rather than the fall. However, through multiple showings on TV during the autumn season as well as numerous home video releases, "Hocus Pocus" has became a Halloween classic and a fan-favorite, spawning endless memes and themed parties.
"Hocus Pocus" tells the story of the three Sanderson sisters — Winifred (Bette Midler), Mary (Kathy Najimy) and Sarah (Sarah Jessica Parker) — who were executed in Salem for being witches in 1683. That wasn't the end, though. The sisters vowed to come back to haunt the village once more; they just needed a virgin to light the black flame candle at their cottage. In 1993, the Sandersons make good on their promise, showing up in a very different Salem on Halloween night. 
Max Dennison (Omri Katz) is the one responsible for their return. Newly resettled from California, Max is skeptical about the Sanderson sisters' story and convinces his crush Allison (Vinessa Shaw) to bring him to their cottage. Max, his little sister Dani (Thora Birch), and Allison spend the rest of Halloween night trying to stop the evil sisters. "Hocus Pocus" is a fantasy coming-of-age adventure that's still a highly entertaining, family-friendly movie.
Hugo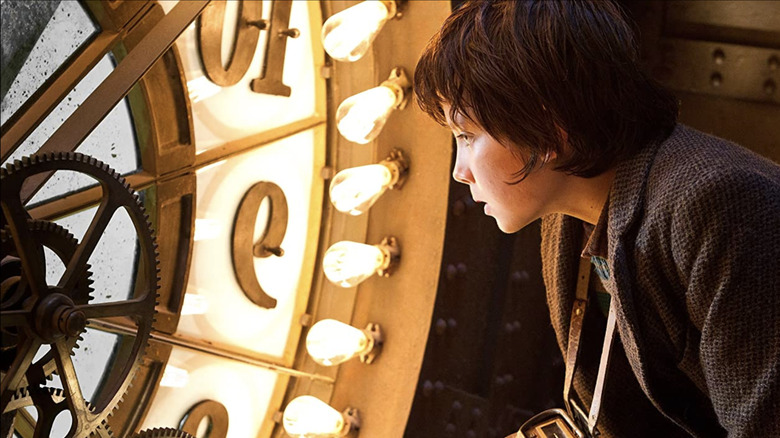 Paramount Pictures
"Hugo" was director Martin Scorsese's first attempt at making a children's movie, as well as his first time playing around with 3D. Unfortunately, leaving behind the mean streets for a whimsical tale didn't work too well for the famous director. Released in 2011, "Hugo" went up against the Twilight Saga's penultimate film as well as "The Muppets." Critics were impressed with Scorsese's foray into family-friendly territory, but "Hugo" was considered a major flop.
Based on the 2007 novel "The Invention of Hugo Cabret" by Brian Selznick, "Hugo" follows its titular character, a young boy (played by Asa Butterfield, in a great performance) living in a train station in Paris. After Hugo's dad (Jude Law) passes away, Hugo lives with his uncle, who's in charge of maintaining the clocks around the station. When his uncle disappears, Hugo carries on his job in secret. He also keeps an old, broken automaton that his dad used to have; Hugo attempts to fix it, stealing parts from a toy store inside the station. 
The toy store is owned by George Méliès (Ben Kingsley), the real-life French filmmaker who is considered by many to be the father of special effects. The film also stars Chloë Grace-Moretz, Helen McCrory, and Sacha Baron Cohen, and is a love-letter to cinema and its beginnings, with much of the second act centered around Méliès' legacy. Scorsese's use of 3D is restrained and clever, and he has a lot of fun with the technology, making for as beautiful a film as you'd expect from such a talented, prolific director.
Peter Pan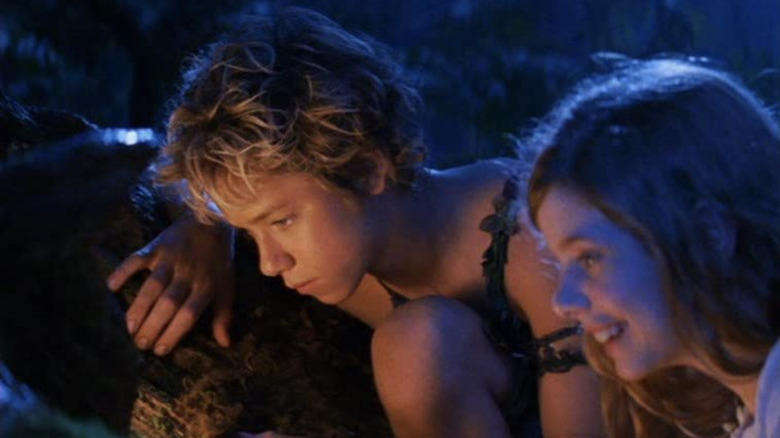 Universal Pictures
Directed by P.J. Hogan in 2003, this adaptation of J.M. Barrie's classic novel "Peter Pan" was somewhat of an oddity on Hogan's resume; he had previously directed the comedies "Muriel's Wedding" and "My Best Friend's Wedding." Its critical response was positive, with many critics noting how faithful it was to its original book, but it couldn't make a place for itself in that holiday season's crop of films, which included "The Lord of the Rings: The Return of the King" and "Cheaper by the Dozen."
This version of "Peter Pan" doesn't shy away from the complicated feelings that come with getting older, which is maybe why it made fans of the novel so happy — like Captain Hook says, growing up is a nasty business. Australian Jeremy Sumpter takes on the titular role, while newcomer Rachel Hurd-Wood turns in a stunning performance as Wendy. The sexual tension between the two is sweet and natural, even if it's masked by their roles as the Lost Boys' surrogate mother and father. Scenes in which they recreate the fairies' dancing, or share their first kiss, are full of melancholy and wonder. 
Jason Isaacs plays the dual role of Mr. Darling and Captain Hook, and French actress Ludivine Sagnier takes on the part of the cute but annoying fairy Tinkerbell. The movie is not all sensuality and sentimentality, either; it also features great sword fights and dramatic cinematography by Donald M. McAlpine, who shot "Moulin Rouge" for Baz Luhrmann.
Kiss Kiss Bang Bang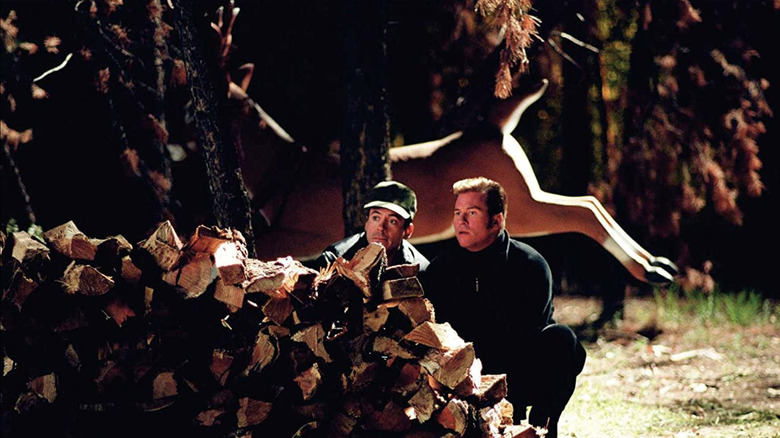 Warner Bros.
If "Die Hard" is a Christmas movie, then crime comedy "Kiss Kiss Bang Bang" should be one, too. The directorial debut of screenwriter Shane Black, the film stars Robert Downey Jr. as Harry Lockhart, a New York City burglar who stumbles into an audition as he flees the scene of a failed heist. His remorse is mistaken for method acting by the casting director, and he's sent to Los Angeles to be tutored by a real-life detective, Gay Perry (Val Kilmer). There, Harry runs into his childhood crush Harmony (Michelle Monaghan) at a party, and lies to her about being a private detective. A series of unfortunate, and sometimes wacky, events unfold from there.
Shane Black is known for writing funny, smart-ass films like "Lethal Weapon" and "The Long Kiss Goodnight," and "Kiss Kiss Bang Bang" is no exception. It didn't perform well in theaters, barely managing to make back its budget at the worldwide box office; as a domestic release, it was a major flop. In any case, the film marked Downey Jr.'s return to Hollywood (and led to his casting in his most well-known role, Iron Man), and features great performances by both him and Kilmer.
Blade Runner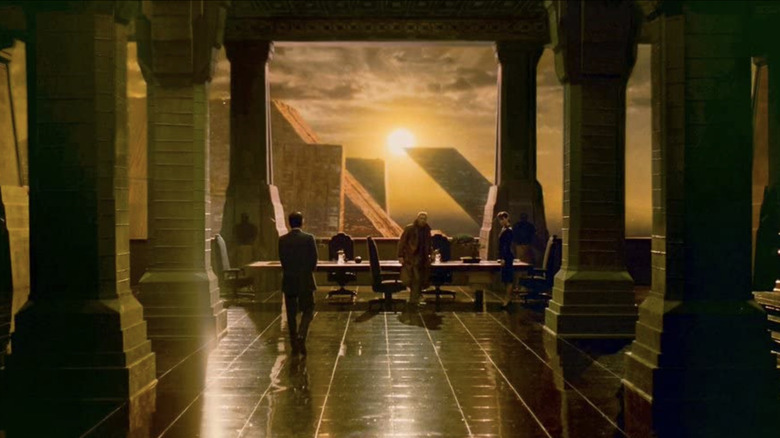 Warner Bros.
Directed by Ridley Scott in 1982, "Blade Runner" is a neo-noir cyberpunk movie that, much like Scott's "Alien," redefined the sci-fi genre. "Blade Runner" is based on Philip K. Dick's 1968 novel "Do Androids Dream of Electric Sheep?" and is set in Los Angeles, where a corporation called Tyrell is making bio-engineered robots called replicants to work as slave labor. Cops known as Blade Runners hunt down and "retire" (a nicer word for killing) runaway replicants; one such cop is Rick Deckard (Harrison Ford), who is looking for a group of replicants led by Roy Batty (Rutger Hauer). "Blade Runner" also stars Sean Young as a beautiful replicant named Rachael, who's Deckard's love interest.
The film's box office performance was affected by other major fantasy and science-fiction movies coming out around the same time — competing titles included "Star Trek II: The Wrath of Khan," "Conan the Barbarian," and "E.T. the Extra-Terrestrial." It also happened to be a polarizing movie for critics. While some loved it, others were very critical. Nevertheless, "Blade Runner" gathered an impressive cult following and is now considered a masterpiece of science fiction. Its moody atmosphere and urban, neon-light jungle set the standard for what cyberpunk films would look like going forward.
The Big Lebowski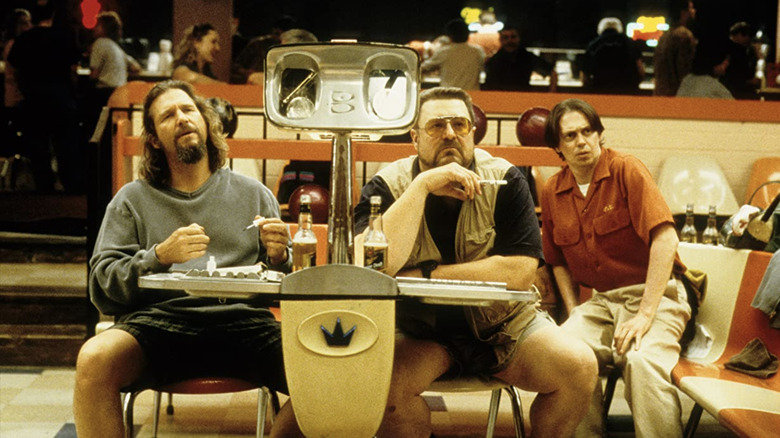 Universal Pictures
While it wasn't a total flop, "The Big Lebowski" was certainly a commercial disappointment, and wasn't well-liked by critics. Directed by Joel and Ethan Coen, who had just won an Oscar for writing "Fargo," "The Big Lebowski" was released to great hype. It didn't get any award nominations, but it remains one of the Coen brothers' most quotable movies.
In a classic plot of mistaken identity, Jeffrey "The Dude" Lebowski (Jeff Bridges) is attacked by debt collectors who are looking for millionaire Jeffrey "The Big" Lebowski's wife. When the Dude refuses to cooperate, the thugs pee on his favorite rug. The Dude is a deadbeat — unemployed, his days consist of sipping White Russians and bowling with his pals Walter Sobchak (John Goodman) and Donny Kerabatsos (Steve Buscemi). When he confronts the Big Lebowski (David Heddleston), the Dude ends up hired to search for Bunny (Tara Reid), Lebowski's kidnapped wife. The film also stars actors like Julianne Moore and Philip Seymour Hoffman, and features all of the Coen brothers' signatures: witty dialogue, ridiculous plot devices, and great political and social commentary.
Heathers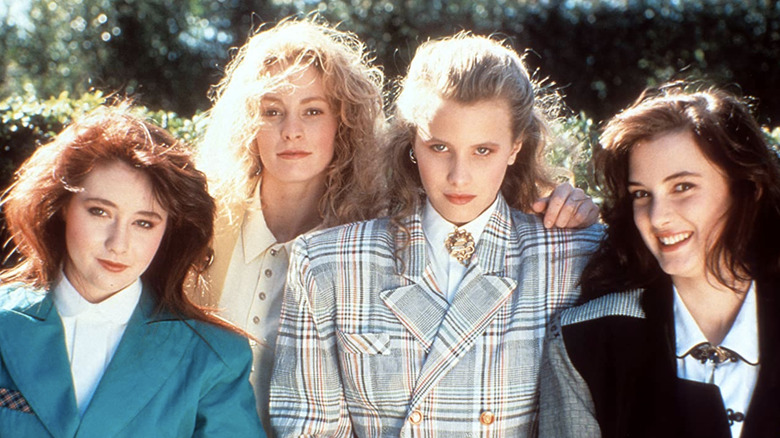 Anchor Bay Entertainment
"Heathers" was intended to be as a high-school comedy, and while it's very funny, it's probably better described as a cynical, B-level horror film. Directed by Michael Lehmann in 1988, the film did not please everyone, and critics were quick to put it down as cruel, nasty, and morbid. To say it flopped at the box office would be an understatement. Nevertheless, "Heathers" went on to make a name for itself on video, and has a lasting legacy thanks to its subversive, satirical premise.
"Heathers" follows the story of Veronica (Winona Ryder), whose popular clique consists of three other girls, all named Heather: Heather Chandler (Kim Walker), Heather Duke (Shannen Doherty), and Heather McNamara (Lisanne Falke). Growing tired of them and their bullying, Veronica gravitates towards the rebellious new kid, Jason "J.D." Deam (Christian Slater). They fall in love and discover their shared hatred of the Heathers, and eventually J.D. recruits Veronica for his a plan to murder the bullies and disguises the deaths as suicide. What ensues is as gory, shocking, and ridiculous as you'd expect. That's why it works: as Veronica herself says, "Teen angst has a body count."
The Shawshank Redemption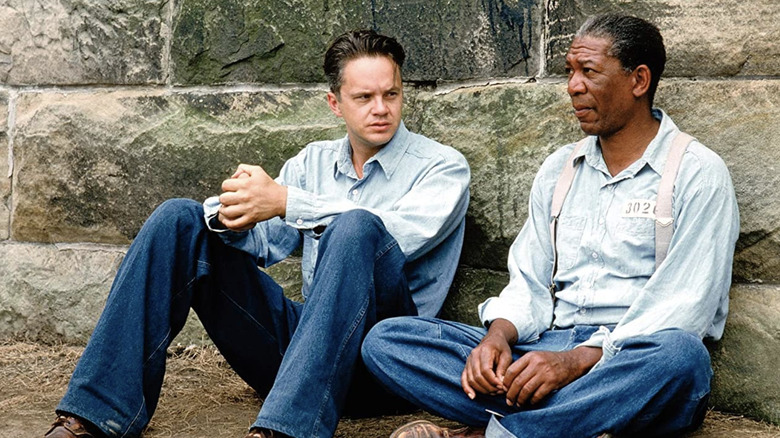 Warner Bros.
Competing against big titles such as "Pulp Fiction" and "Forrest Gump" didn't do "The Shawshank Redemption" any favors, but its multiple award nominations helped make it a big home video success; "The Shawshank Redemption" is now frequently considered one of the greatest movies ever made. Directed by Frank Darabont, "The Shawshank Redemption" is a prison drama adapted from Stephen King's 1982 novella, "Rita Hayworth and Shawshank Redemption."
Set in 1947 at Maine's Shawshank State Prison, the film follows banker Andy Dufresne (Tim Robbins), who's wrongfully imprisoned for the murder of his wife and her lover. He befriends fellow lifer Ellis "Red" Redding (Morgan Freeman), who is the prison's fixer and smuggler, and makes a name for himself by helping the guards with their taxes and other financial matters. Both Robbins and Freeman deliver strong performances — the film is less about prison and its hardships than it is about friendships, humanity, and hope.
Matilda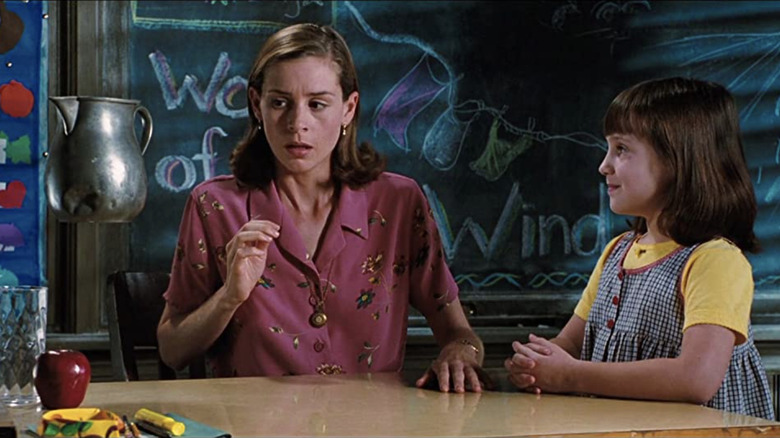 Sony Pictures
Another Roald Dahl adaptation, "Matilda" had a rough time at the box office — that may be because it came out just after "Independence Day." Directed by Danny DeVito and released in 1996, "Matilda" is a delightful movie that can be a bit too dark for young viewers, but it's perfect for older kids and their parents. "Matilda" doesn't take itself too seriously, and goes to great lengths to feature ridiculous villains, slapstick-adjacent action, and moral lessons that never feel too sentimental.
"Matilda" follows its titular hero, a smart six-year-old girl played by the brilliant Mara Wilson, who is badly neglected by her capitalist family. Her dad, Harry Wormwood (Danny DeVito), is a crooked car salesman. Her mom, Zinnia (Rhea Perlman), is a narcissistic bingo addict. Her older brother, Michael (Brian Levinson), is a bully. Things change when Matilda discovers that she has telekinetic powers that match her frustration, as well as when she heads to school at Crunchem Hall, which is run by tyrannical Agatha Trunchbull (Pam Ferris). "Matilda" is a wonderfully funny yet macabre movie that honors its source material — this really does feel like Dahl's work brought to life.
Scott Pilgrim vs. the World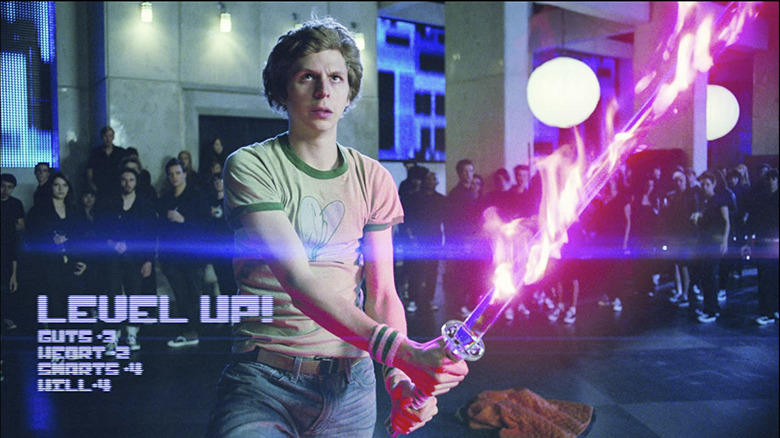 Universal Pictures
It's hard to imagine that cult movie "Scott Pilgrim vs. the World" was a commercial failure, especially since comic book movies are all the rage right now. Based on Bryan Lee O'Malley's series of graphic novels and directed by Edgar Wright, "Scott Pilgrim vs. the World" came out in 2010 and failed to generate enough enthusiasm to make it a hit. Nevertheless, it was a critical success, gathering numerous award nominations and becoming what is now considered a classic movie with a cult following.
Michael Cera stars as the eponymous Scott Pilgrim, an awkward young man who falls for manic-pixie dream girl Ramona Flowers (Mary Elizabeth Winstead). There's a twist, though: If Scott wants to date the girl of his dreams, he has to defeat all seven of her evil exes first. "Scott Pilgrim vs. the World" has a star-studded cast that includes Chris Evans, Jason Schwartzman, Anna Kendrick, Brie Larson, Aubrey Plaza, and more. The movie is visually breathtaking, borrowing many elements from its source material, making it a unique, genre-bending film.