'Star Trek: Discovery' Gay Characters Will Be More Prominent Than 'Star Trek Beyond' [TCA 2017]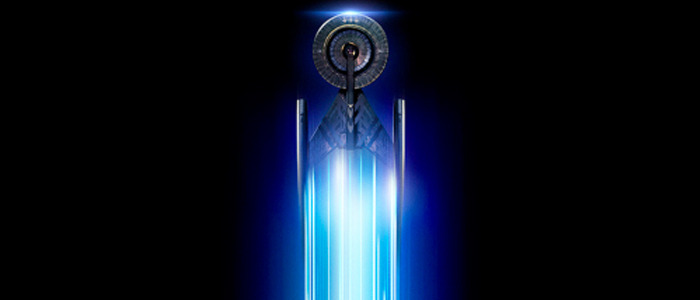 2016's Star Trek Beyond made Star Trek history by featuring the franchise's first openly gay relationship. It was only a fleeting moment when Sulu (John Cho) kissed his husband (Doug Jung), but it was an important first step. On CBS All Access's new series Star Trek: Discovry, actors Wilson Cruz and Anthony Rapp play a couple. Cruz was on a Television Critics Association panel for GLAAD discussing LGBTQ inclusion in television. After the panel he spoke with reporters further about his role in the show.
"This is more than a fleeting moment," Cruz said. "This is a well-rounded, three-dimensional relationship that exists on the ship. We get to see them interact in this relationship. We don't make a big deal about it. It just happens. They happen to be in a relationship."
Cruz grew up a Trekker with The Next Generation as his gateway, but then he went back to catch up on the Original Series. Even then he recognized that gay characters were missing from the Enterprise.
"It was a conversation that's been happening, from what I understand, since the beginning of Star Trek where people always wanted to see a gay relationship or a gay character in the main cast," Cruz said. "It took this long but we're glad that it's here. I was definitely a big Star Trek fan. I told the story at the convention this week. Growing up, I wanted to do two things. I wanted to be on Broadway and I wanted to be on Star Trek. Somehow through the universe's generosity I've been able to do both, and both with Anthony Rapp which is weird. I think that we're fulfilling a longtime desire of many Trek fans."
Rapp plays Lt. Stamets and Cruz plays Lt. Cdr. Hugh Culber, a medical officer. Cruz said he hasn't had to deal with special effects and green screen in his storylines. "A lot of my stuff is interpersonal relationship stuff on the ship," Cruz said. "So I haven't had the opportunity to do that."
Even though there are no starships on which to research, Cruz did explore the corresponding lieutenant commander position on today's military vessels.
"That's been really my inspiration for Dr. Culber," Cruz said. "We're soldiers. We're on the battlefield, especially in this incarnation. My inspiration has been real life medical officers in the military who have had to deal with wartime."
Cruz came out in 1994, which is when he landed his first television role on My So-Called Life. He was always optimistic for improving the inclusion of gay characters in mainstream movies and television.
"When I started in 1994, the reason why I came out when I came out and how I came out was so that we could work towards this moment where LGBT characters were fully integrated as part of the fabric of the community of a show," Cruz said. "That's what's happening now. That's what happens on 13 Reasons Why as well. You see all of those students, a few of them are LGBT characters. It's not an issue. They're students at school and that just happens to be part of who they are."
Even though The Next Generation was his entry point, Cruz revisited the Original Series to prepare for Discovery. "I did go back to the original because this show takes place 10 years before the original, so I wanted to go back and take a look at that," he said.
Star Trek: Discovery premieres September 24 at 8:30 on CBS and CBS All Access simultaneously. Episode two goes live on All Access immediately after.