Jimmy Fallon's 2017 Golden Globes Opening Sings & Dances Through The Movies And TV Of 2016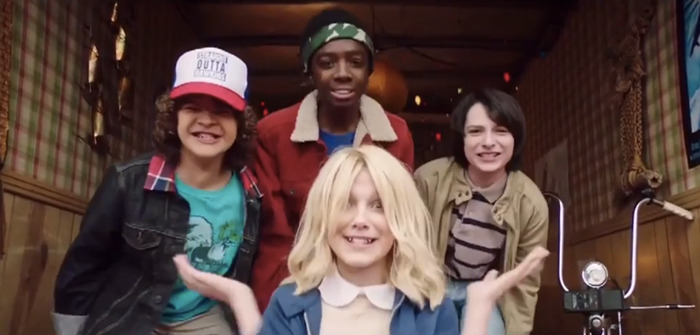 Last night, Hollywood got drunk as hell and received Golden Globes from the Hollywood Foreign Press Association. You can get the full list of the 74th Annual Golden Globe Awards winners right here, but if you missed the ceremony last night, then you missed out on a rather delightful opening musical number led by ceremony host Jimmy Fallon.
Inspired by several of the musical sequences from La La Land, the opening number features Jimmy Fallon and a long line of Hollywood's finest singing and dancing through all the big movies and TV shows of 2016. And for all you Stranger Things fans out there, you'll be happy to see one of your favorite characters make a surprise comeback.
Watch the 2017 Golden Globes opening below.
This was easily the best thing Jimmy Fallon did all night (even if people who haven't seen La La Land don't entirely get it), mostly because his monologue was lame and the rest of his jokes throughout the night fell flat. Even something as simple as Kristen Wiig and Steve Carell presenting Best Animated Film was better than any of the jokes Fallon delivered. But at least this sequence was funny, especially when Fallon's good buddy Justin Timberlake shows up (who should have co-hosted with Fallon to make for a better night).
Anyway, there's tons of great homages to the films and TV shows of 2016, some of which I didn't even notice until the second time I watched it (such as John Travolta striking his Saturday Night Fever pose in the background at one point). But of course the best part of the sequence is Barb from Stranger Things coming back from the dead, right out of the pool where she was snatched from. It's a shame she won't be coming back to the show in that same way.