Poster Posse's 'Doctor Strange' Tribute Gets Trippy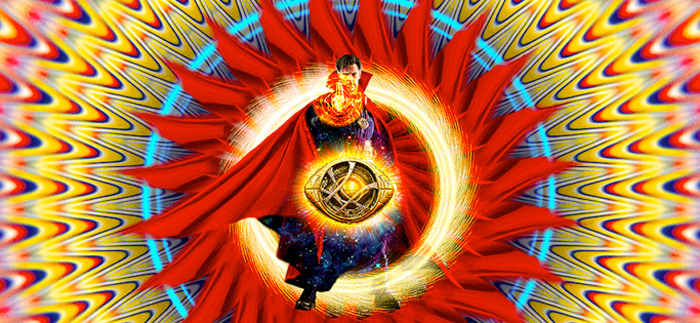 Even though Doctor Strange won't be hitting theaters in the United States until November 4th, the latest flick from Marvel Studios will have already opened in dozens of international territories the weekend. That means you'll want to do your best to keep away from spoilers starting in just over a week.
In the meantime, a group of artists have contributed work to Poster Posse in honor of the mystical Marvel film starring Benedict Cumberbatch. Below we've rounded up some of our favorite contributions, most of them with some pretty trippy imagery to match what we've seen from the trailers so far.
Here's some of our favorites from the Poster Posse Doctor Strange tribute:
The swirls and shapes within these works stay true to the the visuals we've seen so far, with a few of them even containing optical illusions. The poster featuring what initially appears to be a profile of Benedict Cumberbatch is still messing with my eyes. Meanwhile, that poster with all the multi-colored swirls feels like it could easily be turned into a blacklight poster that you would find sold at Spencer's, only to be hung up on the wall of your stoner friend's room.
My only complaint is that we could use a little more variance in the images beyond Benedict Cumberbatch as the Sorcerer Supreme. Sure, he's the main character in the movie, but I would have liked to see the supporting cast more prominently featured more often. That can be hard to do since we haven't seen much of them in action, so maybe we'll just have to wait for those kind of posters to surface.
If you want to see more, you can check out Phase 1, Phase 2, Phase 3 and Phase 4 of Poster Posse's tribute to Doctor Strange at those respective links.