Woody Allen's Next Film Will Star Kristen Stewart, Jesse Eisenberg, And Bruce Willis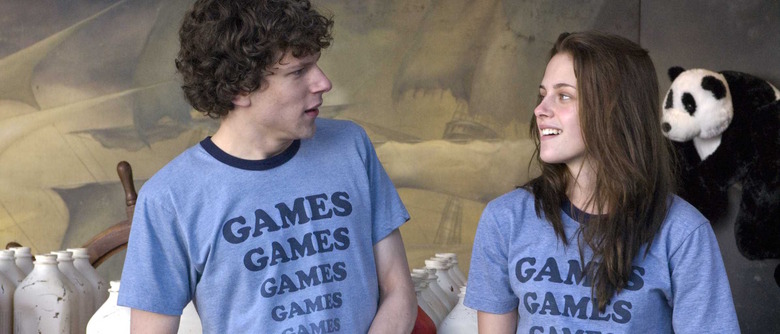 Woody Allen has been churning out films at a reliable rate of one per year since the '80s, and apparently not even his first-ever TV series can slow him down. The director is getting the pieces together for his 2016 release, and has set Jesse Eisenberg, Bruce Willis, and Kristen Stewart to lead the ensemble.
Get what few details we have on the Woody Allen Kristen Stewart project after the jump.
Deadline got the scoop. In typical Woody Allen fashion, there are no details about the new project. We don't know what it's going to be called, what it's going to be about, or even what genre it's going to be. We do know it'll be produced by the usual team of Letty Arsonson, Stephen Tenenbaum, and Edward Walson.
The upcoming film will be Eisenberg's second collaboration with Allen, following 2012's To Rome With Love, and his third with Stewart, after Adventureland and the upcoming American Ultra. Neither Stewart nor Willis have ever worked with Allen before. But as Allen's resume proves, he rarely has trouble booking high-profile actors.
Eisenberg mostly laid low in 2014 but will be all over the place in 2015 and 2016. He's currently shooting Now You See Me 2: The Second Act, and has already wrapped Batman v Superman: Dawn of Justice, The End of the Tour, and the aforementioned American Ultra.
Stewart made history last month by becoming the first American actress ever to win France's César Award, for Clouds of Sils Maria. In addition, she had a prominent role in Still Alice, which won Julianne Moore the Best Actress Oscar. Also coming up for her this year is Equals, a sci-fi romance with Nicolas Hoult.
Willis recently booked a role in Misery on Broadway, after a string of already-forgotten action movies like Vice and The Prince. He'll be seen later this year in the Barry Levinson comedy Rock the Kasbah.
Allen's next release is titled Irrational Man and stars Joaquin Phoenix and Emma Stone. It'll be released July 24 by Sony Pictures Classics. Aside from that film and this one, his next to-do is a series expected to land on Amazon in 2016 or so.