Twelve New Images From 'The Avengers' Assemble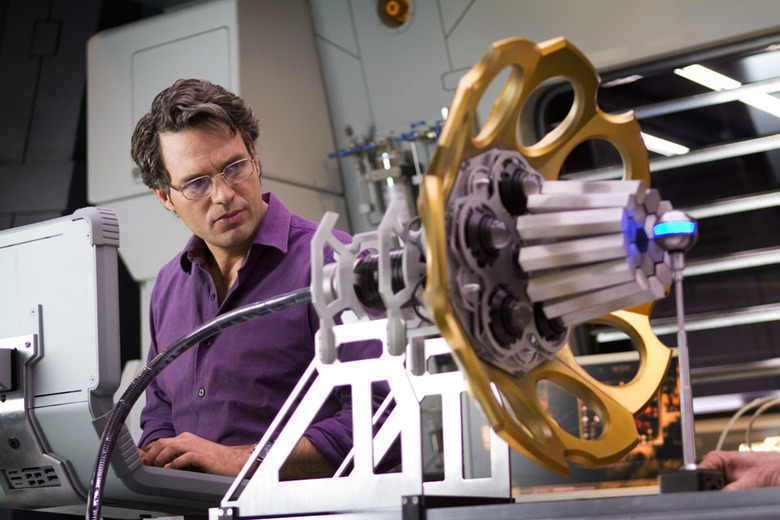 The Avengers is so close you can almost taste it. Directed by Joss Whedon, the Disney/Marvel superhero team up is now less than a month away from its premiere and tickets are already on sale for midnight shows May 3-4. It's hard to believe that after literally years of build up and anticipating five movies before it: Iron Man, The Incredible Hulk, Iron Man 2, Thor and Captain America: The First Avenger, the big pay off is finally upon us.
Promotion is in full swing, with new posters and toys being released on a daily basis, and Disney has just released twelve new promo shots from the film. You can check them out after the jump.
Thanks to Comic Book Movie for the heads up.
These are mostly just character one shots but the Bruce Banner pic is a stand out. Also I'm sure some of the shots without people in them, particularaly the one that seems to be an Armory housing Captain America's suit, might have something worth noting in it. Otherwise, why release them? Do you see anything worth getting hyped up above?
Here's the plot description of Joss Whedon's The Avengers:
Opening in 3D, 2D and IMAX 3D theaters on May 4, the Joss Whedon adaptation stars Robert Downey Jr., Chris Evans, Mark Ruffalo, Chris Hemsworth, Scarlett Johansson, Jeremy Renner, Tom Hiddleston, Stellan Skarsgård and Samuel L. Jackson. When an unexpected enemy emerges that threatens global safety and security, Nick Fury, Director of the international peacekeeping agency known as S.H.I.E.L.D., finds himself in need of a team to pull the world back from the brink of disaster. Spanning the globe, a daring recruitment effort begins.
At the moment, I'm currently deciding how I want to see the film: 2D, 3D, IMAX 3D, midnight, opening night, full marathon, it's a big decision. But either way, I cannot wait for May 4.