Vera Farmiga And Mark Strong Cast In 'Closer To The Moon'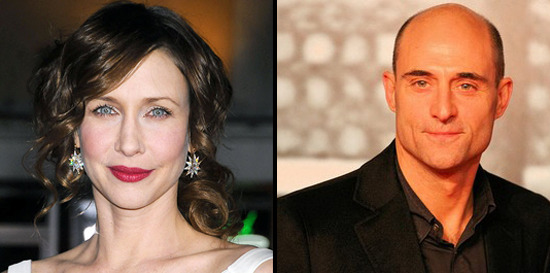 Briefly: Vera Farmiga and Mark Strong are going to Romania. The two have just been cast in a period story set in the country's communist era. Closer to the Moon will feature the two actors in a politically-charged and strange-sounding tale that, given the insanity that reportedly took place in some Easern Bloc countries during the communist years, could almost be true.
Mark Strong will be Max Rosenthal, once a Bucharest cop and leader of a criminal investigation unity. He and four other men, all Jews, rob a bank right under the nose of onlookers, using a great cover story: "we're shooting a movie!" (Cinematic immunity to the rescue, as always.) The crew is captured, tried and sentenced to death, with the strict sentence derived in part from their Jewish heritage. But before being killed they have to re-enact their heist for a government propaganda film. Farmiga will be "Max's former lover and mother of his child, who returns from studying in Moscow as the drama unfolds."
Nae Caranfil (The Rest is Silence, Philanthropy) will direct; we don't know the screenwriter at this point. [Deadline]