Paul Dano Joins James Mangold's Wichita Project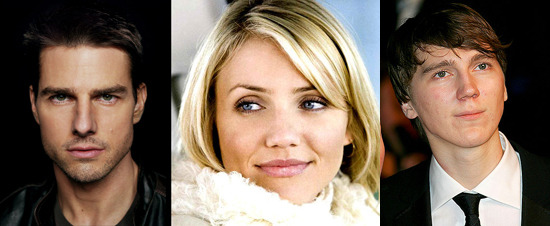 James Mangold is shooting his 'untitled Wichita project' in and around Boston right now with Tom Cruise and Cameron Diaz starring as a couple who are brought together on a blind date and then launched into one of those big action-packed conspiracy thriller sort of scenarios that never seems to happen to me. Oh, and now Paul Dano is in the cast, too.
According to Variety, Dano plays a "charming but mysterious scientist," which suggests he might just be called Paul Dano in the movie itself. We've heard before that the film's MacGuffin is "a powerful battery that holds the key to an infinite power source." Odds that Dano's character has something to do with this high-tech Duracell? Pretty good. Dano is a great addition to the cast; he's actually the first thing that really gets me intrigued, especially if his scientist character is more than a guy whose work is stolen and/or misappropriated.
Variety erroneously says the film begins shooting in Boston next month. In fact, the aftermath of one of the big setpieces was set to shoot yesterday and today, and the production has been out at the Worcester airport (doubling for the Wichita, Kansas airport) for the past ten days. (So: not quite Boston, but certainly Boston area.) Locations in the South End and Somerville have also been shot in the last week. JustJared has some photos of the South End shoot from Wednesday showing Cruise and Diaz in costume.
The film has been shooting under the code title Zephyr, but that seems quite unlikely to be the final title once it's all said and done. However, what do you call a film about a blind date between a nice girl and a federal agent who end up running around the world (besides Bond 23, which I think is taken)?