District 9 Movie Trailer Will Be Online This Thursday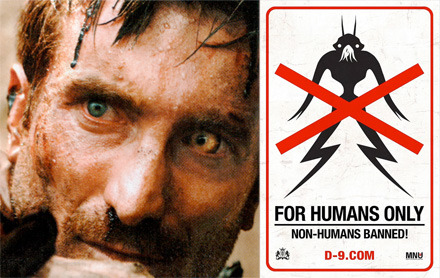 The movie trailer for the Neill Blomkamp's District 9, the super secret sci-fi project produced by Peter Jackson, will be attached to X-Men Origins: Wolverine. Apple will be premiering the trailer online sometime during Thursday afternoon. But if you have the chance to see this thing on the big screen, you might want to resist watching it for the few extra hours. I've also heard that an extended trailer (possibly the 4-5 minute reel shown at ShoWest) will be released online in a few weeks.
District 9 is based on Blomkamp's short film Alive in Joburg. The film tells the story of Wikus (Sharlto Copley), a Multi-National United agent who becomes infected by alien biotechnology. He must go on the run from the oppressive government into District 9, a internment camp where "non-humans" have been forced to live since landing on Earth nearly 30 years ago.