Konami Pick Up Saw Videogame, Reveal First Images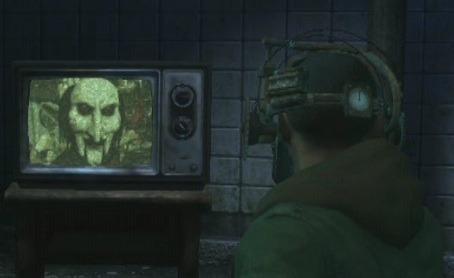 I'm not a fan of the Saw series at all, not so far, so I would like to solicit your comments on what makes it worthwhile. It's a mystery to me how it attracts so many viewers. And, while you're here, Saw fans, please also share your feelings on the upcoming videogame spin-off.
The game was in development for a good while before original publisher Brash went bankrupt. Konami have now picked up the pieces (ahem) and revealed what they can to Variety – including a few screenshots. The key details, and a look at a couple of those shots, below the break.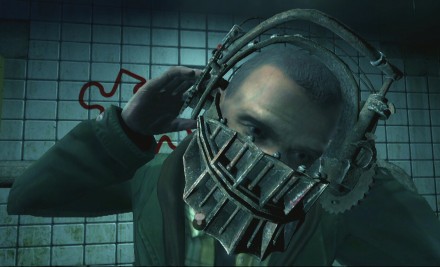 It will be released this fall to coincide with Saw VI in cinemas.
The game will be released on PS3, X-Box 360 and PC.
No sequel is planned yet, as you'd expect, but Konami are certainly hoping for a franchise. Again, as you'd expect.
Konami see Silent Hill as their creepy game franchise, instead want Saw to be repulsive – about a kind of "graphic, intense horror that overwhelms you".
The game's plot will be new, but will tie into the films. Somehow.
The play location is an asylum, and the player character will navigate the game map deciding how – or even if – they will attempt to save individuals caught in Jigsaw's traps.
Tobin Bell has provided the voice for Jigsaw, though Variety had to confirm this through secondary sources.
Twisted Pictures have been involved in a consulting capacity.
I always wanted to enjoy Resident Evil games but until part 4, never really did. Similarly, I had high hopes for the Silent Hill series but it never quite gelled for me. A good, scary videogame would be nice – is this likely to be it?
In February, a mysterious synopsis appeared that might be an outline for the game, for the sixth film or, frankly, for nothing at all. Here it is again, in case you find it illuminating or relevant. Asylums don't usually have operating tables... do they?
One man. One plan. One foot. Yes, the doctor is in! With a strange twist of fate and a revengeful plot, get ready for the most anticipated event of Saw. Face your fears at his operating table. Know that no one is safe from his sickness. Chills and screams are his true pleasure. Oh...and Blood? You'll be drenched in it.