Could Alexander Skarsgard Be Marvel's Thor?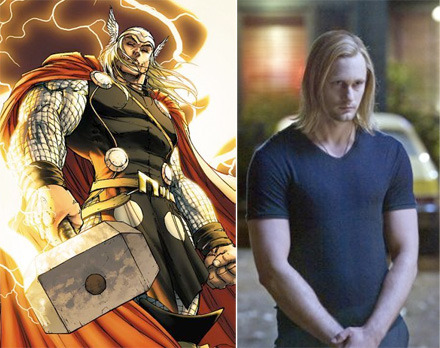 First of all, the following story is speculative and circumstantial at best, and as such, should not be considered more than a rumor at this point... but we'll bite. LatinoReview had discounted a rumor previously floating around that actor Alexander Skarsgård was in line for the role of Marvel's Thor, but today they received a tip that Thor director Kenneth Branagh was spotted having lunch with Skarsgård and a couple unrecognizable gentleman. Could this confirm that the True Blood star is in line for the role?
Male MUST BE MID-LATE 20'S and SIX FEET OR TALLER. LEAD. Physically powerful, very handsome, occasionally egotistical, petulant, and wild. A natural warrior with a quick charming wit who must be genuinely and severely humbled before becoming the compassionate, mature hero of our film. (via: Corona)
Also, Skarsgård and Branagh have the same agency representation (Endeavor Agency). But bottom line is, it could just be one big coinicidence.
However, let's pretend for a second that Skarsgård is in line for the role. Do you think he would make a good Thor? I always assumed that Thor would have a bigger star as the lead actor, but who knows? Maybe Marvel believes that the comic property will sell the movie. Besides, Robert Downey Jr. wasn't considered a bankable actor when he was cast in Iron Man, right?