Rob Thomas Prepping Veronica Mars Movie Pitch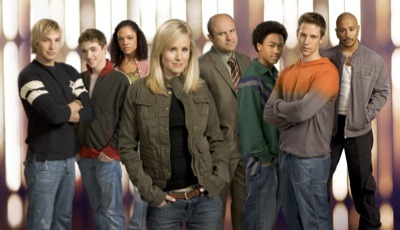 Ausiello has a new update on the prospects of a Veronica Mars movie. Showrunner Rob Thomas tells EW that he is preparing a pitch right now, which he plans to present to Executive Producer "Joel Silver and Warner Bros. in the next week or two to see if they're interested." The movie idea follows Veronica solving a crime in a College setting.
But Thomas warns/reminds fans that getting a greenlight to proceed with a screenplay draft doesn't necessarily mean a film will actually get made: "Unfortunately, that's only one of several hurdles. I'm going to give it my best shot and let the chips fall where they may."
As much as I want to see Kristen Bell reprise her role as Veronica Mars, I'm very skeptical of a story set at a college campus could be enough to warrant a big screen movie. If you're going to go for a feature, it seems to me that you need a story that is cinematic enough to warrant the extra length, larger budget and bigger screen size. And the third season of the show already tried the college thing.
And that's what makes a Veronica Mars movie so difficult. The concept of the show only works if Mars is not a trained detective in a normal setting, because then it would be like any other detective story. Putting her in the proposed FBI training center would be too much in that direction, and keeping her in college might be too much of the same. It's a difficult thing to balance.