All Screenings Of NOTORIOUS Canceled Greensboro, NC Multiplex After Shooting; Actor Who Plays Biggie Smalls Was At Theatre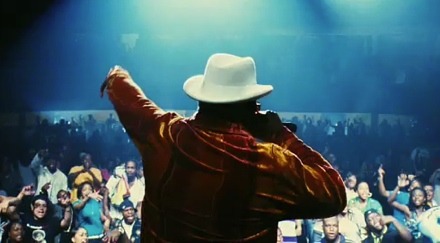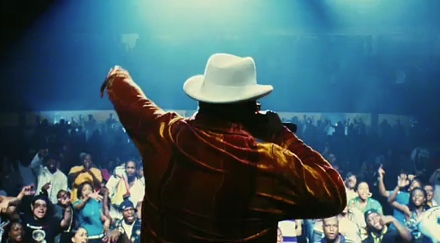 The movie Notorious (Fox Searchlight) a biopic about the life of rapper Biggie Smalls, has opened well-above industry expectations with about $9M on Friday and, as I reported Friday night, that could mean about $29M in ticket sales over the 4-day MLK weekend. But there will be no more tickets sold at the Grand 18 at Four Seasons Station theatre complex in Greensboro, NC.
Friday night at approximately 9pm, there were gunshots in the lobby of the multiplex and a 32-year-old man was shot twice in the abdomen. A report from the Greensboro News Record has identified the man as Clive O'Connor, and he was rushed to the hospital where he underwent surgery. There is, however, no report on his condition.
Local police say that they cannot be certain about whether there is a link between the shooting and the movie Notorious, which is playing on three screens at the complex, but let's be honest. Every theatre that opened this movie had legitimate security concerns given that Christopher Wallace aka Biggie Smalls aka Notorious B.I.G. lived and died violently.
What makes the story interesting is that rapper and actor Jamal "Gravy" Woolard who plays the title role in the movie was actually at the theatres seeing the movie when the shooting occurred. Making his acting debut in Notorious, Woolard is no stranger to trouble himself. In New York, he is well known as the guy who got shot in the posterior, then proceeded to do a radio interview before seeking any treatment.
Brooklyn native Woolard was at radio station Hot 97 (WQHT) to appear on the popular Riding with Funkmaster Flex in April of 2006. Emerging from a nearby sandwich shop prior to his appearance, there was a rain of gunfire. He was shot in the left buttock, but proceeded to do the radio appearance anyway. As Wooldard told The New Yorker, "What was I supposed to tell a powerful influence like Flex, at Hot 97? 'You know what, Flex? I'm sorry, man. I can't do the show. I was standing downstairs—got shot in the ass.' What, are you nuts? Right? It wouldn't make any sense. So I had to do what I had to do."
I have to emphasize that police reports do not indicate that Woolard was in the proximity of the shooting, and in no way has he been linked to the Greensboro incident, but he was on the premises.
An estimated 700 people were evacuated from the Grand 18 theatre complex, and screenings of Notorious have been suspended indefinitely. Produced by Sean "Diddy" Combs, who was nominated for a Golden Globe Award this week for producing the acclaimed television version of A Raisin in the Sun, Notorious has received very solid reviews and has a supporting cast that includes Oscar nominee Angela Bassett (What's Love Got To Do With It?) as Biggie's mom, Independent Spirit Award nominee Anthony Mackie (The Hurt Locker) as Tupac Shakur and Derek Luke (Antwone Fisher) as Combs himself.
The real life Biggie was from Brooklyn, like Woolard, and went from crack dealer to million-selling rap star with his debut album called Ready to Die in 1994. He was one of the central figures in the East coast vs. West coast rap rivalry, which played a role in his drive-by shooting death in Los Angeles on March 9, 1997. Only 24 at the time of his death, his murder remains unsolved.