NSFW: Fantastic Fest's World Air Sex Championships
Fantastic Fest is unlike any other film festival I've ever attended. First of all, the festival doesn't take itself seriously, at all. It's the first film festival I've seen that has a main focus of providing fun events and cool films to the attendees. But what do you expect from the same people that brought you the Alamo Drafthouse? Even the photos on the festival badges are created with fun in mind. Instead of providing the standard passport sized photo, Fantastic Fest requires you to shoot a photo of yourself while you shake your face around rapidly. The result is a shaky face photo. They've even planned to award the top festival badge photos with prizes.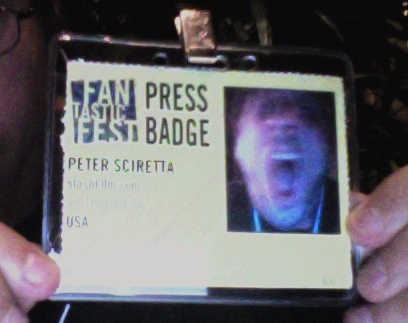 Last night I casually ran into Scott Weinberg and Repo! director Darren Lynn Bousman outside of the Paramount theater, and had a conversation about the current state of the horror film business. Making my way inside the theater, I ran into Project Greenlight winner and director of Feast and Feast 2, John Gulager and his wife. He told me that he was excited to see his film on the big screen.
NSFW content after the jump.
I made my way into the historic theater on Congress to watch the World Championship Air Sex competition. The Alamo Drafthouse had been holding preliminary rounds for the last 13 months, and tonight the best or the best were to compete to become the best in the world. What is "air sex"? Well it's pretty much what it sounds like. Imagine air guitar, but instead of guitar, its full-on sex with a virtual non-existent partner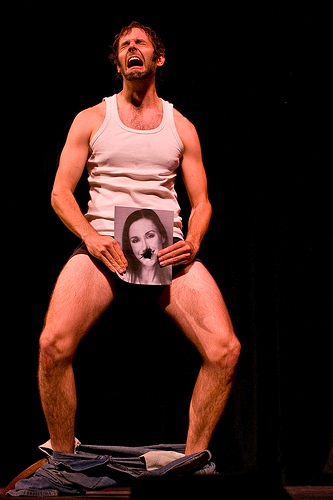 Fan favorite "The Frenchman" (complete with french flag painted on his chest) lost out to Sad Larry, a highly depressed individual who had hardcore air sex with a photo of his ex-girlfriend. Also of mention was a group effort named Cha Cha, which included Sarah Palin, John McCain, a costumed bulldog, a costumed moose, and a Secret Service agent.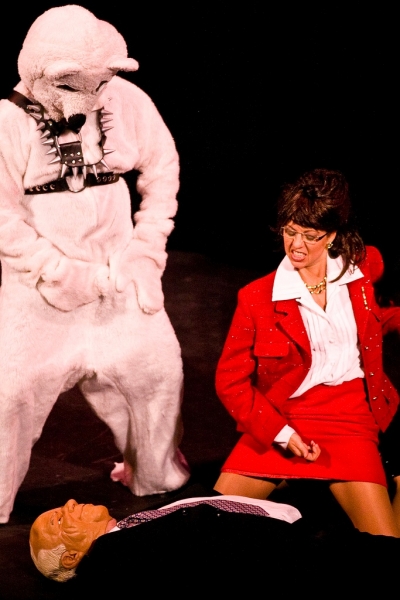 I shot NSFW footage with my flip camera, but because of dark lighting and the distance of my seats, the resulting video footage isn't good quality. You've been warned.
[flv:http://bitcast-a.bitgravity.com/slashfilm/trailers/airsex1.flv 250 188]
[flv:http://bitcast-a.bitgravity.com/slashfilm/trailers/airsex2.flv 250 188]
[flv:http://bitcast-a.bitgravity.com/slashfilm/trailers/airsex3.flv 250 188]
Photos courtesy of Fantastic Fest