Wesley Snipes Left Keanu Reeves Out To Dry In Their White Men Can't Jump Audition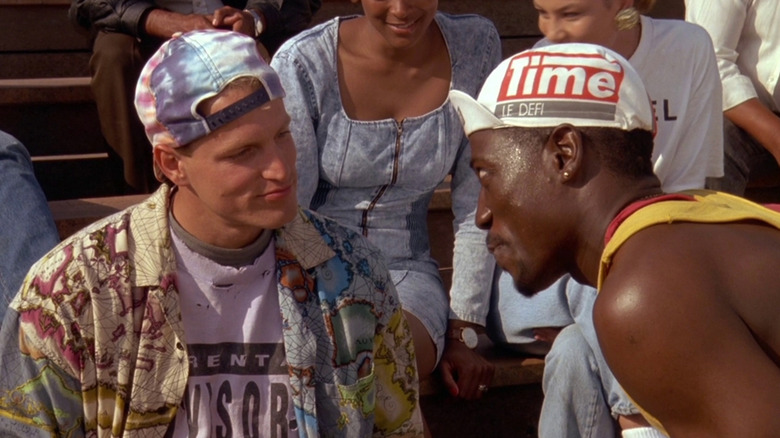 20th Century Studios
The task of casting two actors that can play believable friends is a feat that can't be faked, and it was only half the battle when it came time to cast the basketball buddy comedy "White Men Can't Jump." Writer-director Ron Shelton was looking for more than just chemistry between his two leads. He also needed actors that looked like they belonged on the court, which made it a grueling casting process for its prospective stars.
Wesley Snipes and Woody Harrelson were already longtime friends before "White Men Can't Jump" fell into their laps. They'd met on the set of "Wildcats," another sports comedy starring Goldie Hawn, and had spent something like six years cultivating a rapid-fire rapport. That pre-established chemistry should have made their casting a no-brainer — if only Snipes and Harrelson were as much of a match on the court as they were off of it.
"People think Wesley is obvious casting, but this was before 'Jungle Fever' or 'New Jack City' came out," Shelton told Entertainment Weekly in 1992. On top of being a relative unknown, Snipes also wasn't the best basketball player. It took Harrelson — himself on the shortlist for the role of Billy Hoyle — to convince Shelton to cast Snipes as his on-screen bud. His words were persuasive enough for Shelton to offer Snipes the role of Sidney Deane — all before Harrelson had even been cast. Fortunately, Snipes was determined to return the favor ... even if it meant sabotaging his read with other actors.
'I just left him out there like dirty laundry'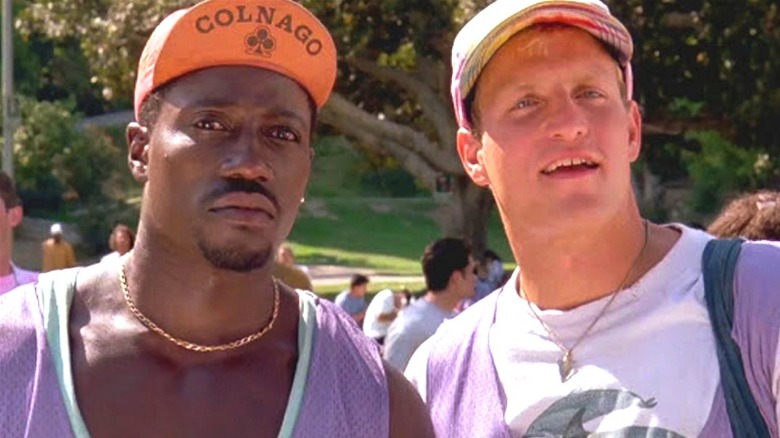 20th Century Studios
Woody Harrelson obviously wasn't the only actor in line to play Hoyle: Ron Shelton was also considering up-and-comer Keanu Reeves for the role. It goes without saying that "White Men Can't Jump" would have been a very different film with Reeves in Harrelson's place — but even before he was cast, he was giving the extra mile in his auditions, submitting to weeks of pick-up games and even trying out a bit of improv with Wesley Snipes. Unfortunately, he and his scene partner weren't quite on the same wavelength.
"[Reeves] would improvise and say something where there would be a natural response from me, and I just left him out there like dirty laundry," Snipes recalled to EW. Of course, that's not to say that Snipes cost Reeves the role. Shelton later admitted that his hopeful candidate was simply "not a basketball player," in spite of his incredible work ethic. At the end of the day, Harrelson really was the best man for the job:
"Woody and Wesley had magic instantly. Woody's a great counterpuncher. Wesley could come up with a funny line and Woody could steal the moment with his reaction. That's the key to chemistry and you don't get it very often. You need two people who can't do what the other one does."