White Men Can't Jump Teaser Trailer: Sinqua Walls And Jack Harlow Are Ready To Play Ball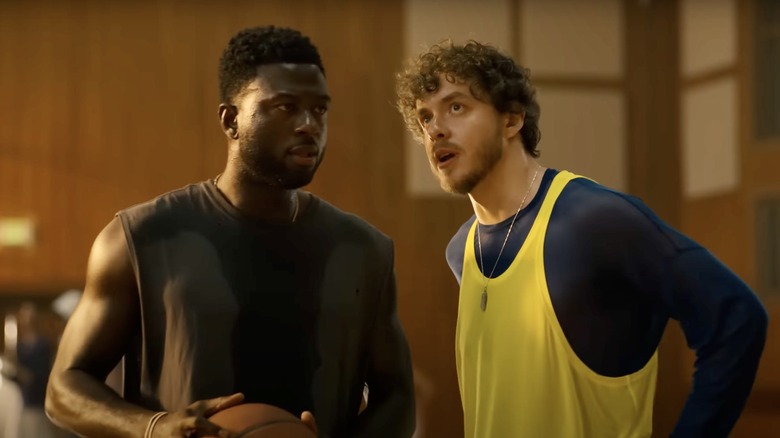 Hulu
To paraphrase Wesley Snipes circa 1992, "I only have [five] words for you: 'White Men Can't Jump' [remake]." That's right, you favorite comedic basketball hustlers, or a 2023 facsimile of them, are back in a Hulu original film that's coming your way this May. It's been over 30 years since Snipes issued his immortal declaration to Woody Harrelson about the slam-dunking abilities, or lack thereof, of white guys on the b-ball court, and now a new generation of actors and filmmakers is here to update the story for the streaming age.
We first heard about the "White Men Can't Jump" remake way back in early 2017, so it's been gestating for a while, with "black-ish" creator Kenya Barris attached to write. NBA player Blake Griffin and former NFL player Ryan Kalil are set to produce alongside Barris through their production company Mortal Media. In late 2021, we finally got an update on the project with the news that Calmatic, director of last month's "House Party" remake and Lil Nas X's "Old Town Road" music video, would be taking the helm.
Now, 20th Century Studios has released a first-look teaser for the new "White Men Can't Jump," starring Sinqua Walls and rapper Jack Harlow in his acting debut. Check it out below.
Watch the White Men Can't Jump teaser trailer
Wesley Snipes and Woody Harrelson are a tough act to follow, and I'll leave it to the reader to decide whether Sinqua Walls and Jack Harlow show a spark of the same chemistry or whether this 30-second teaser leaves you feeling the same way as Walls at the end when he says, "I knew this was a mistake."
One thing that's immediately noticeable is that this version of "White Men Can't Jump" has been updated with post-1992 film references, as Harlow's character likens himself to "the P.T. Anderson of basketball psychological warfare." It's not clear if he and Walls are playing Billy Hoyle and Sidney Deane, the same characters as Harrelson and Snipes, since no official synopsis has been released yet with their character names. But Walls' character doesn't even know who Anderson is, and he proceeds to argue that Spike Lee is our greatest living filmmaker. You could definitely make a case for that in 1992 when Lee was fresh off films like "Do the Right Thing" and "Malcolm X."
The original "White Men Can't Jump" was written and directed by former minor league baseball player Ron Shelton, who helmed a number of other sports films, including "Bull Durham," "Blue Chips," "Cobb," "The Great White Hype," and "Tin Cup." It co-starred Rosie Perez as Harrelson's girlfriend, an aspiring "Jeopardy" contestant who didn't approve of him hustling L.A. street ballers with his college basketball skills.
The new "White Men Can't Jump," starring Walls and Harlow, hits Hulu on May 19, 2023.