Every Season Of Criminal Minds, Ranked Worst To Best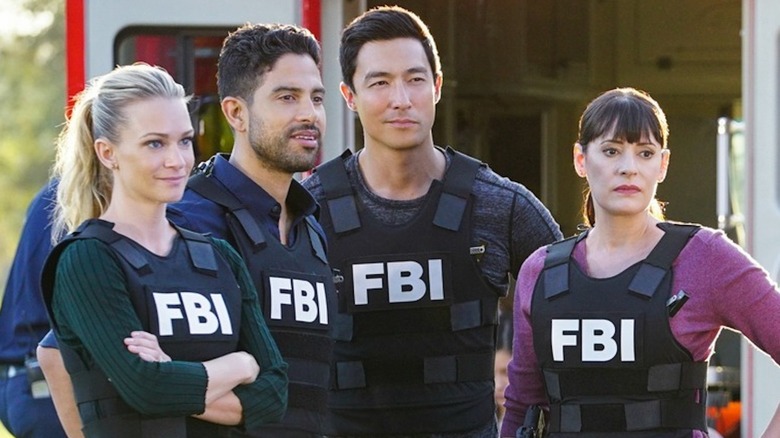 CBS
Like other long-running procedural series, "Criminal Minds" is an institution of network television. After an admirable fifteen seasons on CBS, the series was given a new life by Paramount+ – one of the quickest revivals in television history — with "Criminal Minds: Evolution," which premiered in November 2022. While it may not be the longest-standing procedural nor the most critically acclaimed, "Criminal Minds" has one big thing going for it: a legion of dedicated fans who live for the show's twisted action.
For viewers who've watched every episode without fail, the appeal of "Criminal Minds" is twofold. Of course, there's the killer-of-the-week mystery. (Yes, it can become a bit repetitive over the years.) But then there are the characters — a team who acts more like a family – who we continue to root for as the seasons continue. Unfortunately, the lineup at the BAU has changed several times over the years, which is one of the things that make each season vary in quality.
Even the most dedicated fans of "Criminal Minds" will admit that not every season is equally memorable, which is why we're here to discuss the best of the best. Here, I'll rank the fifteen seasons of "Criminal Minds" from worst to best.
15. Season 15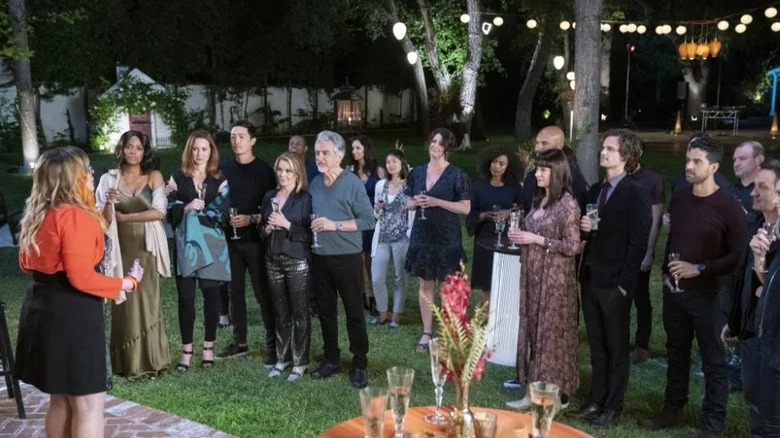 CBS
Season 15 of "Criminal Minds" is the final season of the original series, and one would hope it would be a fitting goodbye for our beloved team. Unfortunately, the last hurrah is something of a letdown. The show's final season is only ten episodes long — as opposed to the typical 20+ episodes per season. Sadly, this means season 15 doesn't have the same momentum as previous seasons. The cases the team investigates throughout the season mainly feel like filler, a means to give everyone closure in the most obvious way possible.
The final episode of the season sees Spencer Reid (Matthew Gray Gubler) hallucinating in a hospital bed while the rest of the team chases down Everett Lynch (Michael Mosley). They catch him, Reid wakes up, and they have a dinner party at Rossi's (Joe Mantegna) to wrap up the season. JJ (A.J. Cook) and Prentiss (Paget Brewster) decide to stick around, and Garcia (Kirsten Vangsness) finally decides to leave the BAU after years of unresolved trauma. We were happy that Garcia – the team's unsung hero – put herself first. However, the season never really took off. (Yes, that was a "wheels up" reference.)
If you or someone you know needs help with mental health, please contact the Crisis Text Line by texting HOME to 741741, call the National Alliance on Mental Illness helpline at 1-800-950-NAMI (6264), or visit the National Institute of Mental Health website.
14. Season 14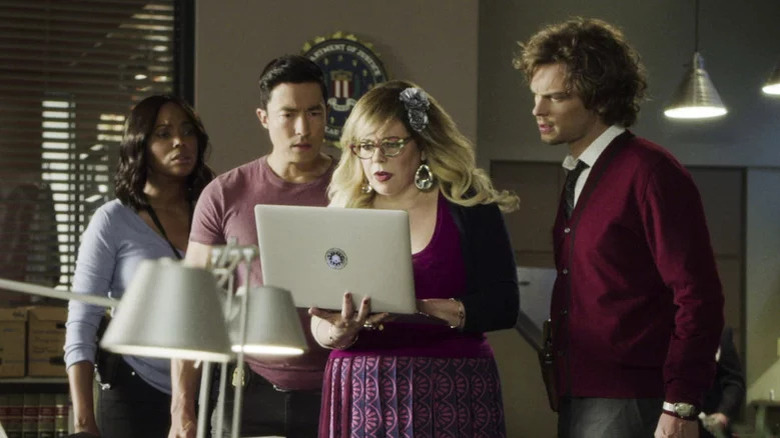 CBS
We have five words for you: Reid and JJ's love reveal. Okay, if we're being honest, there are more than five words that could describe season 14 of "Criminal Minds," but those are the first that come to mind. Like season 15, season 14 of the series was shorter than usual — clocking in at 15 episodes. There are a few intriguing moments this season, but it doesn't make up for the lackluster run. Garcia has yet another traumatic experience when she gets kidnapped, and Rossi finally gets married. The best episode of the season is "The Tall Man," which sees JJ traveling to Pennsylvania and confronting her older sister's suicide.
But we need to return to the JJ/Reid love confession! Honestly, this marked the beginning of the end of the series. In the season 14 finale, JJ and Reid are being held at gunpoint. JJ admits that she's always loved Reid but was too afraid to say it before. For most fans, this confession came out of nowhere, as JJ and Reid's relationship always felt more like siblinghood. Thankfully, JJ put an end to any future romance between them at the start of season 15. But that kind of abrupt character deviation is hard to forgive.
If you or anyone you know is having suicidal thoughts, please call the National Suicide Prevention Lifeline​ by dialing 988 or by calling 1-800-273-TALK (8255)​.
13. Season 10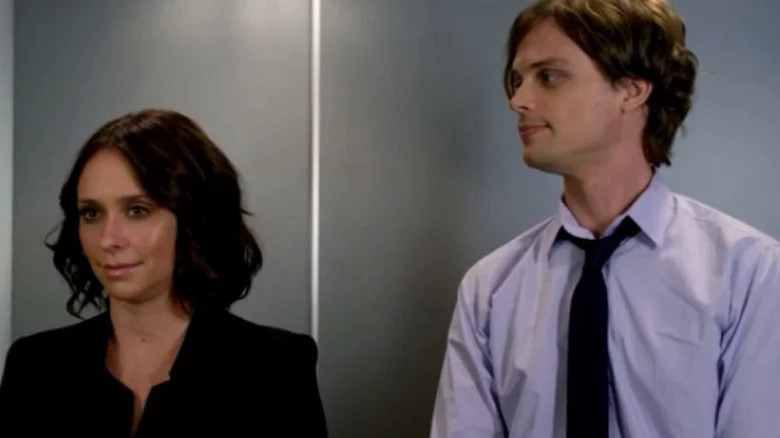 CBS
Season 10 comes during the lineup-changing portion of "Criminal Minds," which is one reason it's one of the weaker seasons. Alex Blake (Jeanne Tripplehorn) left the BAU at the end of Season 9, replaced by Kate Callahan (Jennifer Love Hewitt). Kate is one of the least-liked members of the BAU. (There was even a petition to get her off the show. Ouch!) We don't think this hatred of Kate is fair – these haters haven't watched the soap operatic camp masterpiece "Ghost Whisperer." However, she's not the most memorable team addition.
In addition to the less-than-successful casting changes, season 10 doesn't pack much of a punch. Compared to the thrilling season 9 finale with Reid in a shootout, season 10 is relatively tame. We learn a little more about the loves lives of some agents -– namely Hotch's (Thomas Gibson) relationship with Beth (Bellamy Young) and Morgan's (Shemar Moore) with Savannah (Rochelle Aytes). But these relationships aren't especially interesting. Morgan's relationship with Savannah leads him to leave the BAU in season 11, another blow to fans of the original lineup.
12. Season 6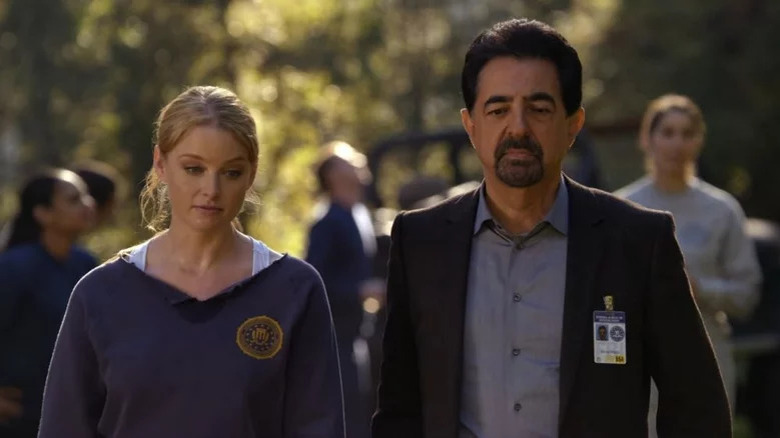 CBS
The "Criminal Minds" writers have made silly choices over the years. But replacing JJ and Prentiss is by far the worst. After season 5, the creative team fired A.J. Cook and Paget Brewster — upsetting many fans of the series. Cook returned for two episodes to wrap up JJ's storyline, while Brewster appeared in 18 of season 6's 24 episodes before exiting the series in season 7. Brewster told The A.V. Club that producers fired her and Cook because they wanted newer, younger women to keep things fresh. It appears Brewster was right, as Ashley Seaver (Rachel Nichols) – a young(er) blonde – was brought on to replace JJ in season 6. Nichols was let go after only one season. JJ's replacement did not go over well with fans.
The "Criminal Minds" showrunners thinking they could replace JJ with another beautiful blonde woman was the season's biggest downfall. It marked a trend that continued for future seasons: The series would replace female agents on the team one by one. One of the few highlights of the season comes near the end when Prentiss fakes her death to escape Ian Doyle (Timothy V. Murphy), a storyline that shakes up the team in compelling ways. Still, the departure of JJ and Prentiss is a loss too big to overcome.
11. Season 11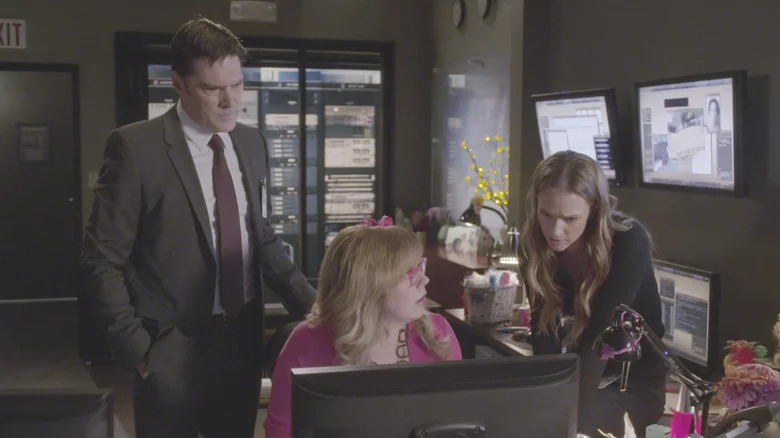 CBS
During the latter half of its run, season 11 saw yet another lineup change — following a pattern of the series. Kate Callahan left the show after season 10 after Hewitt had a baby. Luckily, she had a strong replacement: Aisha Tyler, who also starred alongside Hewitt on "Ghost Whisperer. Tyler's Tara Lewis is one of the best late-season replacements and the longest-running.
Unfortunately, we also missed JJ for five episodes of the season, as A.J. Cook went on maternity leave. This time, at least, she left on her terms. But even more devastating is that Prentiss only appears in one episode this season. A Prentiss-less season can never be truly great!
There were a few exciting moments in season 11. However, most have nothing to do with Aubrey Plaza's character. Plaza plays Cat Adams, a psychopath who becomes obsessed with Reid. Still, Plaza takes a big swing with her deranged performance. Overall, it's a thrill to watch, especially within a season that isn't as gripping as we would like.
10. Season 9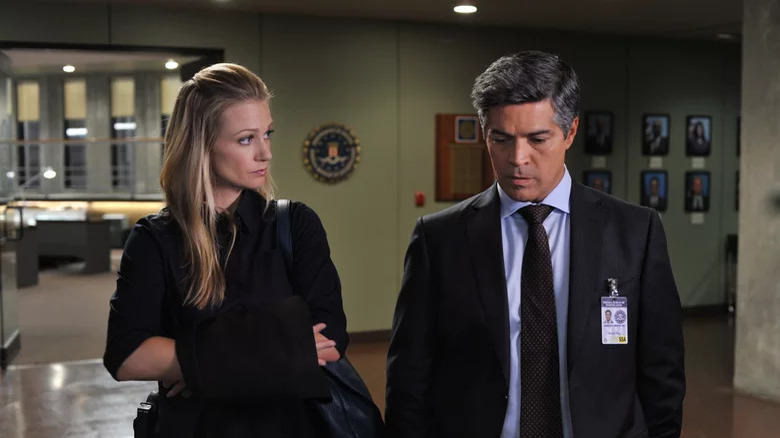 CBS
Season 9 of "Criminal Minds" has one of the goofiest storylines, and it has to do with the revelation of what JJ was doing when she left in season 6. This season we meet Mateo Cruz (Esai Morales), who has previously worked with JJ. We finally learn he and JJ worked together on a secret mission to apprehend Osama Bin Laden, during which JJ suffered a miscarriage. It's pretty laughable that they tried to write off JJ's absence (which, as you might recall, only happened because of Cook's unceremonious firing) by saying she was busy apprehending one of the most infamous terrorists of all time. But realism isn't always the name of the "Criminal Minds" game.
But it's hard to be annoyed with JJ because she's such a lovable character. Still, her storyline this season was a bit of a stretch. Prentiss also returns in the 200th episode, but her appearance is brief, which makes her absence more apparent. Looking at the series overall, you realize how vital the team dynamic is to each season's success. Luckily, season 9 had an exciting two-part finale where the team travels to Texas to catch a killer known as "The Preacher" (Mosley) and Reid gets caught in a shootout. This finale creates another team shakeup, leading Alex Blake to leave.
9. Season 13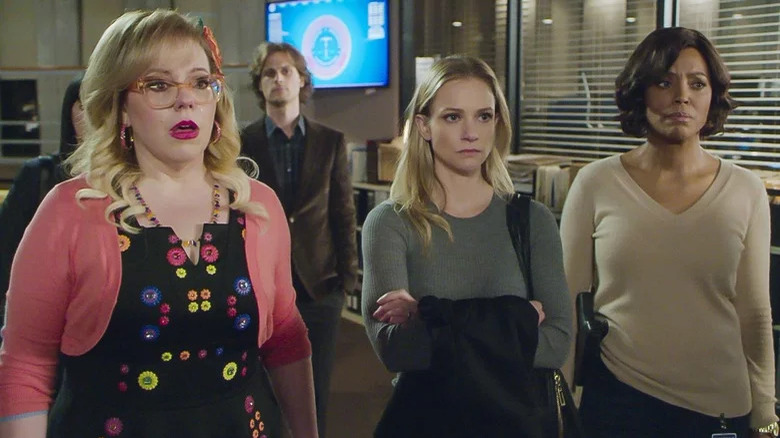 CBS
Season 13 of "Criminal Minds" picks up where season 12 ended. Cat Adams has sent Reid to prison. Mr. Scratch (Bodhi Pine Elfman) has fractured the team again. This season added Matthew Simmons (Daniel Henney) — who previously starred in the canceled spin-off "Criminal Minds: Beyond Borders" — to the team. Overall, it's a fairly average season of "Criminal Minds." However, the cast seems to have found some sort of equilibrium during this period.
Though Morgan left the series two seasons ago, he returns for an episode to help Garcia with a case connected to her past. The team's most forgettable member, Stephen Walker (Damon Gupton), is unceremoniously killed off-screen in the premiere, which is sadly an apt metaphor for the revolving door of new agents that defined this era of the series.
As is often the case, the first few and the last few episodes are the best of the season — relating to a problem the team has to deal with throughout several episodes. Gubler also directs a somewhat amusing (and terrifying) episode about clowns. In the later seasons of "Criminal Minds," cast members directed several episodes. Rodriguez, Tyler, and Mantegna all direct episodes this season, and their turns have a pleasant playfulness.
8. Season 12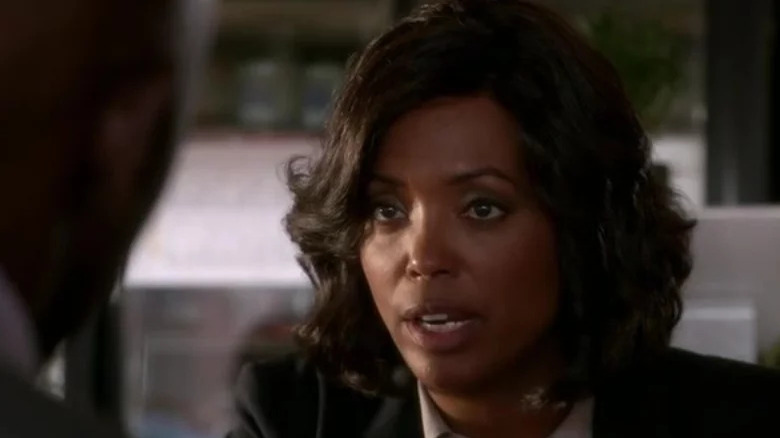 CBS
"Criminal Minds" season 12 features the longest multi-episode arc in the original series' history. Season 11 ends with thirteen serial killers escaping prison, so the first half of season 12 sees the team trying to recapture these killers. Also, season 12 is one of the most controversial seasons of the series, as it saw the exit of Thomas Gibson — fired after an altercation with a writer. Thankfully, his departure resulted in the return of Prentiss, becoming BAU chief.
Tyler reprised her role as Dr. Lewis in season 12, Adam Rodriguez joined the team as Luke Alvez, and Damon Gumpton came on board but for this one season. As a whole, it's a chaotic season — mainly due to all the personnel changes. But at least that adds some intrigue and drama! Mr. Scratch also returns as one of the team's most fearsome enemies, but it's clear that the storyline didn't end as planned due to Gibson's abrupt departure. As is often the case, things pick up again at the end of the season when Reid gets sent to prison by Cat Adams –making Season 12 one filled with several peaks and valleys. More Aubrey Plaza, please!
7. Season 2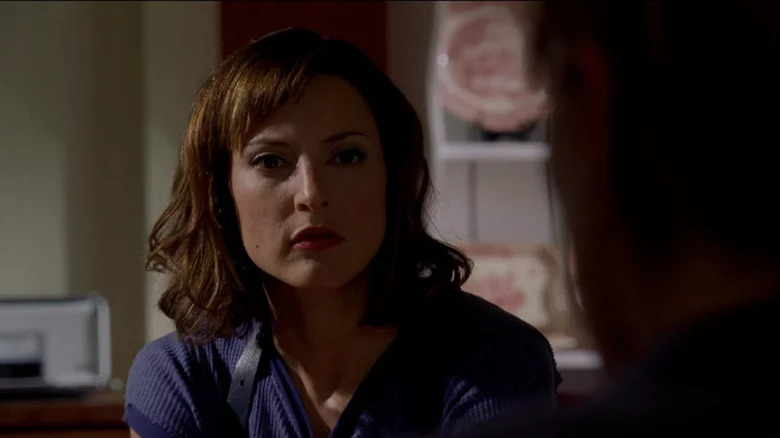 CBS
Season 2 of "Criminal Minds" marks the beginning of the dream team. Elle (Lola Glaudini) becomes replaced by Prentiss, a trade that works. However, it's not because Elle was a terrible character. Sadly, her storyline started to feel improbably ludicrous by its end. After her near-death experience at the end of season 1, she returns to work but struggles to adjust. Unfortunately, this leads her to take matters into her own hands — shooting a serial rapist without cause, marking the end of her career with the FBI.
Thankfully, Brewster blesses us with her presence this season. At first, her character seems mysterious, and this is a good thing! The show lets her character arc develop slowly without giving anything away too early. Season 2 is the only season in which both Prentiss and Gideon (Mandy Patinkin) are present, which makes for a unique team dynamic. This season allows viewers to get to know the characters deeper as they face personal challenges. Reid becomes kidnapped and tortured by a serial killer, while Morgan has a hard time dealing with a case that forces him to confront the abuse he endured as a child. Though the series was still finding its footing in season 2, things started to coalesce.
If you or anyone you know has been a victim of sexual assault, help is available. Visit the Rape, Abuse & Incest National Network website or contact RAINN's National Helpline at 1-800-656-HOPE (4673).
If you or someone you know may be the victim of child abuse, please contact the Childhelp National Child Abuse Hotline at 1-800-4-A-Child (1-800-422-4453) or contact their live chat services.
6. Season 1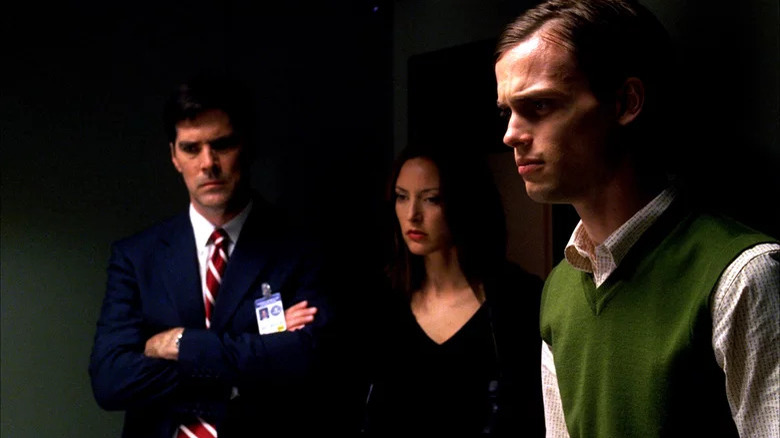 CBS
Season 1 of "Criminal Minds" is where it all began. Watching the first season today feels almost nostalgic, as the characters seem so young and as-of-yet unbroken by the world. The main squad hasn't formed: Elle and Gideon are still on the team, but there's a freshness to the first season that's missing in later seasons. Elle and Gideon are somewhat divisive characters within the fandom. But Patinkin is such an iconic actor it's hard not to get a thrill out of seeing him dance around in this procedural space. Still, Gideon is an extremely important character to Reid and his development as an agent and a person. Reid fans have to give Gideon some credit for that.
Compared to later seasons, the unsubs in season 1 don't feel as horrific. In some ways, that's a good thing. The first season doesn't have as much of a sense of melodrama as some of the other seasons. The series is still gritty, scary fun. (Yes, most "Criminal Minds" fans would describe the show as "fun" without all of the expectations that would come as the show grew in popularity.) Indeed, because it's the first season, none of the cases feel played out or overdone. While most of the episodes aren't as over-the-top as fans have come to expect, the two-part finale – in which Elle gets shot and the killer writes on the wall with her blood – definitely amps it up a notch.
5. Season 8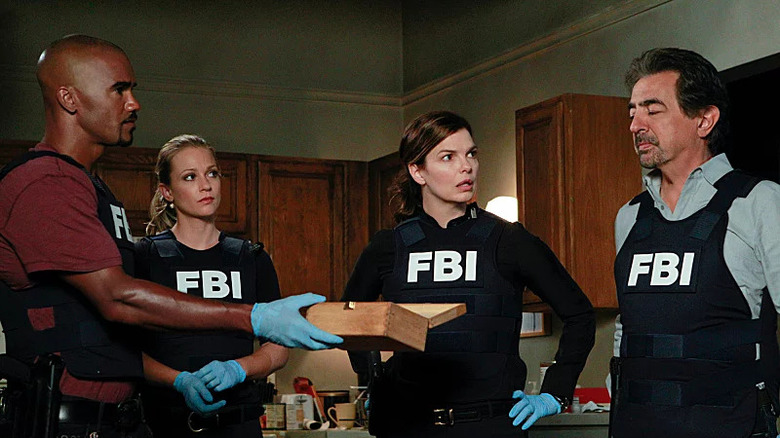 CBS
Season 8 saw the regrettable departure of Prentiss, marking the first season without her since she joined in season 2. Her replacement, Alex Blake, is a linguistics professor at Georgetown. Thankfully, Blake is a welcomed addition to the team — even if it's hard to come to terms with Prentiss' absence. Blake has a genius-level intelligence, and it's exciting to finally have someone who can keep up with (and even best) Reid's brainy tangents.
Tripplehorn does an admirable job finding her place in this well-oiled machine. In season 8, there are some pretty shocking moments that make for an exciting season. Reid goes through a lot of strife in season 8 when his girlfriend becomes kidnapped and killed. Of course, we don't want these agents to experience trauma. But it is interesting to see someone as cerebral as Reid has to deal with the emotional side of things. For once, there's something he can't rationalize away.
Season 8 also marks the first time an unsub is featured throughout an entire season. Things come to a head in the two-part season finale when they finally encounter "The Replicator" (Mark Hamill) who kills Chief Erin Strauss (Jayne Atkinson). Hamill is one of the series' most exciting guest stars, and it's fascinating to see this creepy storyline finally pay off.
If you or someone you know needs help with mental health, please contact the Crisis Text Line by texting HOME to 741741, call the National Alliance on Mental Illness helpline at 1-800-950-NAMI (6264), or visit the National Institute of Mental Health website.
4. Season 7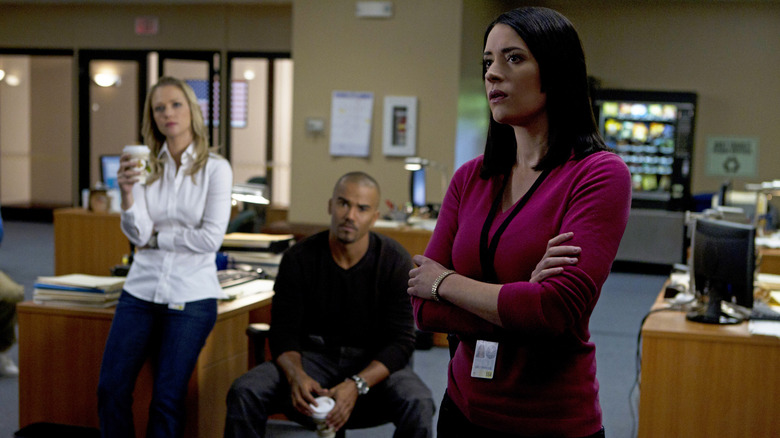 CBS
The greatest thing about season 7 of "Criminal Minds" is that Prentiss and JJ returned! The worst thing about it is that Prentiss also leaves again at the end of the season. Interpersonal drama is the most compelling drama on "Criminal Minds." Season 7 finds the team dealing with one of their biggest obstacles. When Prentiss returns, it's a shock for the team, who believed she was dead. (Although we learn Hotch and JJ knew all along, a revelation that was pleasing to JJ/Prentiss shippers.) But this reveal creates a lot of strife within the team, who are upset they weren't let in on this huge secret. As Morgan succinctly puts it in the season opener: "Any issues? Yeah, I got issues."
But, as we all know, the members of the BAU are a resilient bunch. Eventually, they bounce back from this betrayal. The season starts with emotionally compelling stuff and concludes with a thrilling climax, a familiar season arc for "Criminal Minds." JJ's husband, Will (Josh Stewart), returns this season, and we learn more about JJ's home life. Then, in the two-part season finale, Will gets taken hostage by a group of violent bank robbers, and the team must race to save his life. Season 7 brings a fruitful combination of emotional and physical stakes for the agents.
3. Season 5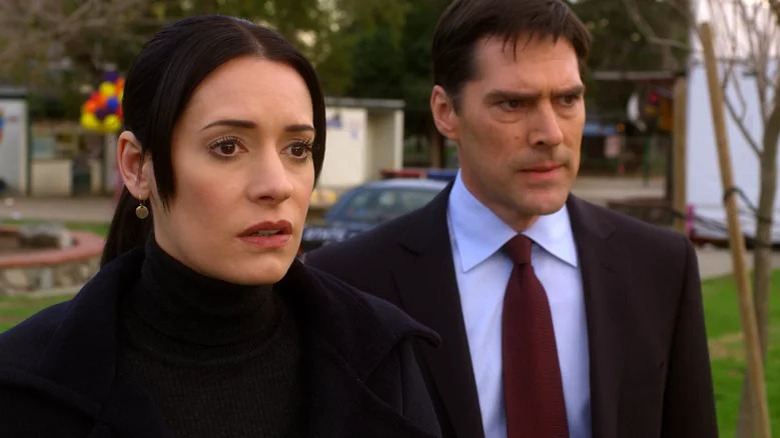 CBS
There's a lot to love about Season 5: a combination of intense personal drama and bone-chilling unsubs make. Overall, it's a Hotch-centric season, which could be good or bad, depending on your opinion of him. Regardless, this season's stakes are higher than ever — making for one exciting ride. One of the central plotlines of the season is The Reaper (Thomas Howell), a fearsome killer who takes an interest in Hotch and his family. In one of the most shocking twists up to this point, The Reaper kills Hotch's ex-wife, leading Hotch to become obsessed with tracking him down.
Season 5 also sees the return of "The Fox," an unsub introduced in Season 1. In addition to the Hotch drama, season 5 has some freaky standalone episodes. One of the most disturbing "Criminal Minds" episodes is "The Uncanny Valley," in which a victimized unsub kidnaps women and turns them into living dolls. In the season finale, Tim Curry plays a serial killer who re-emerges following a series of rolling blackouts in Los Angeles. Thankfully, there are also no lineup changes this season, which provides a little consistency despite the personal drama.
2. Season 3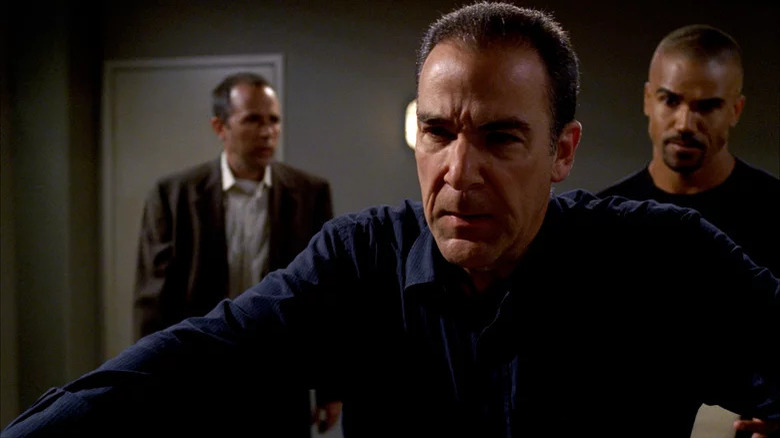 CBS
Season 3 of "Criminal Minds" marks the first time the long-standing BAU lineup works together. Gideon leaves the team because the death of his girlfriend is too much to bear. The upbeat David Rossi (Robert Dunne) replaces him: In many ways, he's Gideon's opposite. While Gideon is serious, Rossi is social and passionate. Following Rossi's addition to the team, the BAU feels more like a family, which becomes more obvious when Rossi starts cooking family dinners.
But now we're getting ahead of ourselves! Season 3 features high-stakes storylines, the likes of which we hadn't seen in previous seasons. The most distressing plotline is the two-part episode where Garcia gets shot by a man who has just taken her on a date. It's deeply upsetting seeing Garcia – the most cheery member of the team – go through something so horrific, and the events of these episodes reverberate for seasons to come.
Hotch also struggles with his home life in Season 3, eventually divorcing his wife, Haley (Meredith Monroe). Ending on a suspenseful cliffhanger, the season 3 finale sees the team race to uncover the unsubs behind a series of random shootings. Season 3 is memorable for being both the origin of the dream team and delivering some adrenaline-inducing thrills along the way.
1. Season 4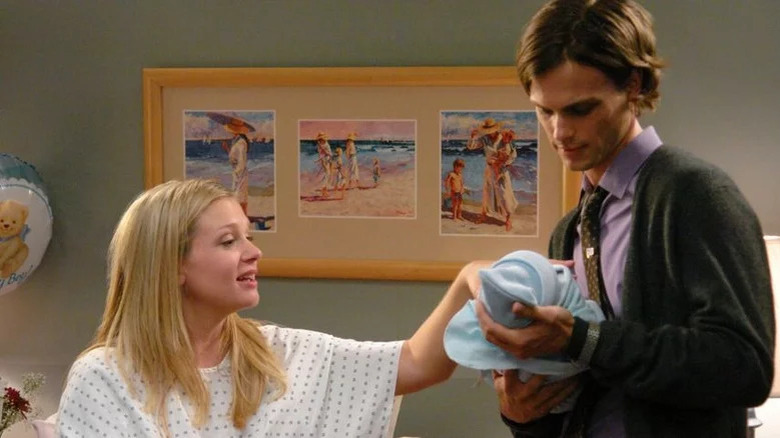 CBS
"Criminal Minds" season 4 is notable for featuring all original team members without any shocking exits. Season 4 picks up where Season 3 left off, with the gang trying to catch a group of trigger-happy terrorists. JJ has her first pregnancy this season — lining up with A.J. Cook's actual pregnancy — and goes on maternity leave for a short time. This season also introduces the fearsome Reaper, who becomes a significant part of Hotch's life.
Throughout season 4, there are several intriguing cases and personal developments that make it the best season of "Criminal Minds." There's a great episode where Reid and Prentiss go undercover in a cult and another thrilling case involving an anthrax attack. Reid also travels to Las Vegas to spend time with his mother — played brilliantly by Jane Lynch — and their relationship is one of the most interesting in the series. It's a treat to learn more about the agents' pasts this season, and the cases strike the perfect balance between ridiculous and gripping.