Saving John Ford's Feelings On The Set Of The Alamo Would Come Back To Bite John Wayne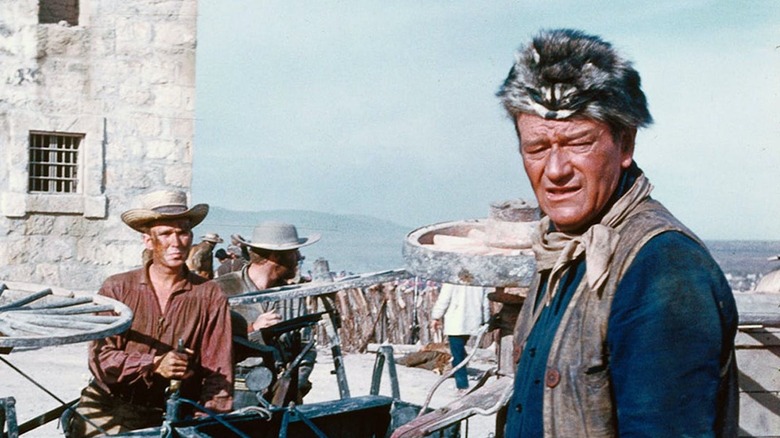 United Artists
When an ambitious, first-time filmmaker pulls off a cinematic coup, critics and jealous industry veterans have a penchant for working overtime to undermine their achievement. You need look no further than "Citizen Kane," the genius of which has, over the years, been ascribed to cinematographer Gregg Toland, screenwriter Herman J. Mankiewicz, and editor Robert Wise. Surely, Welles, who only revolutionized radio and stagecraft, couldn't have transformed yet another medium!
But when an ambitious, first-time filmmaker faceplants, everyone in a position to claim credit skedaddles like cockroaches at the flick of a light switch. The cast and crew were at the mercy of a misguided fool. They did their jobs as directed, and couldn't wait to move on to the next show.
This is the way of things in Hollywood. So it's strange that John Wayne spent the last nineteen years of his life fighting to assert authorship of the poorly reviewed and financially unsuccessful "The Alamo."
The Duke under siege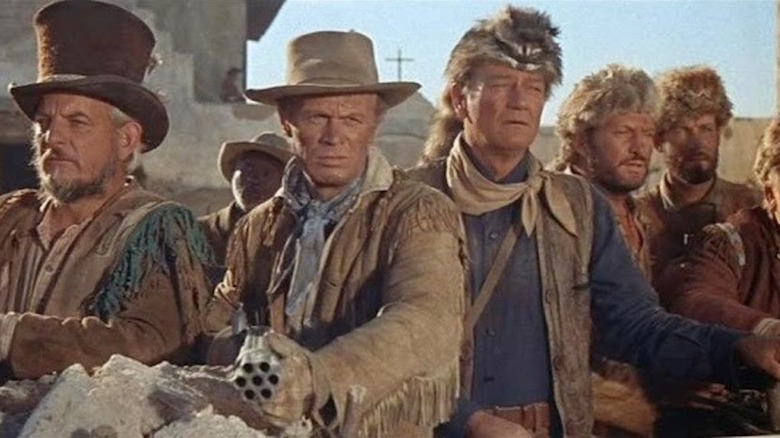 United Artists
The trouble for Wayne began during principal photography, when his mentor, John Ford, flew into Brackettville, Texas to observe a portion of the shooting. "The Alamo" was a passion project for The Duke. He'd cut ties with Republic Pictures, the studio that made him the king of the Western, over its reluctance to furnish a sizable-enough budget to realize the film. He'd formed his own company, Batjac, in part to get "The Alamo" made. Now he was on set, shooting his labor of love, and Ford, the cranky maestro who'd turned him into an A-list movie star via 1939's "Stagecoach," was, according to Maurice Zolotow's "John Wayne, Shooting Star: A Biography," attempting to wrest control of the production from his protégé.
Wayne didn't want a fight. Of course he didn't. He'd spent most of his life avoiding conflict. So he asked Ford to shoot second-unit footage of river crossings. Wayne furnished his friend with a capable crew and loads of film. "I don't care what it costs," said Wayne, "But I am not going to let him feel rejected. I'd rather spend a million dollars than hurt his feelings."
When the film was released, critics focused on the climactic set pieces. They possessed a vitality that the rest of the movie lacked. If this wasn't Ford's doing, these sequences must've been the work of veteran stuntman and expert second-unit director Cliff Lyons. When questioned, Ford claimed he was nothing more than a "coach on third base." Lyons kept mum. There was little in the way of clarity until William H. Clothier, the great cinematographer who'd shot Ford's "Fort Apache" and "The Man Who Shot Liberty Valance" along with "The Alamo," stepped up and threw down in support of Wayne.
The Duke owns the Alamo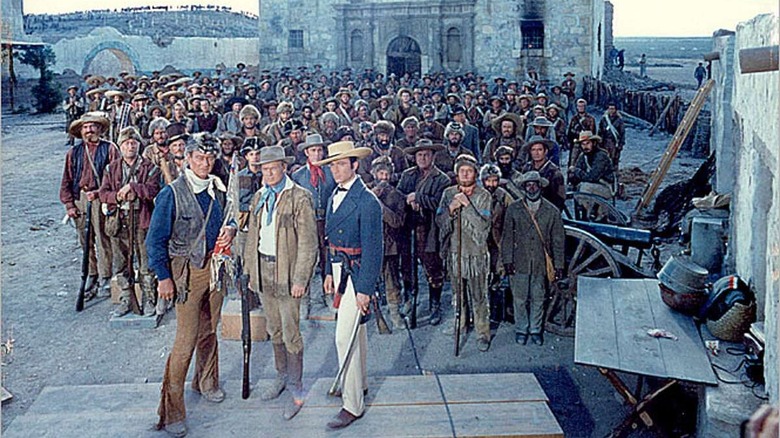 United Artists
"The Alamo in its entirety is Wayne's movie," said Clothier. "His ideas. His directing. Santa Anna's army approaching the Alamo was Duke. Everything was Duke's." Lyons directed the stuntmen, but, according to the cinematographer, Wayne orchestrated the cataclysmic final battle. When pressed on his comments, Clothier grew heated:
"Duke directed horses jumping through cannon fire, rifle fire, all the closeups of the principals, Duke did that, why John Ford wasn't even around, and Cliff Lyons was just standing by, when those sixteen horses and riders leap over the wall of the fortress –- hell, dammit to hell, John Wayne directed that. Placed the men. Told me how to light it. Told me the effect he wanted. Told the stuntmen how to move and when to move. John Wayne directed 'The Alamo.' All the way. Could have been one of the best directors in Hollywood, if God had not made him a star."
Ford and Lyons never went out of their way to claim credit for "The Alamo." It was the press that sought to saddle Wayne with the dubious achievement. The film is just as sluggish today as it was in 1960, but it has a cast-of-thousands grandeur that you don't see much anymore. Wayne made a big movie, a movie as big as his ego. Ford would've never done that, and Lyons could've only abetted it. Let the Duke have "The Alamo."